Several weeks ago, we began forecasting a developing drought in Argentina and that corn and potentially soybean prices would likely bottom heading into the key pollination and pod-setting time of the year for crops in Argentina and southern Brazil. As the crop condition indices show below, this was indeed the case, and drought regions (red) began developing due to less than 20% of normal rainfall in Rio Grande Do Sul, Brazil and much of Argentina.
A drought in Argentina could have a huge multi-billion impact on the agriculture industry, and while yields of crops such as corn and soybeans will certainly not be above trend-line, timely rains will at least avert Argentina from having more of a disaster.
We mentioned that the ETF (NYSEARCA:CORN) might be a good buying opportunity, and for about 3 weeks, it was, rallying about 7-10%. But the recent bearish USDA report, combined with my forecast about a week ago for some drought-easing rains may continue to keep this market on the defensive, for now.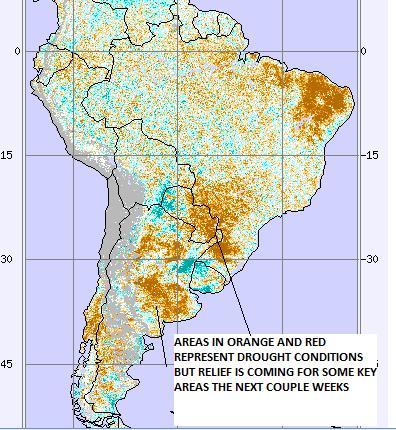 SOURCE: FAS
Then we had another shocking USDA report on January 12th, in which crop yields from last summer's Midwest drought were raised, and worries over the global demand situation for grains resulted in a massive sell off in corn and soybeans late last week. From my recollection, USDA reports since May or June, 2011 have been some of the most inconsistent and frustrating to many traders.
Normally, however, a sell off like this in grains would be a buying opportunity in corn and soybeans, if South America would remain in the midst of a drought situation. Crops continue to wilt due to unrelenting heat and dryness, and the supply/demand situation remains very tight, especially for corn. However, I began advertising a change in the weather pattern to clients last week, that will at least 'ease' the dire crop situation in South America, after January 22nd and perhaps into the first week of February.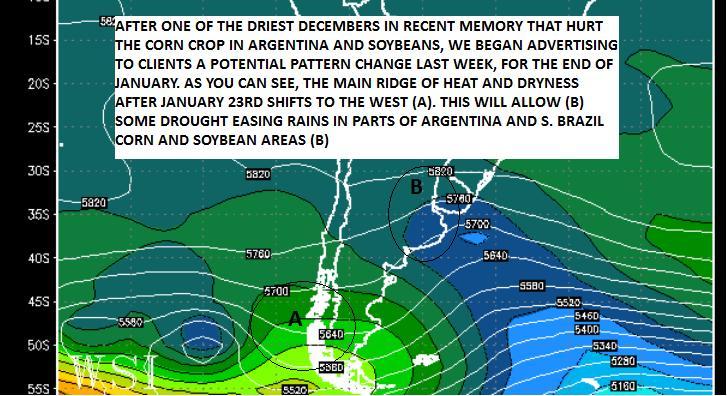 Click to enlarge
As the two charts show below, this is the most important time of the year for the developing corn crop in Argentina, while late January to mid-February weather is critical for the soybean crop. With a change in the weather pattern for South America, corn prices have likely seen their highs for now, until we get into the spring growing season and whether or not the US Snow drought will suggest, or not, that April-May planting conditions for corn will be sub-par.
The chart below shows the key region that many grain companies and traders are focusing on right now, with respect to trading corn futures.The "silk" and "filling" stage determines corn yields, and though yields have already been hurt, and could sell fall another few million metric tonnes below recent USDA estimates, timely rains this weekend and the following week may prevent a disaster.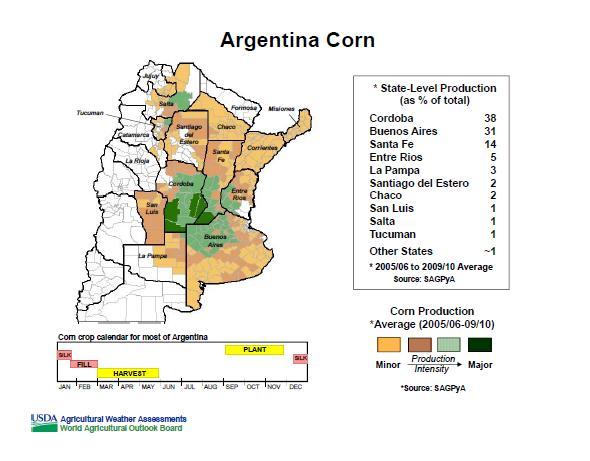 Click to enlarge
SOURCE: USDA
There is some correlation that unusually warm, dry winters in the U.S. could be followed by spring and or summer weather problems for corn and soybeans. At the same time, however, it is very rare to see back to back Midwest summer weather problems.
HEATING OIL PRICES MAY BEGIN A DOWNTREND INTO SPRING
The record warm winter, combined with some seasonality for gasoline prices to head higher into February and heating oil to head south, may take the wind out of the heating oil market in coming weeks. While China enters a very cold mid-winter period and world tensions in Iran and elsewhere have been supportive to the crude complex, the weather forecast is a bearish factor that needs to be factored into the world supply/demand situation for oil. While strong overseas distillate demand has kept the heating oil market strong, the weather forecast in both the U.S. and Europe is not one that is bullish. Hence, heating
ETF's such as the heating oil fund (NYSEARCA:UHN) may continue to be under pressure, and buying a "short heating oil" ETF such as (SHEA:LN) is something to consider in coming weeks.
Disclosure: I have no positions in any stocks mentioned, and no plans to initiate any positions within the next 72 hours.