I would say that I won't say I told ya so, but I really did tell you so.
From a Seeking Alpha article I published on March 24, 2011:

Read through this article from April 5, 2011. And consider this snippet from April 21, 2011, which proves that I was not the only one with serious concerns: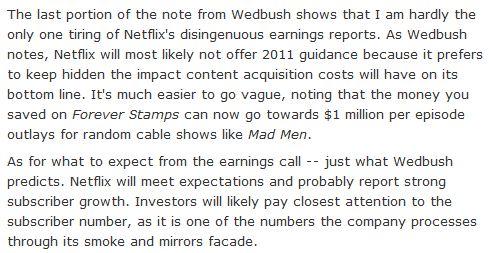 The key comes from the first blurb - not as strong a financial position as its bulls might have you believe. Of course, Netflix (NASDAQ:NFLX) CEO Reed Hastings, by default, serves as bull number one, followed by the other company executives named in the various class action lawsuits filed against the company in recent days.
An alleged belief that Netflix management willfully - and unlawfully - misled investors sits at the heart of these grievances. The following portion of one of the suits closely represents these arguments:
Specifically, the complaint alleges that defendants knew but concealed the following facts from the investing public during the Class Period: (A) Netflix had short-term contracts with content providers and defendants were aware that the company faced the choice of renegotiating the contracts in 2011 at much higher rates or not renewing them at all; (B) content providers were already demanding much higher license fees, which would dramatically alter Netflix's business; (C) defendants recognized that Netflix's pricing would have to dramatically increase to maintain profit margins given the streaming content costs they knew the company would soon be incurring; and (D) Netflix was not on track to achieve the earnings forecasts made by and for the company for 2011.
If that's not, for all intents and purposes, what NFLX bears warned about nearly a year ago now, I'm not sure what is. Now, I'm not a judge or a jury, but there's no question in mind that, at the very least, these suits have some merit. I will allow the proper authorities to decide if anything should come out of them.
But, as a guy who makes his living following the stock market, I will issue the same friendly warning with NFLX approaching $100 as I did when it was steamrolling towards $300. If you're going to buy the stock, exercise extreme caution and make sure you sell before the bottom falls out again. This time around, longs, and the company, might experience an even harder landing.
Disclosure: I am short NFLX.
Additional disclosure: I am short NFLX via a long position in NFLX put options.