Many people have written about the split that is coming up this year for Conoco-Phillips. The time is coming soon and it will bring good benefits to investors. The stock should also move up this year. It is worth buying into now.
Conoco-Phillips (COP) operates as an integrated energy company worldwide. The company's Exploration and Production (E&P) segment explores for, produces, transports, and markets crude oil, bitumen, natural gas, liquefied natural gas, and natural gas liquids. Its Midstream segment gathers, processes, and markets natural gas; and fractionates and markets natural gas liquids in the United States and Trinidad. The company's Refining and Marketing (R&M) segment purchases, refines, markets, and transports crude oil and petroleum products, such as gasoline, distillates, and aviation fuels. Its Chemicals segment manufactures and markets petrochemicals and plastics.
Conoco's split will be into an Exploratory and Production Company and the second will be a refining and marketing business. This will help the company in two important ways: First, it will allow each leadership group to focus on its business of expertise. Secondly, money will be invested at the levels of the needs of each separate company helping streamline work. The Refining and Marketing (R&M) business is low cost compared to exploration. This will also help it keep a higher credit rating which is good for investors.
When Conoco splits, its refining arm will be a force to be reckoned with world wide. It owns 12 U.S. refineries, and has a two-refinery joint venture with Alberta-based oil producer Cenovus Corp. COP refines 10% of all U.S. oil. This makes this new company the largest independent U.S. refinery.
A stock split does not alter the equation financially for either the company or the shareholder. It is considered a sign of a growth company to split its stocks, so that may affect perceptions of the company, but by itself the stock split does not change the value of a company. This is supposed to increase dividend income as well as capital appreciation according to Todd Johnson who wrote an article for Seeking Alpha on this split when it was announced back in the summer of 2011.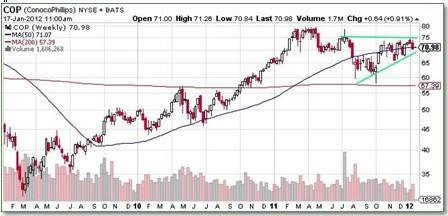 Now is a good time to get into COP before the split. Before the announcement of the split, COP was in the beginnings of a downward trend. After the announcement, they have formed a well-defined Ascending Triangle in the weekly charts. A bullish continuation patterns like this one is very reliable leading into more upward movement. Analysts have set a target of 94 for COP so it still has a nice journey ahead of itself. We believe now is a very good time to buy into the stock and hold it.
Additional disclosure: I have fixed eiditing as needed thank you.