Last October, I published an article asking if Transocean (NYSE:RIG), the world's largest deep-sea oil driller, was a buy. Here is the stock's performance since then: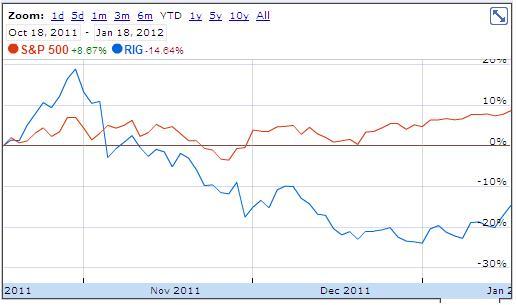 At the time, I wrote that shares could be worth $80 but the uncertainty surrounding the company and its role in the Gulf of Mexico Macondo accident was too high. RIG has since fallen 15% further (worse than it looks considering the S&P 500 is up 9% in that time) but concerns about the company have deepened as well.
Back in October, my biggest concerns were the nebulous risks surrounding the company's involvement in the Macondo spill. While those issues still remain (indeed, a recent court decision opened the door for states to sue BP (NYSE:BP) and other parties affiliated with the well), the stock's recent fall has been triggered by operational and financial issues which may signal investor caution is warranted regarding the management in place.
The company is beset with unexpected downtime issues, as evidenced by its recent fleet status report. Downtime for its most important segment, ultra-deepwater rigs, increased from 299 days to 544. In addition, the company received a termination notice due to non-performance for a lucrative deepwater contract that paid roughly 20% above market rate. The same trend is present in the company's mid-water and jack-up segments. While much of this downtime is attributable to the post-Macondo requirements and an older fleet, some analysts hold management partly culpable due to poor planning and communication with service vendors.
These downtime issues directly affect revenue and cash flow, leading to a situation where a once-secure balance sheet is beginning to look overextended. The company closed its Aker acquisition and then diluted shareholders 10% to pay off debt and convertibles. More debt maturities and another convertible put loom, leading analysts to anticipate a cutting or halt altogether of the special dividend set to end in March 2012. While ending an unsustainable dividend is the right move, the fact that the company's financial situation has become so tenuous as to put the dividend in question in such a short time is troubling and indicates a management team less than vigilant about maintaining financial flexibility.
Managements are hard to gauge as retail investors have no access to them and even seasoned analysts have difficulty assessing company leaders properly so I usually judge CEOs based on history. While CEO Steven Newman probably cannot be held to account for the Macondo disaster, the operational troubles and tightening finances since then should be laid at his feet. With this track record, I must assume that Transocean is helmed by a less-than-stellar team until proven otherwise.
While Transocean's long-term earnings potential probably remains intact, the operational and financial issues, taken together, give me pause to buy RIG at this price. Even if management manages to execute properly and RIG gets back to generating ~$2B free cash flow in a few years, recent history suggests future equity dilutions are a possibility investors can not ignore.
All in all, I would take another look at the shares around $35. This pice level not only increases the margin of safety in case the company experiences more turbulence but also puts pressure on the management team to either turn things around or be replaced. If I did go long, I would use long-term LEAPS options since there is a good chance the dividend will be cut or halted. As I've discussed in the past, using LEAPS options would leverage the investment and lower the downside at the cost of a small premium and forgoing a lower or nonexistent dividend, a definite possibility in Transocean's case.
Disclosure: I have no positions in any stocks mentioned, and no plans to initiate any positions within the next 72 hours.