In this article, we will discuss the following stocks: Bank of America Corporation (BAC), Wells Fargo & Company (WFC), DR Horton Inc. (DHI), KB Home (KBH), Lennar Corp. (LEN), PulteGroup, Inc. (PHM) and Toll Brothers Inc. (TOL).
I wrote an article on November 29th 2011 published on December 1st 2011 titled "It's Time to Jump on These Housing and Banking Stocks" about these seven stocks and it looks like several of them are well on their way. The seven stocks are up an average of 29% since I wrote the article. This is a significant move I thought deserved some attention. A majority of the stocks discussed in this article were big losers in 2011; nevertheless, a few are at the top of the leaderboard regarding 2012 performance.
Performance Since Prior Article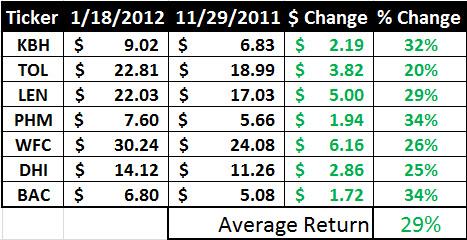 I believe the stocks covered have major upside potential once the geopolitical and macroeconomic issues of the eurozone, U.S. and the world fade from the forefront of investors' minds and a renewed focus on fundamentals and company specific catalysts emerges. We've had a mishmash of good and bad news as of late. Eurozone sovereign downgrades coupled with China growing at an 8.9% pace besting a Reuters forecast of economists polled, has lead me to believe we may not have seen the end of volatility in these markets. We could see a pullback prior to the summer months when the selling seasonality factor may add fuel to the fire.
It's true most of these stocks are trading well below consensus analysts' estimates, have recent upgrades, positive analyst comments and some pay dividends. Nevertheless, they have run up quickly in the New Year. With the recent downgrades of European sovereigns and the lackluster report from JPMorgan (JPM), I have taken profits and reallocated into metal and auto stocks.
Most of the stocks on the list were significant underperformers in 2011. Topping the list are Bank of America and Pulte Homes with 34% gains apiece, followed by KB Home at 32%. Bringing up the not so distant rear is DR Horton with a 25% gain. All the stocks were down significantly in 2011. However, they have run up quickly in the New Year. This significant move in such a short time leads me to believe they may be setting up for a correction in the near term. If you are still in these names, I would set a tight 5% trailing stop loss order on these at this point and take a 25% of the position off the table on each of these stocks.
Regarding the 2012 gains, this may be due to a phenomenon known as the January effect. The most common theory explaining this phenomenon is that individual investors, who are income tax-sensitive, sell stocks for tax reasons at year end (such as to claim a capital loss) and reinvest after the first of the year. Another cause is the payment of year-end bonuses in January. Some of this bonus money is used to purchase stocks, driving up prices.
I have spent the better part of the last 10 years heavily involved in the new home building business primarily with KB Home. I recently interviewed my old honcho Louis Espinar, a home building industry executive with 25 years of experience. Formerly with KB Home, Beazer Homes (BZH) and now president of an independent builder, Rialto Homes Inc. of Texas, Espinar states, "The Texas market is doing well, but all real estate is local and some markets are still depressed." He sees changes in the banks' treatment of foreclosures and mortgages "under water" as the key to revitalization of the U.S. market. My instincts tell me the banks will make the right decisions, thus making way for increased new home sales in the near future. Additionally, homebuilders have made significant changes to operating principles, enacting a "just in time" approach to new construction, which improves profit margins and cuts costs by reducing speculative builds. The days of "If you build it, they will come" are over.
To make a long story short, I'm taking profits now because of the quick advance, but bullish on the home builders for the long term. Nonetheless, this is only the first step in finding winners for your portfolio. Don't take my word for it, use this information as a starting point for your own due diligence and research methods before determining whether or not to buy or sell a security.