I remain bullish on Zalicus (ZLCS) especially after discovering that Novartis (NYSE:NVS) published after filing no less than 3 WIPO patent applications in 2011. This also includes a fourth U.S. patent application. All of these patents reference Zalicus's proprietary "Chalice" software which is fundamental to the company's cHTS (i.e. combination high-throughput screening) Chalice technology that in simple terms targets new and unique combinations (e.g. Synavive and Prednisporin).
Filed: 4/12/2011, Published: 10/20/2011, Title: Combination Comprising A Cyclin Dependent Kinase 4 Or Cyclin Dependent Kinase (CDK4/6) Inhibitor And An MTor Inhibitor For Treating Cancer, WIPO Patent Application WO/2011/130232.
Filed: 3/28/2011, Published: 10/6/2011, Title: PKC Inhibitors For The Treatment of B-Cell Lymphoma Having Chronic Active B-Cell-Receptor Signalling, WIPO Patent Application WO/2011/120911 along with United States Patent Application 20110245256.
Filed 12/17/2010, Published: 6/23/2011, Title: Method For Treating Haematological Cancers, WIPO Patent Application WO/2011/075620.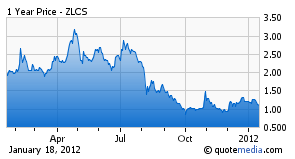 The value to Zalicus shareholders who have watched their pps beaten down in recent days is the revelation that the Novartis partnership is apparently moving forward for cancer indications -- full speed ahead. This is verifiable good news and suggests that Zalicus will eventually announce that Novartis has signed on for another year of cHTS Chalice research in the Cambridge laboratories.
Months ago I pointed out that:
As it turns out, Zalicus is among those companies that has a well-defined contractual relationship with Novartis. In fact, any indication brought forward as a result of that collaboration could be worth up to $58M for the cHTS Cambridge, MA biotech firm. Furthermore, it is well-known that Novartis has been screening its entire oncology library employing Zalicus' cHTS-Chalice technology platform. With Novartis' current drive to be an oncology leader, Zalicus looks to benefit from this unique partnership.
My read is Multiple Myeloma is one of the indications at the center of the Novartis-Zalicus partnership.
Unfortunately, a great many readers do not understand the value of searching for patents, so allow me a moment to explain. A patent is a window into a company's activity that may never show up in a press release. A patent is a window into the behind-the-scenes activities, and in this case, the long-standing partnership between Zalicus and Novartis.
In the past, I have received heavy criticism for representing Zalicus as an up-and-coming biotech especially after the share price plunged in late summer. Yes, perhaps my enthusiasm clouded my objectivity. Nevertheless, these cancer indications must be taken seriously otherwise Novartis wouldn't be making the effort to file patent applications -- and globally at that.
Which is why I continue to follow the Zalicus story. With ion channel pain blockers Z160 and Z944 now in phase 1 studies, Synavive in a phase 2B study, and I also see that Prednisporin remains alive and well in Sanofi's (NYSE:SNY) pipeline, I maintain a lot of investors will be pleasantly surprised by the progress of the firm over the coming year. At $1.10/share (Wednesday's close), the stock that once went over $3/share has yet to recover from last summer's slump; in that regard I no longer track with that logic now that the company has multiple leads with Novartis and numerous product development advances.
Disclosure: I currently hold no shares in ZLCS, NVS, or SNY, but that should not be misconstrued as a negative. I may change my position after 72 hours.