The last two Google (NASDAQ:GOOG) earnings reports have been music to the ears of investors with long positions in the stock. The company beat earnings estimates both on the top and bottom lines, and its stock soared. Will Google beat earnings estimates for a third quarter in a row?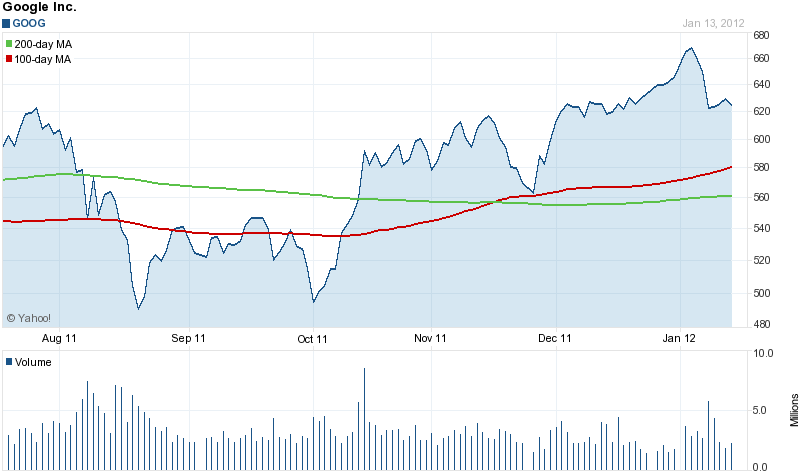 Click to enlarge
The company is certainly firing on all its cylinders. Its search engine continues to dominate the online advertising market, while Android phones continue to gain market share from Research in Motion (RIMM). This is especially so in Europe, where Android phones have began to compete head to head against Apple's (NASDAQ:AAPL) iPhone.
Yet judging from a string of earnings warnings and disappointments from high tech giants like Oracle (NASDAQ:ORCL), Intel (NASDAQ:INTC), and Infosys (NASDAQ:INFY), the prospect of Google beating earnings estimates seems less likely this time. The company is also facing a number of its own issues:
1. Weak Economy: Google's revenues come mostly from sales of advertisement space, which are discretionary in company budgets. This means that a weak economy or an outright recession will make a big dent in Google's revenue.
2. Move Into Manufacturing: With the purchase of Motorola Mobility (NYSE:MMI), Google is soon to bundle together its software with Motorola Mobility's hardware, as Apple (AAPL) has been doing with its iPhone.
While this strategic move may help Google to compete efficiently and effectively against Apple, it raises serious questions as to whether the company can become a good manufacturer and blend its business model well with Motorola Mobility's.
Developing search engines and advertising and operating platform systems requires a more liberal and entrepreneurial organization that allows employees to experiment with new things under little supervision. Manufacturing mobile devices, on the other side, requires a less liberal organization that defines the different tasks employees must perform under extensive supervision, which includes close monitoring and control.
3. Regulation Issues: After settling regulation issues in the U.S., Google continues to face issues in Europe and Asia-- especially Korea and China.
4. Increasing Competition: From Apple in the smartphone business, and from Yahoo (NASDAQ:YHOO) and America Online (NYSE:AOL) in the Internet advertising business.
Nevertheless, we do believe that these issues are long-term rather than short-term. Given the stock's sizable decline, we believe that Google is a trading buy ahead of its earnings report.
Disclosure: I have no positions in any stocks mentioned, but may initiate a long position in INTC over the next 72 hours.