The Big Move is a series I provide exclusively at Seeking Alpha. Over the past several years, I have studied and played big moves. As evidenced by my public track record, I've got a knack for calling 'em right most of the time – silver, biotech, oil, corn, and now the financials (banks). Results of all my recommendations, from 2009 to current, are reported and updated regularly here.
Bank of America (NYSE:BAC)
PRELIMINARY NOTE
Before getting started, please take a moment to review my first article on BAC published here at Seeking Alpha last week, Tuesday, January 10, 2012.
RECOMMENDATIONS AND TARGET RANGE
I am sticking with the recommendations I provided in the article above.
Stock Investors: I like both BAC's common and preferred shares right now at their respective asking prices.

Options Investors: I prefer in and near-the-money January 2013 and January 2014 calls.
I am also maintaining my January 18, 2013 target range of $15-$20 for BAC. Invest accordingly. I urge investors to play it smart. Remain tempered and please do NOT overplay your hand with BAC. Be cool and give yourself plenty of time.
POST BOTTOM ADVANCES: 2009 v. 2012
In this article, we're going to briefly look at BAC's post bottom advances and try to determine where BAC may be heading over the days, weeks and even months ahead.
2009
#1 Friday, March 6, 2009: BAC officially bottomed after the prolonged Financial Crisis of 2008. That day, shares closed at an all-time low of $3.14. Over the next two months, shares climbed significantly higher during April and May 2009 and recovered much lost ground.
(a) March 9 – April 3, 2009: Shares opened at $3.22 and closed at $7.60 (+136%). During this period, shares hit an intraday low of $3.20 and an intraday high of $8.57 (+168%).
#2 Week of April 6 – 9, 2009: BAC opened Monday April 6 at $7.24 and closed on Thursday, April 9 at $9.55 (+32%). During that four-day week, shares hit an intraday low of $6.91 and an intraday high of $9.85 (+42.5%). Note: Friday, April 10, 2009: The market was closed for Good Friday.
Duration: Exactly one month from the March 6, 2009 low close of $3.14.
#3 Week of May 4 – 8, 2009: BAC opened on Monday May 4 at $8.82 and closed on Friday, May 8 at $14.17 (+59.4%). During the week, shares hit an intraday low of $8.82 and an intraday high of $15.07 (+70.9%).
Duration: Exactly two months from the March 6, 2009 low close of $3.14.
WEEKLY CHART
All numbers, above and below, correspond with the weekly chart below.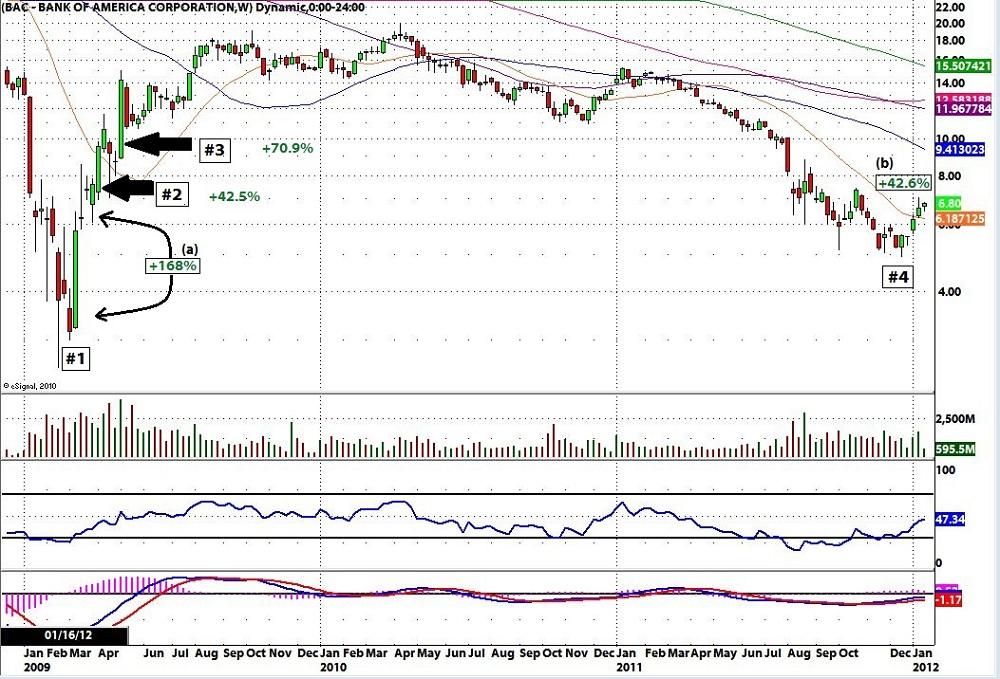 2012
#4 Monday, December 19, 2011: Evidence suggests that BAC officially bottomed even though the European Sovereign Debt Crisis of 2011 remains unresolved. On that day, shares closed at $4.98.
(b) December 19, 2011 – January 13, 2012: During this post bottom period, BAC opened at $5.20 and closed at $6.61 (+27%). Shares hit an intraday low of $4.92 and an intraday high of $7.02 (+42.6%)
240-MINUTE CHART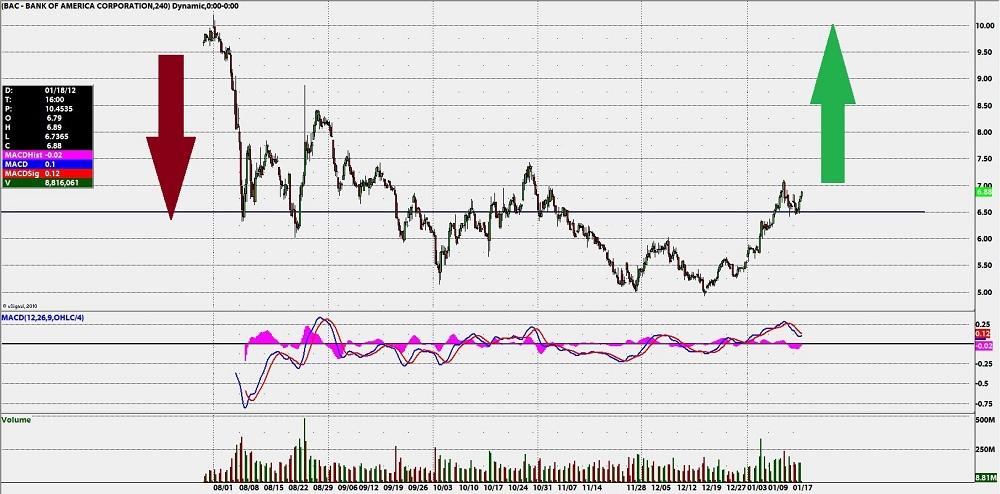 CONCLUSION
As of today, Thursday, January 19, 2012, it certainly appears that the previous long-term downtrend has reversed since shares bottomed out exactly one month ago. If BAC has, in fact, put in a generational bottom, then I argue that shares are well positioned to climb significantly higher in the days and weeks ahead.
From my view, BAC's next big move is likely to resemble a prior post bottom advance, and similar to one of those I've identified above (#2 and #3).
That's my take and I welcome yours.
Disclosure: I am long BAC.