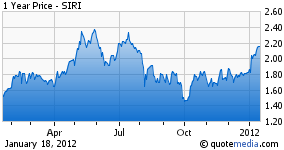 I recently wrote an article about why Liberty Media (NASDAQ:LMCA) would want to buy SiriusXM (NASDAQ:SIRI). I probably should have been better prepared to address the inevitable comments about why some Sirius investors thought the price should be $3 to $4 a share and the questions about how much Liberty would be willing to pay. This is especially important with the recent run-up in the price of Sirius since the beginning of the year.
So far this year (through January 17th) Sirius has surged more than 18% from $1.82 to $2.16. The performance has been helped by an announcement by the company that fourth quarter 2011 subscriber net additions came in at 540,000 and that the full year total was 1.7 million, beating the company's guidance of 1.6 million. In addition, within the past week Barrington Research issued a report with a $3 price target for 2012.
When Greg Maffei, Liberty CEO, spoke at the Citi 2012 Entertainment, Media and Telecommunications Conference on January 4th, he talked about the company's alternatives with its investment in Sirius. On that date the shares of Sirius had closed at $1.83. Maffei thought the stock of Sirius was expensive, but that it would "grow into that valuation," and that the cash flows (NYSE:FCF) will "grow dramatically over the next three years."
Several months ago Sirius issued guidance for 2012, and re-iterated it when they announced the 1.7 million net adds. That guidance included:
Revenue growth of 10% to approximately $3.3 billion,

Adjusted EBITDA growth of 20% to approximately $860 million, and

Free cash flow growth of 75% to approximately $700 million.
Clearly, 75% growth in FCF is dramatic. But if $1.83 per share was expensive, how does Liberty view $2.16? And, more importantly, how much should they be willing to pay? Classical investment analysis would project out the future net cash flows of the business and discount the stream back to the present using a risk adjusted cost of capital. It is a difficult and painstaking effort and is the reason that many analysts choose to use P/E multiples, earnings estimates and comparing the multiples to similar or peer companies.
Another approach that might be considered reasonable is to use a multiple of FCF or consider what a reasonable return on an investment should be. There are a total of 6.5-7 billion fully diluted shares of Sirius. (The number varies depending on the share price, options and the convertible bond). With 2012 FCF projected at $700 million, which comes to about a dime a share. If the FCF doubles, it is still only about twenty cents a share, and it is likely to take some time to get there.
How much would you be willing to pay for twenty cents a year? Well, if you want a 10% return on your investment, you would pay $2; if you want 15%, you would only pay $1.33.
In order to get to a $3 valuation, one needs to assume a very low return or a very high FCF number. $2 billion in FCF and an expected return of 10% will get you there. So would $1.4 billion and an expected return of about 6.5%. Most investors are looking for much more than a 6.5% return, and Sirius isn't yet close to generating $1.4 billion in FCF, let alone $2 billion.
Could Barrington be correct and could Sirius see a price of $3? Yes, stock prices frequently get overvalued. One only has to look at the NASDAQ before the Internet bubble burst. It passed 5000 and more than a decade later it is half that amount. The Nikkei 225 reached an all time high of nearly 40,000 in late 1989 and is currently less than a quarter of that amount. In hindsight, those indices were overvalued. There will always be analysts that can give justifications why prices are where they are, but in the end, the prices will reflect the current and future earnings and cash generating capabilities of a company.
Summary:
When Maffei said he expected Sirius to grow into its current valuation, the stock was trading at $1.83. When he stated that he expected cash flows to increase dramatically over the next several years, it was from a base of $400 million. Should investors expect Liberty to pay $3 or more per share to gain control of Sirius? Well, that doesn't seem very likely. As a Sirius investor, I will be pleasantly surprised to see a price close to $2.50.
Disclosure: I am long SIRI. I also have $3 January 2012 covered calls against most of my Sirius position. I may initiate (or close) a buy stock/sell option position in Sirius, discussed in another recent article, at any time. I have no positions or plans to trade any of the other stocks mentioned in this article in the next 72 hours.