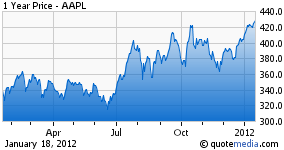 Today is Apple's (NASDAQ:AAPL) media event in New York and Bloomberg is reporting that the company will announce tools that make publishing interactive textbooks on the iPad much easier, and also allow for the creation of other digital education content. There is speculation that McGraw Hill will be revealing its own line of iPad material. Bloomberg's source also claims that Apple will introduce new software to allow a wide range of authors to publish digital e-book content.
We liken this event to an excavator clearing the foundation for Apple's biggest moat ever. This is more than Apple simply taking care of business. If Apple can somehow manage to revolutionize a tired and under-funded institution like K-12 education with a new found dependence on interactive textbooks designed for Apple hardware, then Apple will have secured a prime spot in a U.S. education market that spends an estimated $750 billion per year and a worldwide market that spends approximately $2 trillion. More money is spent in the United States on education than any other industry with the exception of health care.
Globally, 84 million students attend 20,000 colleges and universities. Global demand for higher education is forecast to reach 160 million students in 2025. In 1950, approximately 30% of jobs in the United States required skilled labor, today 85% of jobs require skilled labor. Apple's opportunity in the education market is just as important as its opportunity in the Chinese tech market. The halo effect of mainstream K-12 education use is limitless. The rigid barriers to entry and the slow process of educational change makes this a ten to twenty year gold mine for any company who can revolutionize it.
Apple's precedent of disruption is fairly straightforward, their ecosystem allows the best to thrive and the worst to dive. In the music industry Apple got rid of the notion that consumers had to pay for an entire album when all they wanted was one song for $.99. Consumers are hoping that Apple's upcoming iTV will do the same for the cable/satellite model of pricing.
What might an ecosystem of Apple education look like? I see it as an enhanced version of iTunes U where students of all ages have access to the best teachers in the world. I see it as an opportunity to branch out from the traditional subjects of math, science, history and English into a much more specialized system of learning coupled with real life training opportunities for younger aged students. Whoever can effectively intertwine the benefits of gaming with the necessity of education in the relatively new paradigm of educational gaming will have hit a grand slam. Apple has been on the verge of such a breakthrough since the release of the original iPhone and App Store.
Learning through the competition, the trial and error, and the visual memory of video games has proven to be superior to the memorization techniques required for textbook based education. Interactive textbooks enabled for developers within the Apple ecosystem could be the breakthrough that we've been waiting for. We all agree that the Internet has radically increased our access to information but I think we all should admit that institutions such as education and government have lagged in the upgrade department. It might as well be 1980 for most schools. That could be about to change if Apple is able to get this right.
iPad sales were 11.12 million units in the September quarter, 9.25 million units in the June quarter, 4.69 million units in the March quarter and 7.33 million units in the December 2010 quarter. Those numbers have underwhelmed those who compare the iPad to the iPhone but have overwhelmed those who view the iPad as a Mac. The iPad is a laptop replacement rather than a phone replacement which should put these sales numbers in proper context. Apple's all time best quarter for Mac sales is 4.89 million units. iPad sales will exceed even the highest of expectations if Apple can become the new standard for the mainstream use of interactive textbooks. Despite what you might hear from analysts trying to lower the expectations of this event, any sort of upgrade that causes the iPad to shift from a want-to-have into a need-to-have product is a very important catalyst. We'll be keeping a close eye on this event.
Disclosure: I am long AAPL.