Apple (NASDAQ:AAPL) recently released its complete list of suppliers, helping investors be aware of the smaller companies that are "riding Apple's coat-tails", so to speak.
Apple's suppliers must hold to a "committment to environmental responsibility", and its website says:
Apple strives to minimize the environmental impact of our products. We were the first company to report on our entire carbon footprint, and we remain one of a very few companies to do so.
Apple's website goes on to say:
We manage our overall footprint not only by comprehensively measuring and reporting the impact of our own operations and product development but by working with our suppliers to help them minimize theirs.
The media attention around Apple's 4th quarter earnings, set to be released on January 24th, could indirectly benefit and impact the share prices of these suppliers. One of these companies is a favorite small-cap tech holding of mine, TriQuint Semiconductor (TQNT), which rose almost 6% on Wednesday, January 18th. The Hillsboro, Oregon-based company, with a market cap of around $963 million, provides radio frequency (RF) solutions and technology for communications, defense, and aerospace companies worldwide.
It also designs, develops, and manufactures RF solutions with gallium arsenide (GaAs), gallium nitride, surface acoustic wave (SAW), and bulk acoustic wave (BAW) technologies.
The company offers an array of filtering, switching, and amplification products for RF, microwave, and millimeter-wave applications. It sells electronic components for mobile phones, including transmit modules, RF filters, power amplifiers and power amplifier modules, duplexers, switches, other RF devices, and integrated products to mobile device manufacturers.
TriQuint also offers signal amplification and filtering products, including a portfolio of GaAs microwave monolithic integrated circuits and transistors, and SAW and BAW filter components that support the transfer of voice, data, and video across wireless or wired infrastructure.
As if that weren't enough products and services, TriQuint also provides defense and aerospace devices, including packaged products, die-level integrated circuits (ICS), microwave monolithic ICs, and multi-chip modules to military contractors serving the U.S. government for use in various communications and phased array radar programs, such as ship-based, airborne, and battlefield systems, as well as sat-com, electronic warfare, and guidance applications.
Further, TriQuint Semiconductor, Inc. offers foundry services, including design consulting, wafer fabrication, test engineering, package engineering, assembly, and test. These revenue drivers are also profit centers that help explain TriQuint's nearly $1 billion in annual revenue, no debt, and its total cash (most-recent-quarter) approaching $148 million. Check out TriQuint's website.
TriQuint's current stock price is now (thanks to Wednesday's rally), just slightly above the company's book value per share of $5.59. TQNT shares traded as high as $15.20 in the past year as the one-year chart shows: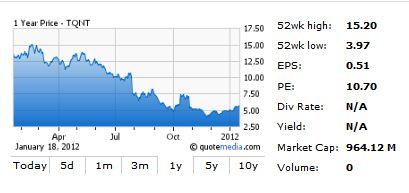 Another big winner on Wednesday based on the same news is Skyworks Solutions (NASDAQ:SWKS) which leaped over 4.5% in one trading session. This Woburn, MA company offers analog and mixed signal semiconductors worldwide. The company provides power amplifiers and front-end solutions for cellular handsets from entry level to multimedia platforms, as well as smart phones.
Its product portfolio, as highlighted on its website, includes amplifiers, attenuators, circulators, detectors, diodes, directional couplers, front-end modules, hybrids, infrastructure RF subsystems, isolators, mixers/demodulators, optocouplers, optoisolators, phase shifters, PLLs/synthesizers/VCOs, power dividers/combiners, receivers, switches, and technical ceramics.
Skyworks also offers MIS silicon chip capacitors, transceivers, and modulators. It provides products for supporting automotive, broadband, cellular infrastructure, energy management, industrial, medical, military, and cellular handset applications. Skyworks is trading for just 16 times current earnings and has a forward P/E of slightly more than 9. It seems low-priced for a company that has traded as high as $37.82 in the last 52-weeks and also has some impressive financial numbers.
A one-year chart comparison of Skyworks and TriQuint illustrates that these two companies have broken out towards higher share prices. Their share price seems to move in tandem, another insight into their industry similarities.
Other relatively smaller tech companies that are suppliers and business partners with Apple include NXP Semiconductor (NASDAQ:NXPI) and Multi-Fineline Electronix (NASDAQ:MFLX), which has a $650 million market cap. Of the two, the one that has the most similar key financial statistics is Multi-Fineline, which has no debt and plenty of cash.
Do your own "due diligence" on these companies before buying them. Also realize that their business relationship with Apple could change if they deviate from Apple's standards and codes. That could cause share prices to collapse. Yet if they stay in Apple's good graces, the "sky" may be the limit for their share prices and that will make careful investors/speculators very pleased indeed.
Disclosure: I am long AAPL, TQNT.
Additional disclosure: I may take positions in SWKS and MFLX over the next 72 hours.