Earnings season is well underway with a mixed bag of results for investors. Starting off with Alcoa, the commodity giant brought a welcomed outlook for the year and pushed stocks higher. Then came hits from JP Morgan (NYSE:JPM) and Citigroup (NYSE:C) while Wells Fargo and Goldman Sachs were able to meet their marks. Though there have been a few bad eggs, the general consensus is that earnings have brought a much needed lift to stocks, as the S&P 500 was able to break through 1,300 for the first time since August of last year. But if equities want to continue their run, the encouraging reports will need to continue [see also Five Juicy High Yield Bond ETFs For 2012].
Today will see Google (NASDAQ:GOOG) release their earnings statement from their most recent fiscal quarter. This bellwether tech firm is based in California and is one of the world's most dominant search engines. Analysts are calling for an EPS of $10.49 with revenues of $8.4 billion. If Google is able to hit their estimates, it will mark a 33% growth in sales for all of 2011 which will undoubtedly push the stock higher. Also note that GOOG has hit its last two quarterly marks which bodes well for today's report.
Apart from Google, today will also see an earnings announcement from Intel Corporation (NASDAQ:INTC). This chipmaker is a dominant market force, with a market cap of over $128 billion, the stock pays out a healthy dividend of 3.3%. Analyst predictions put INTC with an EPS $0.61 and revenues for the quarter of $13.7 billion. Much like Google, if Intel beats the Street, their 2011 numbers will represent a strong growth from that of 2010. Finally, INTC has surpassed expectations for the last four quarters, giving investors confidence in today's report [see also Why Some Dividend ETFs Have Puny Dividend Yields].
click to enlarge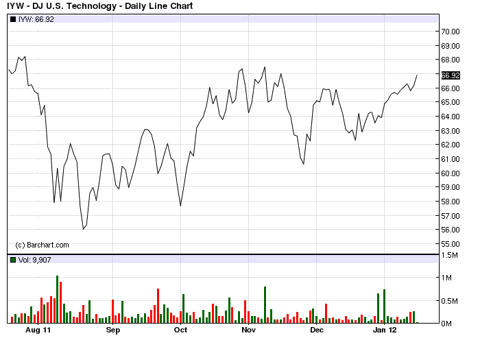 In light of these two major earnings statements, today's ETF to watch will be the Dow Jones U.S. Technology Index Fund (NYSEARCA:IYW). The fund measures the performance of the technology sector of U.S. markets and is home to over 160 holdings. Of that basket, Google comes in as the fourth ranked security, with a weighting of 7.6%. Fifth place belongs to Intel, who accounts for 5.8% of the ETF. With these two announcements on tap, IYW is sure to see an active trading day and its performance will hinge on these industry giants [see also The 10 Most Actively Traded ETFs In The World].
Disclosure: No positions at time of writing.
Disclaimer: ETF Database is not an investment advisor, and any content published by ETF Database does not constitute individual investment advice. The opinions offered herein are not personalized recommendations to buy, sell or hold securities. From time to time, issuers of exchange-traded products mentioned herein may place paid advertisements with ETF Database. All content on ETF Database is produced independently of any advertising relationships.