In October 2011 I wrote an article on using military strategy for selection and management of a stock portfolio, specifically with reference to Sun Tzu's renowned "Art of War." The first article looked at strategy based upon Chapter I - Laying Plans, and using this I created a portfolio consisting of Alaskan Air Group (NYSE:ALK), BHP Billiton (NYSE:BHP), Citigroup (NYSE:C), Caterpillar (NYSE:CAT), General Dynamics (NYSE:GD), Patriot Coal Corporation (PCX), PNC Financial Group (NYSE:PNC) and Walmart (NYSE:WMT). The rationale for the stock selection can be reviewed in the first article, while the progression of the portfolio since then can be viewed from my instablogs.
As at Friday, January 13, 2012 (ominous I know), the portfolio overall is tracking OK, with a net position of 9.19% growth and a valuation of $103,702, plus a cash balance of $5,028 giving a final portfolio position of $108,730.
Performance-wise, the stocks are currently performing as follows:
CAT: +25.43%
PNC: +18.78%
ALK: +16.78%
GD: +12.89%
WMT: +7.86%
C: +5.24%
BHP: -1.20%
PCX: -18.78%
Chapter II - Waging War
Sun Tzu's second chapter is a brief one; part of the challenge has been in extracting relevant lessons and thoughts, from both the writings and other commentaries, and then applying it from a financial management perspective to the Sun Tzu Portfolio. His opening observations are as follows:
When you engage in actual fighting, if victory is long in coming, then men's weapons will grow dull and their ardor will be damped. If you lay siege to a town, you will exhaust your strength.

Again, if the campaign is protracted, the resources of the State will not be equal to the strain.
From a financial management perspective, we can consider this to be a concept on the ability of strategy to survive the duration of time it is employed for. Investors need to ensure that they have both the mental stamina, and the reserves of funds required, to weather any periods of lateral movement in value, or worst case, downward pressure on stock valuations caused by difficult markets. We can see this represented by markets over the last two years, and potentially for the next 12 months, originally stemming from the global financial crisis and now from the euro crisis.
In my Sun Tzu portfolio, the negative performance of BHP does not worry me; it is a solid blue chip miner and is a pure long play stock selection. I realize that victory may be long coming, but in taking a long position on this solid blue chip stock, it won't consume the majority of my financial reserves or management attention.
PCX on the other hand is testing my nerve, and I wonder if I have the mettle (and resources) to be equal to the strain of current market conditions, but if I go back to a first principles approach, it is a small percentage of the overall portfolio, and was included as a wildcard play (high risk, high gain) whereas the remaining stocks are all (from my perspective) blue chip stocks (either capital growth or dividend paying). The stock has fluctuated significantly, ranging as high as +12.1% on 11th November 2011, to -18.78% as at 13th January 2012.
PCX Three Month Performance Graph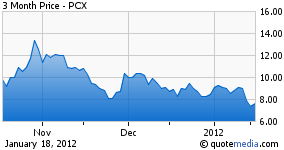 I reviewed an article this morning on PCX with a view to axing the stock from my portfolio (cut losses now), however comments from Seeking Alpha Contributor Peter Epstein have changed my perspective (again) and avoided a potentially hasty decision within a long term strategy:
Patriot Coal has ample liquidity, with $239mm of cash on its balance sheet at 9/30/11.

PCX corporate bonds are trading at $0.96 cents on the dollar, hardly a signal of financial stress.

The post mentions that PCX has closed 5 mines. That implies a more negative situation than is truly the case. They temporarily closed high cost mines to save money, a prudent thing to do in a slowing coal demand environment.

No bankruptcy is imminent, certainly not in 2012. PCX stock trading below $7.00 pre-market. If coal fundamentals bottom, which could happen within a few months, than PCX stock would be a compelling buy. I recognize how vague that sounds, but that's the best I can do at this time. [Peter Epstein]
I will be up-front; it was Peter's articles on PCX and the coal sector in general that had me looking for a speculative play for my portfolio, and PCX was one of the recommendations that I settled on.
Another of Sun Tzu's observations in "Waging War" is as follows:
In war, then, let your great object be victory, not lengthy campaigns.
A common observation on this is that "war is not a thing to be trifled with." The same can be said for financial markets, investors, and investment strategy. I am keeping PCX in the portfolio for now, though I do need to determine my ultimate bottom line for the stock. I carry a small position because it is a speculative play, but the long term position is not speculative -- my end goal is an overall gain for the portfolio, and positive positions for all stock selections. My objective is profit, and my time line is long term, but not a lengthy campaign at all costs.
Conclusion
Sun Tzu closes his chapter on Waging War with this observation:
Thus it may be known that the leader of armies is the arbiter of the people's fate, the man on whom it depends whether the nation shall be in peace or in peril.
And so it is with portfolio fund managers; the success of the fund and the return on investors' funds depends on this individual, and his financial strategy will ultimately decide whether investors see profit or peril. In my case ultimately, the buck stops with me, and my strategy drawn from Sun Tzu's writings.
Disclosure: I am long BHP.
Disclaimer: This is general advice only. Investors should seek independant financial advice before making any investments of their own.