Background & History
Platinum is currently cheaper per ounce than gold. This is a situation that has never occurred before and it could lead to huge gains over the next 12 to 18 months. For most of the last decade platinum traded at a 100% premium to the price of gold. Not only is platinum more difficult to mine, the major deposits are within Zimbabwe, South Africa, and Russia, which in some circles are not considered the most stable countries. Add to that prices are down nearly 20% in the last five months and the incentive to get it out of the ground is not very high.
South Africa's Anglo-American Platinum (OTCPK:AAUKF) – the world's largest platinum producer, stated that production costs will reach $1567 per ounce in 2012. With prices still hovering around the $1500 per ounce level producers are reluctant to produce only to lose money on each ounce mined. Supply is expected to remain tight.
Platinum Facts:
Platinum is the rarest and heaviest of the precious metals.
Annually, only about 133 tons of platinum is mined. Gold mining in comparison produces about 1,782 tons.
Platinum does not have large above-ground bullion stockpiles as does gold and silver.
10 tons of ore and a five-month process are needed to generate one ounce of platinum bullion.
Platinum Uses:
One of the most common uses of platinum is in catalytic converters found in cars, trucks, vans and industrial ventilation equipment. Platinum reduces carbon dioxide emissions produced by engines.
Jewelry manufacturers use an 85% purity of platinum. Alloyed with palladium, ruthenium and iridium as well as copper and cobalt, optimizes platinum's working capability and wear properties.
Coins and bars are manufactured for investment purposes due to their high cost and value.
Platinum is very malleable in a pure form and along with its high melting point and resistance to corrosion makes it highly useful in laboratory settings. Where many basic lab items and instruments are made of platinum
Medical Uses:
o Used in pacemakers because platinum does not corrode within the body.

o Many different types of drugs contain platinum

o Platinum has been effective in treating different forms of cancer (actually shrinking the tumor when placed next to it).

o Dentists also use platinum to produce crowns and artificial teeth. Again, it will not corrode in the mouth.
Industrial Uses:
Nitric Acid – platinum based catalysts are used in the commercial manufacture of nitric acid.
Silicones – platinum compounds control curing.
Computer Hard Disks – platinum improves the data storage capacity of hard disks.
Glass – platinum's high melting point, strength and resistance to corrosion allow it to withstand the abrasive action of molten glass.
Medical – research shows that platinum inhibits the division of living cells making it a solid source in platinum-based drugs to treat wide variety of cancers.
Heavier than gold and virtually impossible to corrode with gases or chemicals, platinum has grown in use(s) over the last 265 years. German lab instruments, French glass production, Spanish metalworkers, and U.K. jewelry manufacturers all contribute to the steady and growing demand for platinum.
The latter half of the 20th century saw platinum gain in status as a "storehouse of value." In the 1980s Engelhard Corp began to produce one and 10 ounce platinum bars. In 1983 The Isle of Man issued a one-ounce Noble platinum bullion coin and by 1988 Australia (the Koala) and Canada (the Maple Leaf) introduced platinum legal tender bullion coins; both to very high demand.
What is causing Current Weakness?
Although platinum was well off its highs when the Japanese earthquake and tsunami tore through Northern Japan, it was from that point that platinum took a more pronounced slide lower, dropping at one point to more than $150 an ounce cheaper than gold. Many asked why, if the demand was to remain steady and the supply tight, would the price drop into free fall?
Remember one of the largest uses of platinum is in catalytic converters. Post-quake Japan suffered a 57% drop in production. The lost demand was expected to exceed 100,000 ounces, which by most standards is a "non-event." Not so with platinum – 100, 000 ounces compared with the average investment demand of around 55,000 ounces was huge! The floodgates opened and the stampede for the exits began.
In the process one of 2012's greatest opportunities has been handed to investors. Platinum is no longer the "rich man's gold" it is accessible to just about all investor levels and currently is holding more upside potential than has been seen in 50 years or more.
Technical Outlook
At the end of 2011 platinum prices dropped precipitously, reaching 1391 in December. The rally off the low while appearing strong will meet its first challenge at the resistance zone around the 1580 level (basis the Spot). I wouldn't expect any problems in clearing this zone and moving on to the next challenge at the 1640 area and then 1695. Technically, platinum has the green light pretty much across the board and on a near, mid and long-term basis to continue the build an advance.
(Click charts to expand)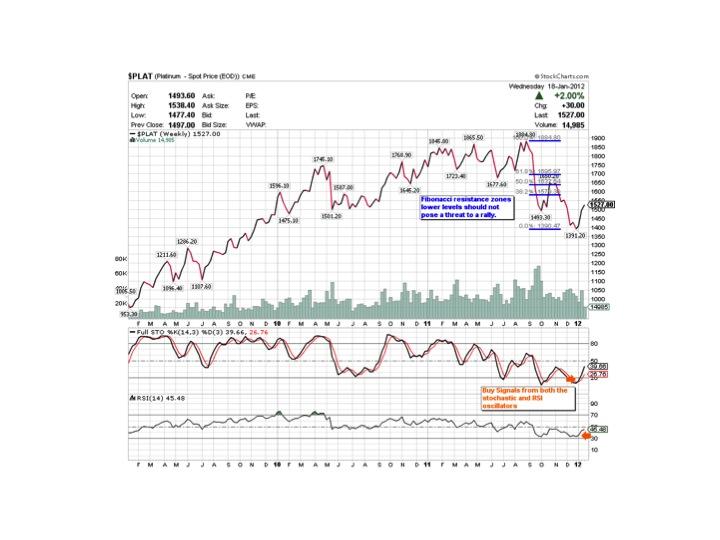 There are several ways to own platinum. Buying Australian Koala's, Canadian Maple Leafs or U.S. American Eagle platinum legal tender bullion coins. Of course fine jewelry as well. As an investor the easiest method to own platinum and benefit from the anticipated rally may be found in PPLT – ETFs Physical Platinum Shares. Buying on dips therefore could be a profitable strategy. As I advocate though, perform your own due diligence to insure that precious metals trading is right for your portfolio, and investment objectives.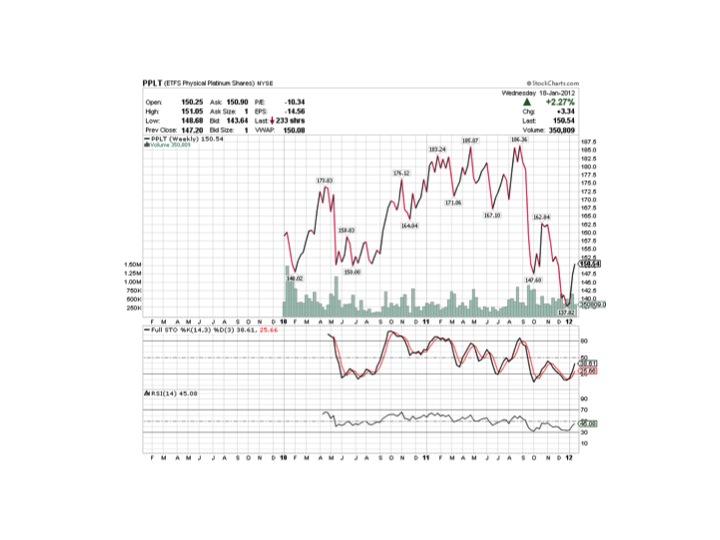 Mining Shares
Stillwater Mining Company – (NYSE:SWC)
Stillwater is engaged in the development, extraction, processing, refining, and marketing of platinum and palladium as well as other PGMs (platinum group metals). Stillwater conducts operations in south central Montana. The company also has ongoing agreements with Ford and GM to supply platinum and palladium required to build catalytic converters.
Shares prices have dropped by over 50% from the $25 highs seen last year. Several reasons get associated with the drop – the price of palladium fell, natural resource company shares dropped as a group, and reaction from investors (a bit on the cold side) to Stillwater purchase of a copper project in Argentina.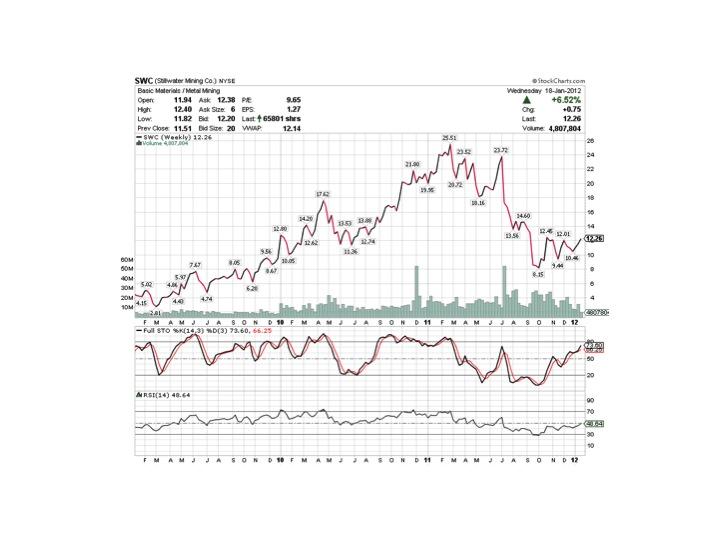 CHARTS: ©1999-2012 StockCharts.com All Rights Reserved
Stillwater is the only primary U.S. producer of palladium and platinum. The current P/E ratio is 9.17% the stock is considered cheap. If platinum rallies back to last year's highs – investors could double their investment in Stillwater. The downside (if any) Stillwater does not pay a dividend.
Other companies to consider (some focused in platinum mining – all with greater than $1 billion market cap:
Conclusion:
As a certified "gold bug" I have leaned in favor of gold for well over 30 years. As I track the maturing advance in gold it would be a mistake to overlook this possible "once in a lifetime" opportunity to buy platinum. Remember platinum is more durable than gold, it doesn't wear out or tarnish and the MAJOR point – IT IS CHEAPER than gold right now. A situation that I doubt will last much longer.