One of the premier financial institutions in the United States, as well as the world, is Morgan Stanley (NYSE:MS). Morgan Stanley,combined with majority owned Smith Barney, has more than $1.7 trillion assets under management. Of this $1.7 trillion, $268 billion is managed by Morgan Stanley's Investment Management team. On the other hand, Primerica (NYSE:PRI), is a much smaller and less prestigious financial institution. Primerica has about $691 billion in assets under management, including $35 billion in Primerica's investment accounts.
On paper these two companies are David vs. Goliath. On the one hand you have the giant, Morgan Stanley, that focuses on large investment accounts and corporations, and on the other hand you have Primerica; which focuses on, as the company says, "main street North America." It is intuitive to think Morgan Stanley is a superior long-term choice for your portfolio. Especially because Morgan Stanley hires some of the best investment advisors on the planet, which gives its clients top returns on their investments. Primerica hires financial representatives as captive agents in order to expand the company's market to the working classes, who are turned away by Morgan Stanley.
I will get back to each company's business model in more detail later, but for now it is important to take a look at each company's share price as well as earnings trends. Over the past year share prices of Morgan Stanley and Primerica have gone in different directions. While Primerica's stock has formed a nice U-shape to get back to first half of 2011 levels, Morgan Stanley investors have taken steep losses as the share price continues to sink.
(Click charts to expand)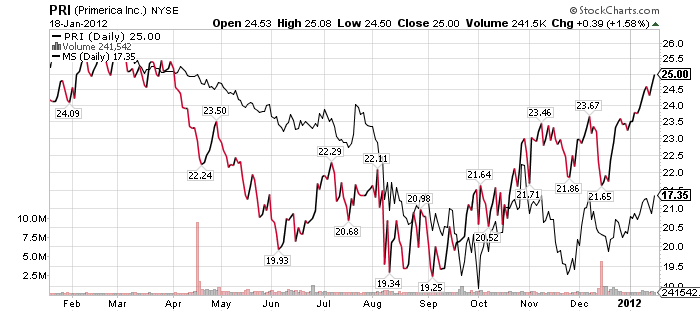 There are a couple reasons for this that are not explicitly seen in each company's balance sheet. Therefore it is best to address these issues now. One of the most important reasons Morgan Stanley's share price has continued to slide is due to the firm's ties with Europe. Because Morgan Stanley has connections with the European Union (EU), any problems will stress the company's revenue and margins. Therefore investors have not given the financial giant the same respect the stock has seen in the past.
This same reason is why Primerica's share price has stabilized and has begun a steady upward trend. Because Primerica is currently working in the United States and Canada, the company has some immunity to what happens in Europe. It is important to note any financial stress will spread to America, but if America's economy continues to improve Primerica's prospects will dramatically improve.
With those trends in mind, it is important to view the financial data to see if the share price corresponds with the earnings. Morgan Stanley's share price corresponds with the company's revenue, but not net income. Both are important for different reasons. Revenue is important because revenue indicates if the company is making the same sales, as well as bringing in new clients. Net income is important because this is the amount of revenue the company essentially gets to keep after everything is paid for.
Morgan Stanley's yearly revenue and net income have improved since the 2009 low. After revenue and net income slid in 2007, 2008, and 2009, investors saw a huge turnaround in 2010. Unfortunately 2011, will be more or less bittersweet. Revenue will surpass 2010, but net income will not. After nine months Morgan Stanley's net income was even with 2010's full-year number, but after the company's fourth quarter investors will see net income slide quite a bit.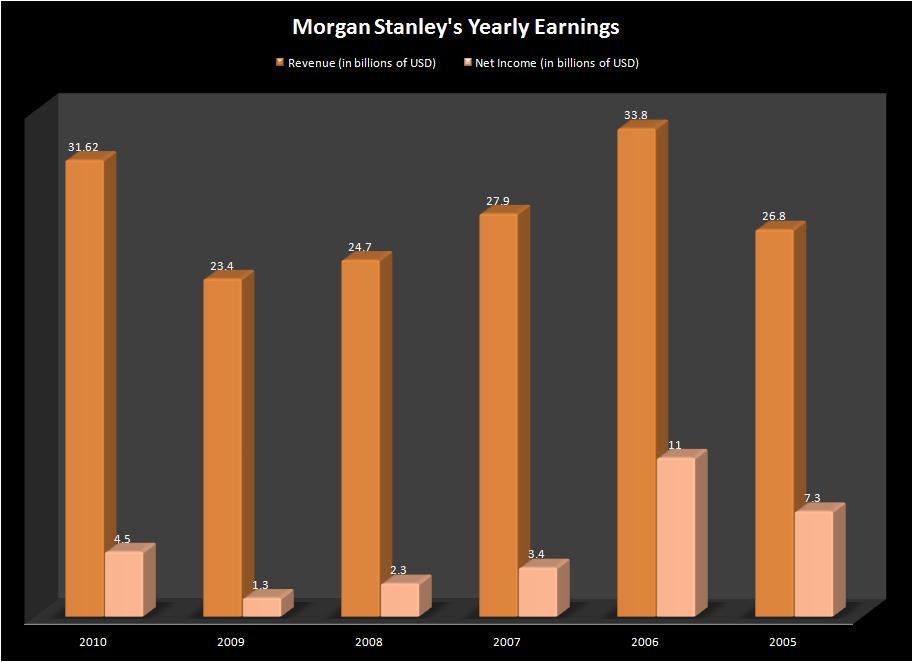 This is important to note because it indicates Morgan Stanley's share price is not following a strict correlation with the company's earnings, which indicates something else is influencing investors, as I noted above. Fortunately for investors and traders, the company's harsh fourth quarter is priced into the stock. The bad news is, however, that, similar to Citigroup (NYSE:C) and JP Morgan (NYSE:JPM), a negative surprise is a possibility.
Primerica's financial data does not offer any extraordinary patterns, but there are a few important trends to note regarding the company's yearly revenue and net income decline. Every year since at least 2007 the company has seen revenue and net income decline substantially and 2011 will not be an exception. Fortunately, Primerica has also decreased operating expenses during that time, which is one of the few bright spots on the balance sheet. Another weak point in Primerica's earnings is the sequential decline in net income over the past four quarters.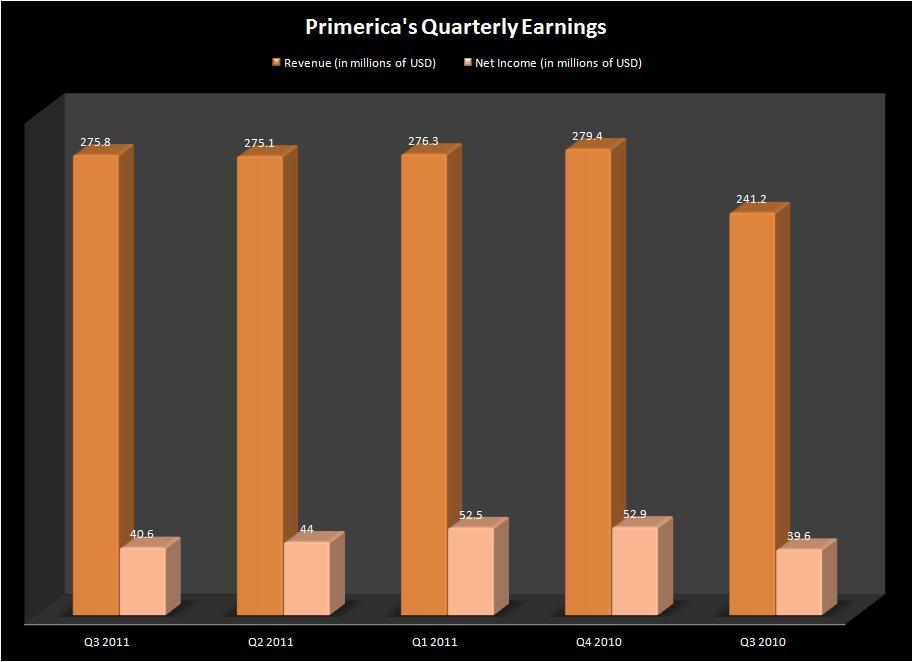 With that said, Primerica is riding a recent third-quarter year-over-year increase in revenue and net income, which is important because as long as the company continues to post year-over-year increases, it will be difficult to knock the company down. Unfortunately for shareholders it will take a slight earnings beat to surpass fourth-quarter 2010 revenue. Currently the mean of the three analysts covering Primerica place the company missing last year's revenue by about 1.1%.
Therefore based upon earnings, Morgan Stanley's share price should be outpeforming Primerica's stock. But this is not the case. Therefore it can be stated that Morgan Stanley's share price is underperforming due to European events. This is important because it means Primerica's share price is set to move higher regardless of the unpredictable EU situation, while Morgan Stanley investors and traders will wait for macro economic issues to settle down before opening any long-term positions.
Lastly it is important to discuss the pros and cons about each respective company's business model. As briefly discussed above, Morgan Stanley's business model focuses on corporations and wealthy investors, while Primerica attempts to reach out to the vastly underrepresented working and middle classes. Underrepresented in this case refers to the lack of investment information given to the working and middle classes.
Morgan Stanley's business has some fairly strong points. For instance, the initial public offerings (IPOs) Morgan Stanley takes part in allow the company to receive large profits via underwriting fees. Also, because the company sets substantial account minimums on its funds, Morgan Stanley is able to sustain higher margins because the firm's clients pay higher fees. It is important to note, however, that Morgan Stanley sets breakpoints on these accounts. These breakpoints increase with the size of investments, therefore over the breakpoint schedule the percentage decreases, but the total amount paid by the client increase, which ends in higher revenue for Morgan Stanley.
On the opposite side of the token, this same strategy essentially closes Morgan Stanley off to the vast majority of investors. Morgan Stanley does offer a $10,000 mutual fund program, but this is considerably higher than Primerica's account minimum. All things considered, in the long term investors have to balance the fact that Morgan Stanley focuses on the wealthy and corporations, which will keep the company thriving, but due to lofty leveraging Morgan Stanley will always be at risk to macro economic issues.
The single biggest knock against Primerica is the fact that the company recruits anybody. While this may be true, the truth is the vast majority of these recruits do not continue with the business. This can be seen as a positive and a negative. On the one hand the company is recruiting anybody, which means once in a blue moon the company will find somebody who knows more about finances than some top tier advisors. On the other hand the company is recruiting anybody, which means the potential market may become flooded with representatives, which will make it difficult for Primerica to continue growing in the future.
Another negative about Primerica's business model is the fact that the much of "main street" America is paranoid. For instance, many of the working and middle classes have never been informed about finances, investments, and life insurance, therefore many of these citizens feel as if financial planning and insurance are scams. Because of this, Primerica representatives may find it difficult to grow a client base, which will cause the broader company to stagnate as we have seen on the financial sheet.
However Primerica's positives far outweigh the negatives. For instance, even though many working class citizens are skeptical about Primerica, it can be a blessing in the disguise if a particular client has a wealthy friend willing to open a large investment account, which can help Primerica's margins. Another positive for Primerica is the improving American economy. As America's economy slowly improves, families will be more willing to plan, save, and invest in their future. And since Primerica offers many of the same mutual funds as Morgan Stanley, with a $50 minimum, Primerica is set to thrive.
Despite both firms offering similar products, Primerica avoids the typical financial trends because the company's business is simple and avoids risky scenarios. Because of this, Primerica's share price has the stability to avoid any type of sustained downward movement. On the other hand, Morgan Stanley's share price is at risk to European debt problems as well as other U.S. bank weaknesses. For instance, if major U.S. banks provide weak economic readings, Morgan Stanley's share price will take a hit.
At the end of the day, Primerica is a more stable long-term investment than Morgan Stanley. With that said, Morgan Stanley is a terrific speculative long-term option. For instance, under in an ultra bull environment Morgan Stanley's share price will run 400% in less than three years; which will take the share price back to pre Great Recession levels. This is not impossible, but it will take all the planets to align perfectly. On the other hand, Primerica does not have the potential to run 400% within the next decade, but the company's stability is something investors should take solace in. Furthermore, since an ultra bullish market is unlikely, David will slew Goliath as Primerica's stock will continue to outperform Morgan Stanley for years to come.
Disclosure: I have no positions in any stocks mentioned, and no plans to initiate any positions within the next 72 hours.