2011 was the year of the dividend stock. The Dow Jones Industrial Average was up over 5% last year, while all the other major averages were basically flat for the year. The Dow was helped along by dividend payers like Chevron (NYSE:CVX), Johnson & Johnson (NYSE:JNJ), Kraft Foods (KFT), Coca-Cola (NYSE:KO), McDonald's (NYSE:MCD), Merck (MKR), Pfizer (NYSE:PFE), and AT&T (NYSE:T) last year.
While the S&P 500 is down 0.1% over the last twelve months, the stocks listed above are up as follows:
Chevron +13.1%
J & J + 8.7%
Kraft +27.0%
Coca-Cola +9.2%
McDonald's +38.7%
Merck +20.0%
Pfizer +24.3%
AT&T +13.1%
Now before you go run out and buy some of these dividend stocks that have been outperforming the market for quite some time, consider the following:
1. It is very rare for an asset class, in this case large-cap dividend players, to lead the market two years in a row.
2. Many of these dividend payers don't make much sense from a valuation point-of view anymore. With the big moves in these stocks last year, the multiples on them are currently stretched to the max.
3. In the mad rush for dividends in 2011, many other good stocks got overlooked, and they now look much more attractive than the large-cap dividend payers.
I have been saying in my newsletter for the last several weeks, that I see the leadership in the market coming from the more aggressive growth stocks this year. So far that theme is being borne out as I watch small caps, biotechs, semiconductors, energy stocks, etc. breaking out to new highs.
Check out the current chart of the Biotech Index (IBB):
Many of the biotechs are on a tear right now.
Here is a chart of the Semiconductor sector (SMH):
Many of the semiconductor stocks are breaking out right now.
Lastly, here is a chart of the Russell 2000 Small-cap index:
As you can see, it too is breaking out through resistance right now.
I do not recommend aggressive growth investing for those whose primary objective is income, however. This creates somewhat of a conundrum for such investors here in 2012. As mentioned earlier, many of the big dividend payers are a bit expensive right now. I would not be selling them, but I would not be putting new money into them right now either.
Instead, for income investors, I like some of the dividend payers that were left behind last year. For the most part, I find such stock linked to commodities like Oil, Coal, and other minerals.
B P Prudhoe Bay (NYSE:BPT) for instance currently sports a dividend yield of 8.7% and the stock is down 1.0% over the last twelve months. It has been overlooked by dividend investors that were chasing the big blue-chip names. BP Prudhoe Bay has been a spectacular income and growth stock over the years. Check out the total returns of this stock over the last 3, 5, and 10 years.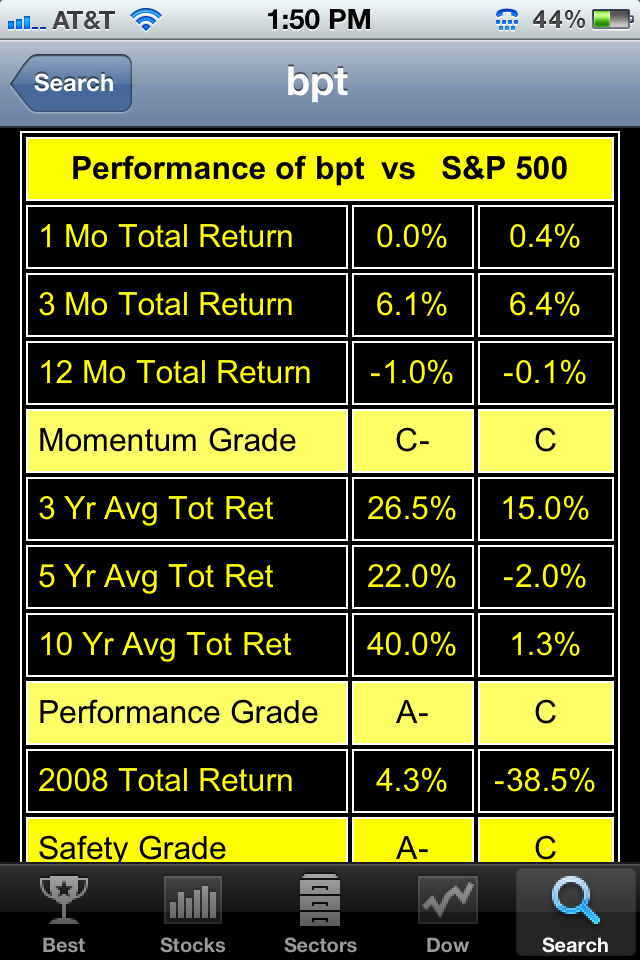 Click to enlarge
(Click to enlarge)
Data from Best Stocks Now App
As you can see, this stock has delivered a total return average of 40% per year over the last ten years! No guarantees going forward, but that is a phenomenal track record for shareholders! It would seem to me that with the troubles in Iran and now the Keystone Pipeline being rejected, that we will continue to see upwards pressure on oil prices. This will benefit BPT shareholders.
The stock that I want to focus on today is tied to copper. Southern Copper Corp. (NYSE:SCCO) is engaged in the mining of copper and operates mining, smelting and refining facilities in Peru, Mexico, and Chile. 2011 was not a good year for commodities in general. 2011 also was not a very good year for foreign stocks.
I believe that these facts create opportunity in 2012. Commodities are off to a strong start so far this year, as are international stocks. Here is a current 12-month chart of the Peru iShares fund:
Note the trend reversal that is currently underway.
Here is a current 6-month chart of a copper ETF (NYSEARCA:JJC):
I like the direction that it is headed right now.
Lastly, here is a current 12-month chart of Southern Copper Corp.:
Notice the very nice turnaround in the stock since last October.
This stock currently sports a dividend yield of 8.0%. This is almost triple the yield of many of the big blue chip stocks right now. Also, check out the total return track record of Southern Corp.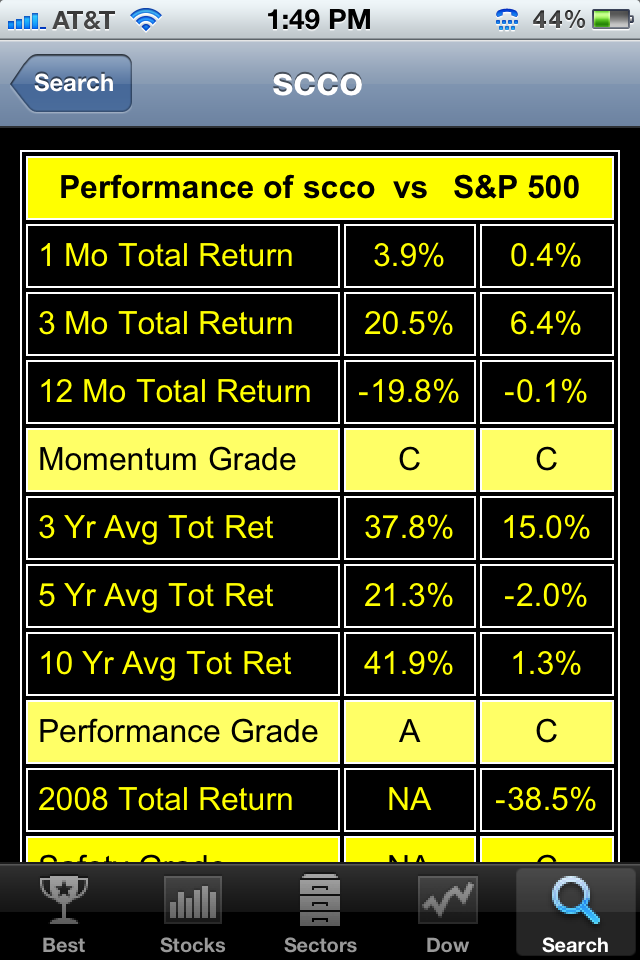 Click to enlarge
(Click to enlarge)
Data from Best Stocks Now App
It too has had terrific total returns over the last 3, 5, and 10 years. Also note that the stock is down 19.8% over the last twelve months. I believe that this creates a nice current opportunity for both income and growth.
With a current dividend yield of 8.0%, a good valuation, and a superb track record, what is there not to like about Southern Corp.?