VMware, Inc. (NYSE:VMW) is scheduled to release last fiscal quarter's results after the closing bell on January 23, 2012. Let's take a look at how VMware. has done in recent quarters.
VMware, Inc. provides virtualization and virtualization-based cloud infrastructure solutions primarily in the United States. The company was incorporated in 1998 and is headquartered in Palo Alto, California. VMware, Inc. is a subsidiary of EMC Corporation. VMW trades an average of 2.6 million shares per day.
52 Week High: $111.43
52 Week Low: $74.04
Book Value: $10.55
Float Short: 5.48%
Analysts are expecting an improvement of $0.07 in earnings per share compared to last quarter's results of $0.53. The number to beat is $0.60 per share, based on the estimated mean earnings.
Relative to the earnings, investors have not been as aggressive accumulating shares, as the current trailing twelve months P/E ratio is 67.8, while the forward P/E ratio is now 47.37.
This stock scares me for several reasons. The stock price is relatively high for retail investors (not a big deal, but something to consider). The trend is clearly downward with the shorter moving averages moving lower. The 60 day moving average is about to break through down below the 200 day moving average (bearish technically) and the PE mulitple is sky high.
Obviously investors are willing to pay a premium for growth, and VMware may hit the numbers in the upcoming report, but if they guide down (or maybe not down, but just maintain) it could be ugly. If I had shares I would be looking for some type of hedge. Either selling covered calls and or buying puts would be on my trading screen to see what my options are in hedging. They of course may beat and blow the doors off causing short covering, but I would not want to be exposed if they don't.
Revenue year-over-year has increased to $2.86 billion for 2010 vs. $2.02 billion for 2009. The bottom line has rising earnings year-over-year of $357.44 million for 2010 vs. $197.10 million for 2009.The company's earnings before interest and taxes are rising, with an EBIT year-over-year of $427.99 million for 2010 vs. $219.30 million for 2009.Rising revenue along with rising earnings is a very good sign and what we want to see with our companies. Be sure to check the margins after the report to make sure that the bottom line is keeping up with the top line.
Here is a look at the fiscal year revenue: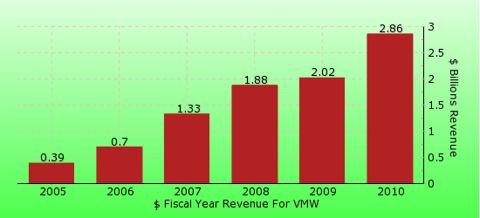 Gross reported revenue compared to the mean estimate (rounded):
| | | | | |
| --- | --- | --- | --- | --- |
| Fiscal Quarter Ending Month-Year | Revenue Estimates | Actual | $ Difference | Difference % |
| Sep-11 | $ 929.38 M | $ 941.86 M | $ 12.48 M | 1.34% |
| Jun-11 | $ 873.06 M | $ 921.21 M | $ 48.15 M | 5.52% |
| Mar-11 | $ 815.41 M | $ 843.72 M | $ 28.31 M | 3.47% |
| Dec-10 | $ 793.23 M | $ 835.66 M | $ 42.43 M | 5.35% |
| Sep-10 | $ 698.13 M | $ 714.24 M | $ 16.11 M | 2.31% |
M = millions, B = billions.
Differences are rounded.
Some onetime items are often excluded in reported EPS.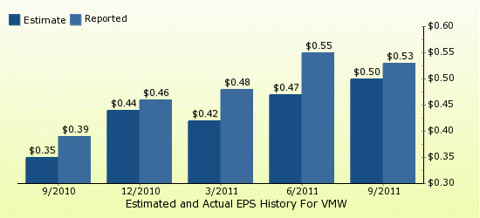 Reported earnings per share compared to the mean estimate. Differences are rounded.
The total short interest number of shares for VMW:



The number of days to cover short interest based on average daily trading volume for VMW:

I use a proprietary blend of technical analysis, financial crowd behavior, and fundamentals in my short-term trades, and while not totally the same in longer swing trades to investments, the concepts used are similar. You may want to use this article as a starting point of your own research with your financial planner. I use Seeking Alpha, Edgar Online, and Yahoo Finance for most of my data. I use the confirmed symbols from earnings.com that I believe to be of the most interest.
Disclosure: I have no positions in any stocks mentioned, and no plans to initiate any positions within the next 72 hours.