Astex Pharmaceuticals (NASDAQ:ASTX) is a leader in innovative drug discovery, development and commercialization, committed to the fight against cancer and other life-threatening diseases.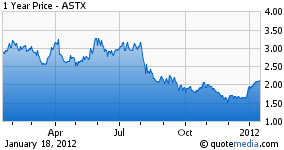 The company currently receives royalty revenues relating to sales of Dacogen for treatment of patients with myelodysplastic syndromes (MDS), which is licensed to Eisai (OTCPK:ESALY). Dacogen was approved by the FDA in 2006 for the treatment of patients with MDS. In 2004, Astex executed an agreement granting Eisai exclusive worldwide rights to the development, manufacture, commercialization and distribution of Dacogen.
Astex is entitled to receive a royalty on worldwide net sales of Dacogen starting at 20% and escalating to a maximum of 30%. Astex's royalty revenues have increased from $38.4 million in 2008, to $41.2 million in 2009 and $52.5 million in 2010.
Royalty revenues are expected to be $61.5 million in 2011. The company is expected to make $4 million net icome in 2011. As of September 30, 2011, the company had $128.4 million in cash.
Key Catalysts
At early 2012 Astex will learn the outcomes of the supplemental New Drug Application (sNDA) submission to the United States Food and Drug Administration (FDA). Astex is seeking approval for Dacogen in the elderly Acute Myeloid Leukemia indication (AML). The Pharmaceutical Drug User FeeAct (PDUFA) date for the sNDA is March 6, 2012.
Before that the company faces the Food and Drug Administration, Oncologic Drugs Advisory Committee (ODAC) Meeting to discuss the supplemental new drug application (sNDA) for Dacogen. The ODAC meeting will be held on February 9, 2012.
Astex has also submitted a Marketing Authorization Application (MAA) to European Medicines Agency (EMA) seeking approval for Dacogen in the elderly Acute Myeloid Leukemia indication. It is expected that the EMA will determine the outcome of the MAA within the second quarter of 2012.
Other Pipeline Products
Astex's clinical pipeline includes seven drugs in development, four of which are currently in or entering into Phase II clinical trials and three of which are currently partnered with large pharmaceutical companies.
Astex is expected to be a significant force in oncology drug discovery and development with expected potential future milestone-based revenues of up to $2 billion, plus royalties on approved products, and top-tier partnerships with GlaxoSmithKline (NYSE:GSK), Eisai, Johnson & Johnson (NYSE:JNJ), Novartis (NYSE:NVS), and AstraZeneca (NYSE:AZN).
Conclusion
I would recommend buying Astex under $3. The company has cash $1.35 per share. I would give at least 75% probability for the Dacogen FDA approval at March meeting because it is only an indication extension.
Disclosure: I am long ASTX.