In my last article, I wrote about the "Rashomon" effect that seemed to affect Apple's (NASDAQ:AAPL) stock valuation. It seems it was a stock that people hate to love. When it "missed" earnings last quarter and 4S was seen as a disappointment, the crowd was wondering if it lost its mojo. Now, with earnings coming up on Jan. 24th almost everyone is tripping over themselves in telling you to buy. I thought it was interesting finding the following articles on Yahoo last week.
The first one was titled "Is Apple's Tim Cook worth $378 million? Only 41% said 'yes.'"
Given that I've been a spoiled shareholder who can brag about only paying my CEO $1 since Moby Dick was a sardine, I was obviously concerned given that I knew he was awarded RSUs' (over 10 years) when he got promoted as Apple's CEO after Steve passed away. So, what's the big deal? It turned out that it was old news.
Who can you "hire" for $37.8M a year? Here is a list of CEOs that took in more than that in 2010 and their corresponding company's performance. Given my long bias with Apple, the empirical data here will show that Tim is currently a bargain at $37.8M a year.
Click to enlarge charts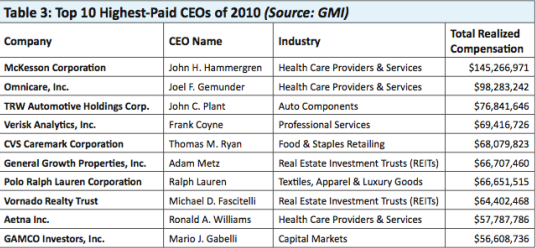 According to Sports Illustrated, Tiger Woods made $62.2M last year (first on its list), Phil Mickelson was second at $61.1M, Lebron came in at third at $44.5M, Peyton Manning at $38M and Alex Rodriguez rounded out the top five at $36M. At the 50th spot was Chris Bosch with $15.5M. Now, I don't know about you, but, unless you were a gambling man, none of these guys above made me money. How does our society ascribe these values to sports figures? Do we just have misplaced values and are willfully ignorant as to what "fair" compensation should be? How much does the president of the United States make a year? $400K?
In light of the facts provided above, I really don't know what the big deal is. We must major in minor things I guess, like someone who has never written any useful article complaining about grammar and sentence structure. Guess the 59% who said "no" must be bitter.
The second headline that was brought to my attention by a reader was Apple's announcement to open up mini stores in Target (NYSE:TGT). She wanted to know what my perspective was as she wasn't impressed. I asked her if she shopped at Target and she said "no, I'll never step inside one."
Target happens to be the second largest retailer behind Wal-Mart (NYSE:WMT). By 2013, it will have between 100 and 150 stores in Canada (bought the Zellers chain). Assuming the first 25 "test" stores do well, it is much easier to roll out 150 mini Apples within Target than building a stand alone in a big mall. Can you imagine the impact on Capex? More sales per square footage?
While I am not a shopper myself (I despise going to malls), I asked my daughter which of the two (WMT or TGT) she would prefer to shop if she had to. After rolling her eyes, she said Target as it was "cooler" than WMT.
According to John Geisse (founder of Target stores) - "We will offer high-quality merchandise at low margins, because we are cutting expenses. We would much rather do this than trumpet dramatic price cuts on cheap merchandise." Their brand promise is "expect more; pay less."
Target, as of Nov 2011, has 1,767 locations. According to its website, clients have a median age of 40, a median household income of approximately $64K, approximately 43% have children at home and about 57% of their clients have completed college.
According to Scarborough Research, Target's clients are predominantly urban "centered," tend to shop at other upscale fashionable retailers and tend to be bigger spenders than those who exclusively shop at Wal-Mart. Furthermore, Target shoppers are also avid Internet users and are more likely to buy online than Wal-Mart shoppers.
I believe, by testing with 25 locations, Apple has the potential to leverage its distribution channel most likely without the associated costs that comes with a stand alone store. While it is too early to tell given that I haven't seen what the operational structure may look like (e.g. is there going to be a genius bar there? Scan the product you want with your iPhone and go?), I like where this is going. Less cost; exponential delivery opportunity.
Of all the "big box" retailers out there, Target was the logical choice as it fits the demographics of an Apple user.
The third headline that caught my eye was the "botched" 4S China launch.
We will never ever know the truth on what really happened. Apple (like the rest of the world) totally underestimated the pent up demand of the 4S in China.
China's retail market is not like the U.S. I am surprised that they didn't take a cue out of their Hong Kong opening. To be able to sell 2,000 phones by 9 a.m.? Insane.
I look forward to hearing Tim's take on this event during the upcoming conference call. The key here was to "educate" Chinese consumers that it was available beyond its five retail locations (like online) or let them know that the amount of supply per store is limited to the wristbands handed out. Whomever is running retail in China should be on a short leash.
The fourth headline that caught my eye was ITC's initial determination that Motorola (NYSE:MMI) did not infringe on any one of three patents that Apple claimed it was infringing on.
As always, Foss Patents provides some clarity on this matter. The key word is "initial." A lot can still happen. Patent disputes are like running a triathlon.
The fifth headline that caught my eye was iTunes recently launched in Brazil and 15 other Latin American countries.
South Americans love their food and their music!. I, on the other hand, love their women and wine. Unless you have been to Brazil, it is hard to understand the ascent of its middle class. As I have written before, Brazil and China will continue to surprise Apple in the years to come.
The sixth headline was Apple releasing its supplier list and the results of its sixth annual supplier responsibility report.
Can you imagine providing a list of references and recommendations from all the women you dated for the last six years? I've got to hand it to Apple when it comes to transparency. Why can't I find one for Research In Motion (RIMM), Hewlett Packard (NYSE:HP) or McDonald's (NYSE:MCD)? Despite Apple's effort in trying to be a model citizen, they are still criticized for not doing enough.
You have got to travel to Asia (venture beyond the hotel and cruise ships) to understand the culture. I would be very surprised to see upwards of 90% compliance on these code of conducts.
Given that Apple is about to report earnings in a few weeks, it is always a good thing to "connect the dots backwards."
Disclosure: I am long AAPL, MSFT, LULU, GOOG, AMZN.
Additional disclosure: May unload 75% of AAPL Apr 335 2012 and Jan 330 2013 leaps before earnings.