In a recent article on Apple (NASDAQ:AAPL), a reader commented that after losing a good chunk of his nest egg, he decided to shun diversification and put all of his money in AAPL. His plan worked. He earned everything he lost back and then some. While it's great that things worked out for this individual, his experience raises the general question: Should you put all of your eggs in one basket? That sure as heck did not work out well for Enron employees.
Of course, letting it all ride on red works sometimes, but is it really a prudent investment strategy? The following comment reflects the opinion a considerable number of investors share:

I agree. A single stock is not a good long-term strategy. That said, sometimes it works wonders for a day, a week, a year, often much longer. Concurrently, "at least 15-20 stocks" does not represent diversification. In fact, for most investors, diversification will always remain an unattainable myth.
Undoubtedly, this is one of those debates where it's difficult, if not impossible, to define the key terms. For instance, what is diversification anyway? I've read quite a bit on the subject over the years and, honestly, I sure as hell cannot define it. It's one of those words that gets thrown around all of the time, by plenty of people, but nobody really knows what it means. Mere mortals have little, if any, chance of achieving anything other than a loosely-defined definition of diversification. You know, like "at least 15-20 stocks."
Rest assured, this opinion and what follows does not advocate a put your eggs all in one basket investment strategy, but, you've got to admit, it can work, especially in bull markets full of momentum stocks.
Consider the period of the last five years. I'm sure some people consider buying and holding the S&P 500 (NYSEARCA:SPY), Nasdaq-100 (NASDAQ:QQQ) and Dow Jones stocks (NYSEARCA:DIA) part of a, if not complete, diversified strategy. Over the last five years, however, that approach has produced lackluster returns. Consider it up against investments in Apple and Amazon.com (NASDAQ:AMZN).
Click to enlarge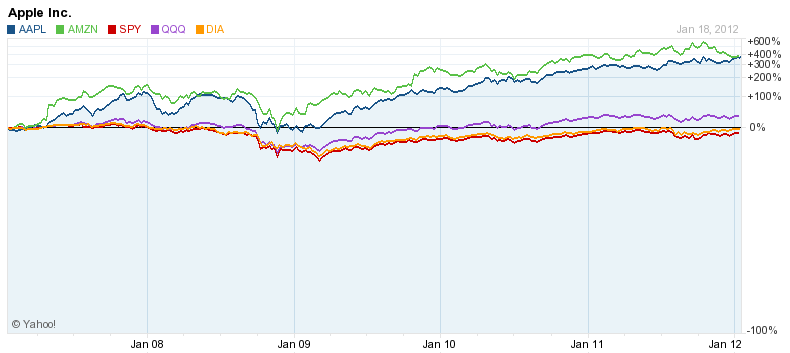 Whether you're going to pick one or two stocks, 15 to 20 or 400, you have to be a good stock picker to make money. I doubt you'll get diversified along the way. Right now, I own AAPL, American Electric Power (NYSE:AEP), Cumulus Media (NASDAQ:CMLS), HCP, Inc. (NYSE:HCP), Intel (NASDAQ:INTC), Pandora (NYSE:P), Rogers Communications (NYSE:RCI), Time Warner (NYSE:TWX), Verizon (NYSE:VZ), other stocks I am probably forgetting and a relatively conservative mutual fund or two. I am diversified. I would never make such a ludicrous claim.
Maybe if I just ditch the portfolio I am building and split things in thirds between SPY, QQQ and DIA, I'll be diversified. Possibly, but I will have to handcraft a definition diversification that makes it so.
DIA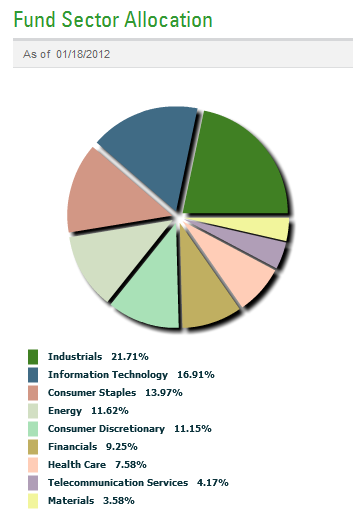 SPY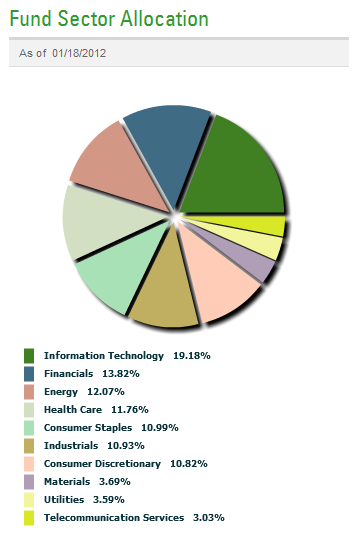 QQQ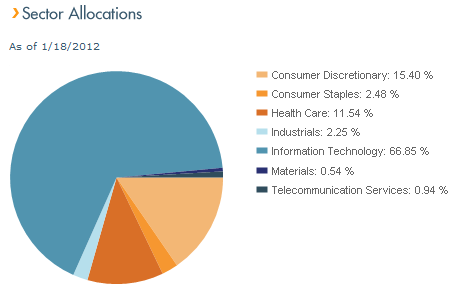 I guess you could call that mix diversified, but it looks pretty heavy on IT and pretty light on telcos to me. If you hold the major indices and tech has a bad year, I guarantee you'll get crushed.
I don't really have answers to the questions surrounding diversification. I hope this article generates a great discussion in the comments.
That said, telling yourself that you're diversified might make you sleep well at night. Reassurances of diversification from your broker might keep you from calling him at the open. That's all fine and good. Our minds play tricks on us in the interest of our sanity. At day's end, the goal is to make money. Nobody can tell you that owning one stock, be it AAPL or something else, cannot fly. It can. Ultimately, your personality and financial circumstances dictate your risk aversion and whether or not you'll chase the comfortable myth of diversification.
Disclosure: I am long AAPL, AEP, CMLS, HCP, INTC, P, RCI, TWX, VZ.