Halliburton Company (NYSE:HAL) is expected to report earnings for last fiscal quarter before the opening bell on January 23, 2012.
Halliburton Company provides various products and services to the energy industry for the exploration, development, and production of oil and natural gas worldwide. The company was founded in 1919 and is headquartered in Houston, Texas. HAL trades an average of 14.3 million shares per day.
52 Week High: $57.77
52 Week Low: $27.21
Book Value: $13.43
Float Short: 1.73%
Analysts are expecting an improvement of $0.05 in earnings per share compared to last quarter's results of $0.94. A beat of $0.99 per share, will top the estimated per share earnings. Analyst estimates range between $0.91 and $1.09 per share.
The P/E ratio has been discounted, as the current trailing twelve months P/E ratio is 11.2, while the forward P/E ratio is now 8.21. It will be interesting to see if pricing is currently at a discount, or if the market has been correct to price in lower growth expectations. While the PE looks like a value buy and attractive, the chart sure doesn't. Technically the chart looks weak with the major moving averages including the all important 200 day moving average pointing lower. With the gulf oil spill still hanging over their heads and billions of dollars on the line, I would expect a lot of hesitation for the time being. Even so, I would look for breaks below $30 as a buying opportunity.
For the same fiscal period year-over-year, revenue has improved to $17.97 billion for 2010 vs. $14.68 billion for 2009. The bottom line has rising earnings year-over-year of $1.84 billion for 2010 vs. $1.15 billion for 2009. The company's earnings before interest and taxes are rising with an EBIT year-over-year of $3.01 billion for 2010 vs. $1.99 billion for 2009. Rising revenue along with rising earnings is a very good sign and what we want to see with our companies. Be sure to check the margins to make sure that the bottom line is keeping up with the top line.
Here is a look at the fiscal year revenue: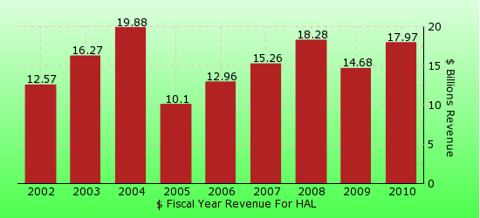 Click to enlarge

Gross reported revenue compared to the mean estimate (rounded):
| | | | | |
| --- | --- | --- | --- | --- |
| Fiscal Quarter Ending Month-Year | Revenue Estimates | Actual | $ Difference | Difference % |
| Sep-11 | $ 6.40 B | $ 6.55 B | $ 152.11 M | 2.38% |
| Jun-11 | $ 5.71 B | $ 5.93 B | $ 227.40 M | 3.98% |
| Mar-11 | $ 4.89 B | $ 5.28 B | $ 388.79 M | 7.95% |
| Dec-10 | $ 4.88 B | $ 5.16 B | $ 283.89 M | 5.82% |
| Sep-10 | $ 4.64 B | $ 4.67 B | $ 28.64 M | 0.62% |
M = millions, B = billions.
Differences are rounded.
Some onetime items are often excluded in reported EPS.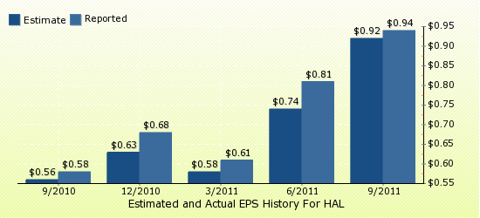 Click to enlargeReported earnings per share compared to the mean estimate. Differences are rounded.
The total short interest number of shares for HAL:

Click to enlarge

The number of days to cover short interest based on average daily trading volume for HAL:

Click to enlarge
I use a proprietary blend of technical analysis, financial crowd behavior, and fundamentals in my short-term trades, and while not totally the same in longer swing trades to investments, the concepts used are similar. You may want to use this article as a starting point of your own research with your financial planner. I use Seeking Alpha, Edgar Online, and Yahoo Finance for most of my data. I use the confirmed symbols from earnings.com that I believe to be of the most interest.
Disclosure: I have no positions in any stocks mentioned, and no plans to initiate any positions within the next 72 hours.