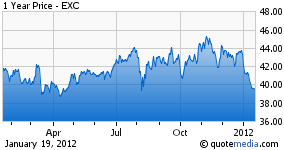 Exelon (NYSE:
EXC
) is getting a lot of attention recently since share prices have slid below $40. Some comments are positive, i.e. gotta love that yield, while others are not so positive, i.e. declining natural gas prices are bad for nuclear powered merchant producers. In reality, it is some of both.
Investors need to keep in mind a large portion of EXC's earnings potential lie in its low-cost power generating abilities. As a merchant power producer, EXC sells a lot of power on the open market and hedges its production out into the future. As the market price of electricity has fallen, especially in the East Coast, not only does it reduce spot revenues but also lowers the price of expiring hedges to be rolled-over. As of Sept 2011, 80% to 85% of 2012 production is hedged, along with 55% to 59% of 2013.
Over the past year, pricing in the 2013 and 2014 electricity power forward markets have been terrible, declining in value by between 14% and 17%. Driving the market down is the decline in natural gas, reducing costs for competitive natural gas generated electricity. This will adversely affect cash flow and earnings at EXC over the next two years.
This weakness will show up in three ways - lower earnings per share, lower return on equity and return on invested capital, and lower free cash flow after capital expenditures.
Consensus earnings for 2012 and 2013 are $3.09 and $2.97, respectively. This will be down from an estimated $4.22 that should be reported for 2011. ROE is expected to decline from a hefty 21.9% in 2009 to around 11.3% in 2013 while ROIC is expected to decline from 11.6% to 5.1% respectively. Debt-to-equity will most likely increase from 84% to 116%, respectively, as free cash flow (ocf less capital ex) may decline from $2.8 billion in 2009 to around a negative $800 million in 2013.
Anticipating these declines in Dec, analysts began downgrading EXC, and share prices have fallen close to its 52-week lows. As natural gas prices further declined over the past month, downgrades became more prevalent.
Based on 2013 revised earnings estimates, EXC trades at a premium to its peers and with its anticipated decline in ROIC will fall from one of the top creators of ROIC in entire utility sector to just middle of the pack.
On the positive side, the dividend appears to be relatively safe, as the payout ratio will rise from about 45% to 75%, even if dividend increases continue at a rate of 3% to 4% a year after pausing in 2011. The current yield is very attractive at 5.3% and will help support share prices.
EXC continues to expand its merchant generating capacity footprint by establishing new positions in natural gas, wind, and solar assets. However, with the substantially lower cost to produce power from natural gas, look for EXC to slow down its alternative energy expansion in favor of more gas-powered facilities.
The pending merger with Constellation will also expand EXC's regulated footprint, and will help offset some of the weakness in merchant power markets. The sector trend recently has been towards increased consolidation in regulated businesses due to more stable cash flow and earnings potential, albeit at lower returns. As an example of the greater stability of the regulated business, review 3rd quarterly financials for EXC's three operating segments: Generation, Com Ed, and PECO. Net income for the quarter over last year fell by 35%, 7% and 17% respectively.
Adding a bit more to the longer-term positive trends is the potential shutdown of coal-fired generation due to EPA regulations. Reducing capacity eventually leads to higher market prices.
The investment thesis for EXC should be to collect a steady income while shareholders patiently wait for higher natural gas pricing to pressure electricity pricing upwards. EXC's earnings power as a low cost producer will again become its advantage with strength in both electricity demand and market pricing. However, that may not come until 2014 and beyond.
Due to the impact of natural gas on the power markets, some investors may want to evaluate EXC as a direct recipient of higher natural gas prices over time. While a bit unusual to look at an electric utility as a beneficiary to higher natural gas prices, EXC could be the exception. It is estimated that EXC's earnings are impacted by between $0.40 and $0.50 per share for every $1.00 adjustment in the Henry Hub pricing for natual gas. Buying on weakness, i.e. below $40, over the next 12 months should generate more than acceptable long-term total stock returns.
As always, investors should conduct their own due diligence, should develop their own understanding of these potential opportunities, and should determine how it may fit their current financial situation. This commentary does not constitute individual investment advice and is not a personalized recommendation to buy, sell or hold securities. Past performance is no guarantee of future returns.
Disclosure: I am long EXC. Author has been a shareholder since 2011