"When I'm good, I'm very good, but when I'm bad, I'm better." - Mae West
While markets have been rallying in what appears to be the best start to indices since 1987, not all areas of the market have been participating. The Winter Resolution idea I've been writing about has been coming to pass, whereby the volatile sideways action of last year appears over, correlations and volatility are dropping, and a trend (up) has asserted itself. I'm sure many are skeptical and scratching their heads as to why this is. I recommend listening to my recent CNNRadio interview, around the 4 minute 30 second mark in which I detail my thoughts on what's happening within the context of my intermarket analysis. I assure you many who feel puzzled today were just as puzzled following the March 2009 low. Oh - and I gave a nice shoutout to SeekingAlpha in the interview as well.
Now, having said all that, I'm most interested in areas of the markets that severely underperformed last year rather than did well because this is the exact kind of environment where new leaders emerge internally within the markets. One of the most severe underperformers has been anything natural-gas related. We all know about record low prices due to huge supply, but could a low be near? Take a look at the price ratio of the First Trust ISE Revere Natural Gas ETF (NYSEARCA:FCG) relative to the S&P 500 (NYSEARCA:IVV). As a reminder, a rising price ratio means the numerator/FCG is outperforming (up more/down less) the denominator/IVV.
(Click chart to expand)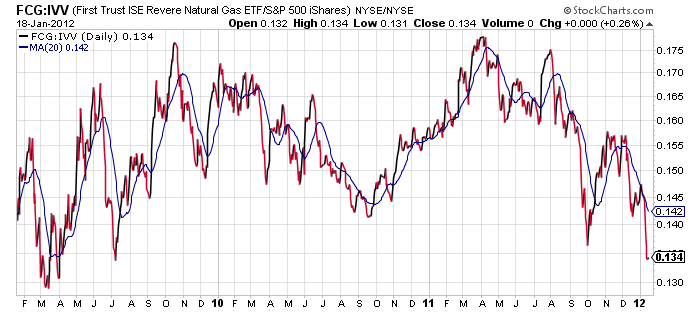 Natural gas stocks on average have severely underperformed the broader stock market since the ratio peak in strength of late March/early April 2011. The ratio collapsed in September as the Summer Crash continued, and has completely failed to keep up with broader stock markets in the first few weeks of the year. However, this is the precise kind of environment where a snap-back and mean reversion trade becomes a high probability scenario. The ratio at 0.134 right now may be nearing its 3-year low and could be at a relative support level now. With Oil prices remaining high and a possible embargo of Iran to come, perhaps natural gas could surprise investors positively.
Disclosure: The author, Pension Partners, LLC, and/or its clients may hold positions in securities mentioned in this article at time of writing. The commentary does not constitute individualized advice. The opinions herein are not personalized recommendations to buy, sell or hold securities.