There are many investors, analysts, and writers bullish on Valero (VLO). Still in a downward trend, but considered much undervalued by the numbers, it may be a good investment. But we are of the opinion that the stock should be hedged against loss by investors until a bottom is defined.
(Click chart to expand)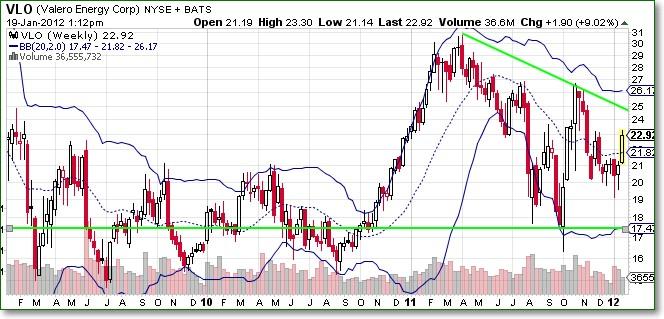 Valero Energy Corporation operates as an independent petroleum refining and marketing company. The company operates through three segments: Refining, Retail and Ethanol. The Refining segment engages in refining, wholesale marketing, product supply and distribution, and transportation operations. This segment produces conventional gasoline, distillates, jet fuel, asphalt, petrochemicals, lubricants and other refined products, as well as a slate of premium products, including conventional blendstock for oxygenate blending, reformulated gasoline blendstock for oxygenate blending, gasoline meeting the specifications of the California Air Resources Board (CARB), CARB diesel fuel
Presently, VLO is in a down trend that started from its high back in April of 2011. It is not hard to figure out that the economic down turn had a huge affect upon the stock. As it tries to make a turn around again, it will be important to see if it can bounce off the resistance trend line at about 25.
Lately the economic news has been mildly good for the U.S. and if this continues and jobs are being created, demand for the refinery business may pick up again. An investor may be able to get in on the turn around that may occur toward the end of the second half of the year.
There are a number of Seeking Alpha writers who are bullish on VLO. EFS Investment pointed out in a recent article that analysts have VLO rated as 'outperform' with a target of $32. With its own FED+ valuation, tit believes Valero is trading 147% below its fair value range. Robert Ruben, also a Seeking Alpha contributor, also is bullish on VLO. It is his opinion that "The stock is trading at a 50% discount to a reasonable long-term value for the business." He is of the opinion that now is a good entry point for the investor.
There are many investors and writers who are bullish on VLO even with its present downward trend. We like the stock but would suggest that if you are interested in VLO as an investment, either wait until it points out that it has formed a bottom or use options to hedge yourself against loss. As an example, if you bought the stock today, you would be paying about $22.34 at the time of this writing. Hedge your investment with call options. One can sell a February 24 call for about $.52 at the present. This will increase value of your investment by 2.2% for the next 30days. And give you a little protection at the same time. The options appear to be reasonably priced. We favor hedging the stock if you are going to invest until it defines a bottom.