On July 26, 2011, Seeking Alpha published my article "Constructing the Core of Your Dividend Growth Portfolio." That was my most popular article in 2011. It described my methodology in selecting stocks for a dividend growth portfolio and presented the 21 stocks in my portfolio including the selection of core holdings. These are six key stocks in which I have taken a larger position. Together they total 50% of the value of the portfolio, equal to the value of the 15 other stocks. This article examines performance of the core holdings and of the entire dividend growth portfolio for the year ending December 31, 2011. It seeks to examine, especially, if heavier weighting of several key stocks designated "core holdings" increased the return of the portfolio or provided other benefits.
A Concept of Core Holdings
The concept of a portfolio weighted toward a core of very few stocks is a compromise between a focus on high conviction stocks and diversification among many and varied stocks. For those completely in the diversification camp, a Total Stock Market Index Fund or S&P 500 Index Fund suits their philosophy well. For the focused investor, the ideal number of securities would be one. That single stock would outperform all others and meet all the investor's objectives. Very few investors purchase just one stock, however it is not unheard of. More frequently, investors have a focused portfolio of 5 to 10 stocks.
A concept of core holdings is based on the premise that some companies are better than others are, and for many reasons will outperform the market more than other investments during a given period. Better, means will perform more robustly in the long run; better, also means most suited for the achievement of individual goals. In my case, key among these is my goal of providing a long-term retirement income. Application of this concept also assumes that the investor can select these stocks. While six stocks provide some risk abatement through diversification, I am more comfortable with a broader selection. Therefore, my portfolio is designed with a special focus on six companies and diversification is added by smaller investments in 15 other companies.
Core holdings provide the stable center of my dividend growth portfolio and are among the most solid and reliable engines of American capitalism listed on the stock exchanges. These are large-cap blue chip companies with significant economic moats. This core is the powerful and perpetual money machine around which I build my portfolio. A variety of other great companies surrounds this core. These other companies can include stocks with more than five but less than 10 years of dividend increases. It can include utilities, REITs, mortgage REITs, business development companies, multi-level partnerships (MLPs), preferred stocks and even ETFs. These specialized types of firms and securities add diversification and increase the overall yield of the portfolio.
Your core companies are your best ideas and you know these companies well and why you own their stock. Your holding of these companies is a result of careful analysis and proper valuation. It is the result of good planning, discipline and patience, which are very important keys to success in any investing.
Evaluation of 2011 Core Holdings and 2011 Dividend Growth Portfolio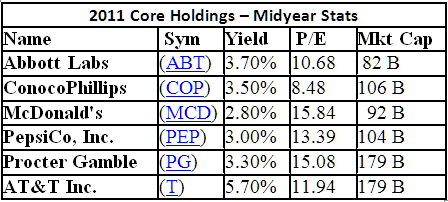 For evaluation purposes, $25,000 is the investment in each of the six core stocks. $10,000 each is the investment in each of the other 15 stocks. Thus, the beginning balance of the portfolio on January 3, 2011, is $300,000. Also, 50% of this ($150,000) is in the core holdings and 50% ($150,000) is in the other 15 issues for a total initial investment of $300,000. These amounts are designated as the beginning positions to illustrate 2011 performance. Otherwise, the dividend growth portfolio discussed mirrors my own retirement account. Of course, my purchases were not all made on January 3, nor were all the amounts in even dollars. The real world is messier than that. I would also like to mention that there was quite a lot of hand entry of data involved in presenting this. If something looks like a mistake, and more than a rounding error, perhaps it is. Drop me a note and I'll see if I can correct it.
Finally, this is a credible approach, which provided respectable returns. It is, however, not the only way to success in stock investing. There are many ways to invest, even within the area of dividend growth investing. If something here is useful in making you a better investor, use it. If you prefer to do things a different way, a better way for you, that is fine.
Measures of Success
One of the goals of the portfolio is a 5% yield, which would provide $15,000 in current income. The actual result was a yield return of 4.78% on the original investment and dividend income of $14,350. I am satisfied with that. The ending amount in the portfolio was $322,272, which is a 7.42% gain. With the dividend yield of $14,350 (4.78%) that is a total return on $300,000 of $36,622, a 12.22% gain from the beginning balance. In the final tally, there are 18 winners and only three losers.
Click to enlarge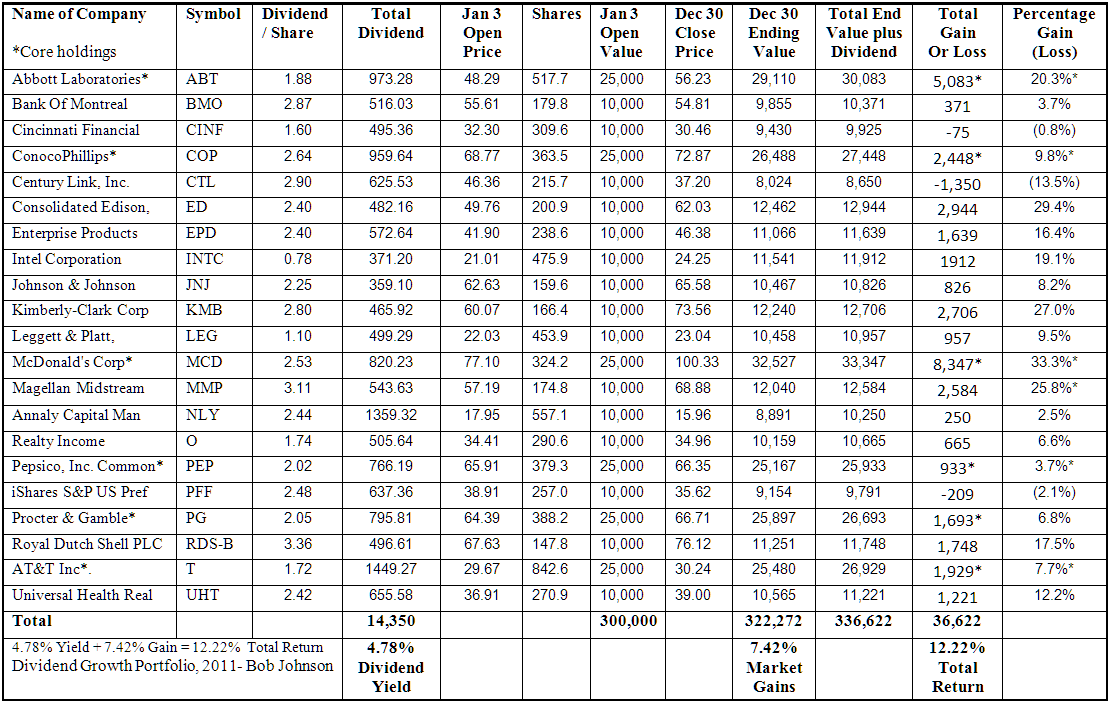 The core holdings performed about the same as the non-core stocks, providing just over half the total gains. Therefore, this one-year trial of the concept of focus on core holdings, ones that I selected, is inconclusive. However, I am satisfied with the overall performance of the portfolio.

I believe that this is an unusually good outcome in an unusual year for the markets. On January 3, 2011, the first trading day of the year, the S&P opened at 1257.62. At the closing bell on December 30, 2011, the last session of the year, it closed at 1257.60. That is a gain for the period of 0%, and the dividend yield was about 2.2%. The Dow-Jones Industrial Average fared a little better with a gain of 4.7%, again using the opening and closing bells for 2011.
Are There Secrets to This Success?
Of course, there are. I set out these secrets, which are not well kept, in the earlier article. They are far from original. First, see below the selection criteria for the core stocks and the remainder of the components of the portfolio. My dividend growth portfolio plan describes core holdings quantitatively as follows: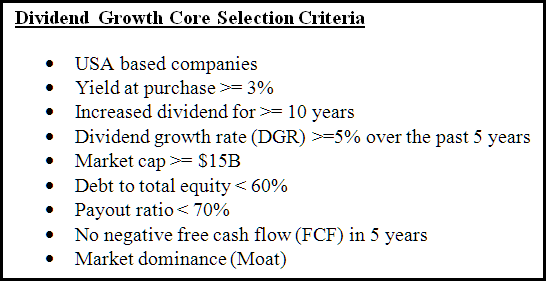 For the non-core holdings, the standards are relaxed to allow ADRs, purchases at a little lower yield than 3%, fewer years of dividend growth and a less robust moat. The benefit of the relaxed standards is usually an increased yield. Examples are smaller telecoms, REITs, MLPs and smaller cap companies. In general, I will move to higher quality securities in 2012. Here is a little more about how.
Benjamin Graham's "The Intelligent Investor" has influenced me more than any other work. Warren Buffett calls it "the best book on investing ever written." Let me paraphrase some of Graham's criteria for stock selection for the prudent investor.
Buy quality.
Build a solid core and then diversify broadly.
Choose companies that are of adequate size to impact the marketplace.
Buy companies with strong finances as evidenced by cash flow and the balance sheet metrics.
Look for earnings stability and growth.
Earnings growth is an ongoing essential component of success.
Seek firms with a long record of growing dividends.
A moderate P/E ratio is important. Graham figured P/E on three years average earnings divided by current price. (Jason Zweig)
A moderate "price to book ratio" winnows a lot of chaff out of fluffed up balance sheets.
Do your due diligence, not only of financials but also of the firm's reputation. (Please see my article The Importance Of Due Diligence - Exemplified By Johnson & Johnson.)
There is good investing advice available in many places and there are innumerable good sources of information. The Wall Street Journal, The Financial Times and Investor's Business Daily publish on a daily basis. Forbes, Barron's, The Economist and Smart Money are periodicals. There are a number of good books like "The Intelligent Investor," which is mentioned above. Warren Buffett, John Bogle, Peter Lynch and Josh Peters have wisdom to offer in the form of well written books.
Many investment professionals writing for Seeking Alpha offer sound investing advice. A good place to start is Evelyn C. Roth's "Seeking Alpha's Dividend Investing Primer." Some of my favorite Seeking Alpha writers are Chuck Carnevale, with his value seeking F.A.S.T. Graphs Software; D4L, who quantifies dividend growth stocks on many dimensions; David Fish, Executive Editor for the Moneypaper newsletter and co-manager of the MP 63 Fund (Symbol: DRIPX), and author of the Dividend Champions spreadsheet series. A good example of a well-written plan for a dividend growth portfolio is David Van Knapp's "Constitution for a Dividend Growth Portfolio." David has just announced the annual publication of Top 40 Dividend Growth Stocks For 2012. This unique investing guide is oriented to the dividend growth investor.
I would be remiss if I did not mention that there is plenty of bad investing advice out in the marketplace. I believe your best defense against this is education. Become so steeped in the fundamentals of investing, the agreed upon core ideas and businesses basics behind good companies, that anything outside the pale will immediately send up a red flag. If something sounds too good to be true, it probably is. Penny stocks, get rich quick schemes and secret opportunities are a fast way to lose money. Most unplanned, un-investigated purchases of stocks are bad ideas.
Portfolio Changes Under Consideration
I am very pleased with the 2011 performance of my Dividend Growth Portfolio. Because of the capital appreciation of this portfolio, I now have $322,000 to generate my required $15,000 of income, and an average yield of 4.65% will be sufficient. To me, this lower yield requirement is an opportunity to increase the quality of my portfolio while lowering the risk. I will buy better stocks to replace the ones I am culling. This should increase the stability of the portfolio and possibly increase the potential for capital appreciation.
Some dividend growth investors have the idea that dividends are a good thing but capital appreciation is unimportant. That is simply not so. Increases in earnings drive all increases. Dividend growth without growth of earnings is a very short-term proposition. The key task of management is to increase the value of the corporation. Growth in dividends is great but so is strengthening of the balance sheet and an increase in equity of the firm.
Let me present a list of stocks I plan to sell or reduce my position in, and briefly why. Following that, I will list without comment the ones I plan to hold. Last, I will put forth the selection I am evaluating for purchase or for an increased position.
Evaluate to Sell or Reduce Position
ConocoPhillips (NYSE:COP) - I may reduce my position in this firm and/or move it from core status. I would have liked to see them perform better last year, and with the 2012 dividing of the firm into two entities there is added risk, and hopefully added opportunity. I do not feel this will be a strong year for the energy sector. I choose COP over Chevron (NYSE:CVX) last year and perhaps I should revisit that decision.
Cincinnati Financial (NASDAQ:CINF) – This regional insurer is a $5 billion company and does not belong in this portfolio. It is too small and is limited in its upside. Currently it is suffering from poor underwriting, nothing new, but in this economic climate, it cannot make up the difference with investments. They are paying a dividend of $1.61 on earnings of $0.98.
Century Link, Inc (NYSE:CTL) - I am in the process of selling this firm. They are a distant third in a crowded U.S. telecom market and I see no indication that they will find prosperity in the near future. MorningStar says that they should be able to maintain their dividend. I do not find that to be a compelling reason to hold the stock. They are paying a dividend of $2.90 share on earnings of $1.51. The value of the corporation is decreasing, as is the stock price.
iShares Preferred (NYSEARCA:PFF) - Preferred stock does not belong in this portfolio. PFF has an annual return on investment of 0.20% for the past six years according to F.A.S.T. Graphs. The yield of 6.99% looked good when the price of the fund was stable, but overall it was down 2% last year.
Leggett and Platt (NYSE:LEG) - This $5B company is simply too small for this portfolio. They have little power in the marketplace. In addition, I do not feel optimistic when reading the annual report and other information releases. It is better to use the investment elsewhere.
Universal Healthcare Realty (NYSE:UHT) - This is a small REIT with recurring difficulties. Its good yield does not make it a valuable holding. The stock crossed its 200-day moving average last week. It is a good time to sell.
Annaly Capital (NYSE:NLY) - This mortgage REIT pays a dividend of about 14%, however, that does not mean that it is the best use of my money as the total return was only 2.5%. I will be a seller when I can make a small gain.
Hold, Firms I'm Fine With
Abbott Laboratories - ABT
Bank of Montreal - BMO
Consolidated Edison - ED
Enterprise Products - EPD
Johnson & Johnson - JNJ
Kimberly-Clark Corp - KMB
McDonald's Corp - MCD
Magellan Midstream - MMP
Pepsico, Inc. Common - PEP
Procter & Gamble - PG
Reality Income - O
Royal Dutch Shell PLC - RDS-B
AT&T Inc. - T
Evaluate to BUY or Increase Position
Intel Corporation (NASDAQ:INTC) - I believe that the technology sector will do well this year and forward so I may add to my position here and perhaps move it to a core position to replace COP if I choose to reduce that holding.
Microsoft Corporation (NASDAQ:MSFT) - I plan to purchase this on dips and build a meaningful position over the next year or two. I see these as by far the two best dividend paying technology stocks.
BCE, Inc. (NYSE:BCE) - I will ease into the former Bell Canada, BCE, Inc. It is a higher quality firm than CTL as evidenced by the Balance Sheet, Credit Rating, Performance Consistency, etc. The yield is 5.10%
Canadian Banks (NYSE:BMO) (NYSE:BNS) (NYSE:TD) (NYSE:RY) (NYSE:CM) - I currently have a position in Bank of Montreal (BMO) and plan to add another Canadian Bank to my Dividend Growth Portfolio. In the order listed with yields, they are Bank of Nova Scotia (BNS) at 4.0%, Toronto Dominion Bank (TD) 3.50%, Royal Bank (RY) 4.10% and Canadian Imperial Bank (CM) 4.80%. Canadian Banks are the soundest banks in the world. I have written two articles about Canadian banks, the latest is Sound Canadian Banks Offer Opportunity published December 8, 2011. I believe that the financial sector will do much better this year and the above stocks are all reliable dividend payers with good yields.
Mining Stocks (NYSE:SCCO) (NYSE:FCX) (NYSE:BHP) (NYSE:RIO) - Southern Copper (SCCO), Freeport McMoRan (FCX), BHP Billiton (BHP) and Rio Tinto (RIO) are four of the largest copper producers in the world. In addition, BHP Billiton is the world's largest miner, and Rio Tinto is not far behind. SCCO has a yield of 8.4% and BBL, a BHP ADR, is paying 3.40%. These later two look like the best candidates for my Dividend Growth Portfolio. Basic materials is a beaten down sector and any economic recovery at all will drive demand for copper, iron and coal. There is a worldwide shortage of natural resources looming on the horizon, and the prices of these commodities will soar. I address this more fully in Why It's Time To Buy Depressed Miners and in a companion piece also published in November of 2011, How to Buy Mining Stocks and Profit.
I will revisit several other firms from a watch list I maintain.
Next Steps
My next task is to rewrite my Portfolio Plan and then select stocks to support the revised plan. I may modify the emphasis I put on core holdings, however, I still embrace the concept. It is my intention to write articles concerning my Revised Dividend Growth Portfolio Plan and 2012 Dividend Growth Portfolio Selections as they evolve.
I hope that you find the methods discussed above helpful. There is no end to the variations you might make on them. Perhaps you can see some merit in the stocks I have selected. Or, possibly you now have a better idea on how to develop your own selection criteria. Plan your work and work your plan. All will be well and you will make money while having fun.
Good luck in 2012!
Disclosure: I am long ABT, BBL, BMO, BNS, CINF, COP, CTL, ED, EPD, FCX, INTC, JNJ, KMB, MCD, MMP, MSFT, NLY, PEP, PFF, PG, RDS.B, RIO, RY, SCCO, T.