Stocks remain white hot. Perhaps a bit too hot.
This represents a dramatic change from just a month ago. After limping toward the Christmas holiday and standing on the brink of breaking below 1200 on the S&P 500 on December 19, stocks swiftly reversed higher. And in the four weeks since, the S&P 500 has advanced by +9% to break out above 1300 and close at its highest level since July 26, which was just before the market began cascading lower last summer.
Thus, the declines that began last summer have been completely erased. This is a fairly notable development, given that the underlying problems plaguing the global economy, including the crisis in Europe, remain far from resolved. In many respects, conditions have become even worse. As a result, it is worthwhile to question whether the market is running a bit ahead of itself following this recent rally.
A look at the underlying data suggests that the stock market may be overdue for a pullback.
First, stocks are now overbought. The stock market as measured by the S&P 500 Index is trading at a Relative Strength Index (RSI) reading of 68.69. The RSI has been over 60 on the S&P 500 Index on four separate occasions over the last year. In each instance, the stock market subsequently rolled over, declining by over -11% on average over the next four to six weeks. Thus, a pullback in the S&P 500 back toward the 1200 in the coming weeks would not be out of the question if recent precedence holds.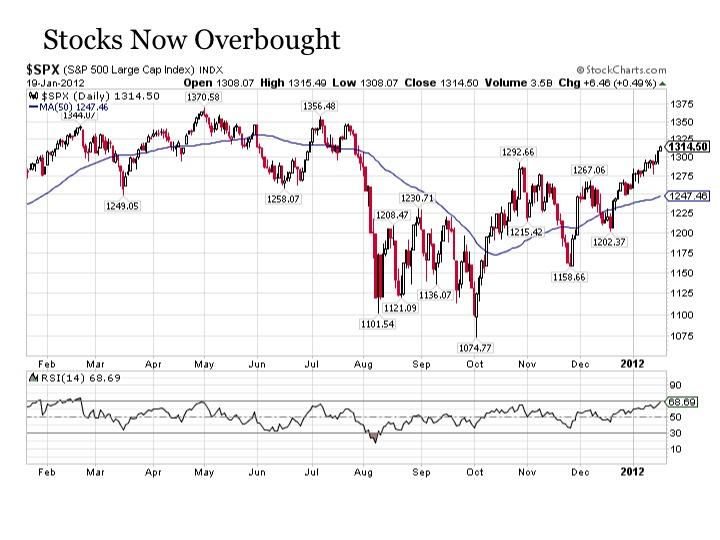 Click to enlarge
Also, stocks appear to have risen a bit too far too fast. On Thursday, the S&P 500 Index closed at 1314, which is 5.3% higher than its 50-day moving average at 1247. (blue line on chart above). On only three instances in the past two years have stocks been trading at a +5% premium above its 50-day moving average, and stocks reversed lower in each instance posting an average decline of roughly -10% on average over the next three to five weeks.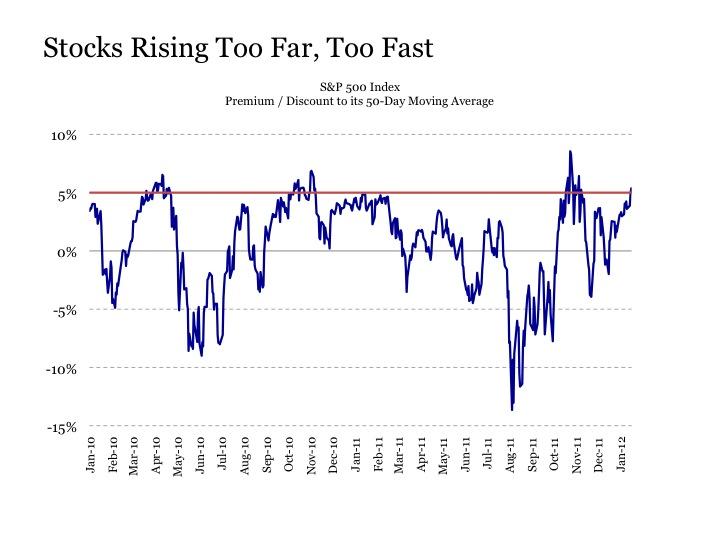 Click to enlarge
Lastly, a variety of momentum and money flow indicators are also trading at elevated levels that over the last few years have signaled short-term market peaks that were followed by pullbacks.
Thus, the stock market now appears overdue for a short-term retracement, and perhaps even a sharp double-digit decline, in the coming weeks given the magnitude of the recent advance.
One key difference may cause the stock market to defy these signals and continue to rise higher. That is the ongoing injections of monetary stimulus from all corners of the globe. The Fed is actively engaged in Operation Twist while maintaining liquidity swap lines stretching across the Atlantic. The European Central Bank is aggressively expanding its balance sheet, including rounds of Long-Term Refinancing Operations (LTROs) to help support the banking system across the region. And China recently announced actions to encourage capital flows into their securities markets. Whether or not these programs will realize any long-term success in resolving the problems that continue to infect the global economy remains to be seen. However, such programs have a meaningful stimulative impact on capital markets in the short-term. Therefore, it would not be surprising to see stocks continue to stretch beyond normal levels to the upside in the near-term. Unfortunately, they also result in arguably more painful stock corrections once the effects wear off, particularly as underlying fundamental conditions continue to deteriorate.
For this reason, it remains worthwhile to keep hedges in place even with the stock market appearing overdue for correction. Continuing to focus equity exposures on more defensive areas of the market provides the ability to participate to the upside on further advances while at the same time providing downside protection against any sharp pullbacks. Representative names under this approach include JM Smuckers (NYSE:SJM), HJ Heinz (HNZ) and WGL Holdings (NYSE:WGL). And picking up a name like McDonald's (NYSE:MCD) is also attractive on any pullbacks. Such a backdrop is also supportive of precious metals such as Gold (NYSEARCA:GLD) and Silver (NYSEARCA:SLV) that directly benefit from sustained aggressive money printing to support the global financial system. Finally, it is also worthwhile to maintain allocations to those positions that would benefit most from a sharp stock pullback. These include Long-Term U.S. Treasuries (NYSEARCA:TLT) and STRIPS (NYSEARCA:EDV).
The stock market has risen virtually unabated for the last few weeks now. While this has been a great way to start the New Year, it remains important to remember that in the current environment that stocks can turn swiftly and violently to the downside on any given day, particularly when stocks are trading at overbought levels. Stay tuned.
Disclosure: I am long GLD, SLV, HNZ, SJM, WGL, TLT, EDV.
Disclaimer: This post is for information purposes only. There are risks involved with investing including loss of principal. Gerring Wealth Management (GWM) makes no explicit or implicit guarantee with respect to performance or the outcome of any investment or projections made by GWM. There is no guarantee that the goals of the strategies discussed by GWM will be met.