PROLOR Biotech (NYSEMKT:PBTH)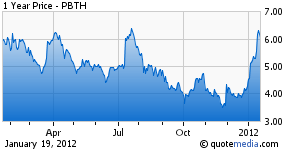 From positive clinical results to growing takeover potential, PROLOR has appreciated by nearly 50% for the year to date. As the pipeline marches forward, 2012 is gearing up to be an inflection point for the biotech firm. Based on attractive peer comparisons, previous buyouts, and earnings potential, I believe that PROLOR has considerable upside from here.
With a net cash position of $17.6M, the company has solid liquidity to fund operations and offers the certainty that other emerging biotech firms frequently lack. Its lead product, hGH-CTP, has more than proceeded smoothly - it has exceeded both management and analyst expectations. In the post-Phase II clinical trial, hGH-CTP indicated that it could be injected just twice monthly instead of daily like what is currently available. Previously, we were bullish on the product allowing for weekly injections - now, the growth story has become even brighter.
hGH-CTP will be the first long-acting version of human growth hormone that is FDA-approved. It will target a $3B market that is compounding 7% annually. Assuming that it could penetrate 35% of the market through partnerships and receive 20% in royalties, PROLOR's take comes out to more than $200M. At a price-to-sales multiple of 5x, this product is thus worth more than $1B. Eli Lilly (NYSE:LLY), Pfizer (NYSE:PFE), and Roche (OTCQX:RHHBY) are all in need of pipeline upgrades and a partnership with PROLOR would be a significant way to catalyze earnings. As a result of strong IP protection and extensive capital requirements, the barriers to entry virtually preclude competition over PROLOR's reign in the human growth hormone market.
As much as hGH-CTP is a value driver, it is just one piece to the puzzle. MOD-6030, a long-acting version of oxyntomodulin, targets the diabetes type II market and is significantly undervalued when one considers past buyouts. When factoring in possible milestone payments, Roche acquired Marcadia for $537M to gain rights to a simple preclinical GLP-1/Glucagon dual receptor agonist. Having already demonstrated superiority in weight loss to oxyntomodulin, MOD-6030 only further enhances PROLOR's takeover potential. Accordingly, the company merits its "strong buy" rating on the Street.
Pfizer
In an earlier article here, I explained why Pfizer was strong and safe with numerous catalysts. Since the piece was published, the stock has outperformed the S&P 500 by 575 bps at a return of 9.5%. I continue to find that the company trades substantially below intrinsic value - a sentiment generally shared by the Street, which rates shares near a "strong buy".
From a multiples perspective, Pfizer is exceptionally cheap. It trades at a respective 17.3x and 9.5x past and forward earnings. With GlaxoSmithKline plc (NYSE:GSK), Abbott (NYSE:ABT), and Merck (NYSE:MRK) trading at 22.8x, 19.1x, and 26.6x past earnings, it is hard not to see Pfizer's multiples expanding. Yes, the company has a weak pipeline, but tofacitinib represents a major catalyst with broad applications in everything from treating rheumatoid arthritis to preventing organ rejection.
And, at the third quarter earnings call, Pfizer's CEO, Ian Read, noted strong performance from Lipitor, as well as broad-based progress:
"Animal Health, Nutrition and Consumer all turned in strong quarters. Operationally with Animal Health growing 15%, Nutrition growing 24% and Consumer growing 11% over the same quarter last year. And in Japan, our second largest market, we generated 19% operational growth company-wide.

And we continue to see the benefits of our process improvements and cost reduction work this quarter. We are finding new ways of doing business that we believe will further enhance our competitiveness by using fewer resources without compromising our ability to operate".
Consensus estimates for Pfizer's EPS forecast that it will grow by 2.2% to $2.28 in 2011 and then by 1.3% and 2.6% more in the following two years. Modeling a CAGR of 2.1% for EPS over the next three years and then discounting backwards at a WACC of 9% yields a fair value figure of $30.64, implying 39.3% upside.
Alnylam Pharmaceuticals (NASDAQ:ALNY)
With 26.4% appreciation for the year to date, Alnylam has opened 2012 with a bang. The biotech firm is developing therapeutics that are based on ribonucleic acid interface, RNAi, and has made significant progress in advancing its portfolio of products. The ALN-RSVO1 program for treating RSV infection is in Phase II clinical trials while the ALN-APC program for hemophilia continues to advance.
The company finished 2011 with greater liquidity than what the market anticipated. This has fostered greater certainty at a critical time when the company is seeking partnerships. Management has stressed its 5X15 strategy that would involve partnering with other firms to drive the pipeline. Alnylam is also rated a "strong buy".
Disclosure: I have no positions in any stocks mentioned, but may initiate a long position in PBTH, PFE over the next 72 hours.