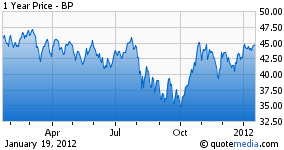 The recent Carnival (NYSE:CCL) cruise liner that capsized off the Italian coast has brought many comparisons to the crisis caused by the gulf oil spill. Ironically, this occurs just as the dark clouds finally appear to be lifting for BP (NYSE:BP) and the stock looks like it finally has some momentum to go with its compelling valuations.
Momentum drivers for BP:
1. It appears it is highly probable that the company will reach a settlement with the U.S. Government on civil and criminal charges in the near future related to the gulf oil spill.
2. BP made good progress with resuscitating its brand image in 2011.
3. A federal judge in late December ended BP's three-year probation for the negligent discharge of oil in Alaska in 2007. This allows BP to resume drilling in that territory and should provide a psychological lift to the stock as well.
4 reasons BP is a good buy at $44 a share:
The stock provides a robust 3.8% dividend. Given its improving cash flow, the company should begin raising its dividend again once it completes putting the gulf oil spill fallout behind it.
The median analysts' price target on BP is $54 a share and S&P has a price target of $58 on the stock.
BP still sells in the bottom third of its five year valuation range based on P/E, P/B, and P/S.
Jefferies just upgraded BP from Hold to Buy due to good news in BP's legal battles and the stock is cheap at less than 7 times forward earnings.
Disclosure: I am long BP.