The following is an analysis of the Drug Industry. The analysis will use a system that I designed that is based on the ratio that Warren Buffett released to the public in 1986, which he coined "Owner Earnings." For those new to this type of analysis, I would recommend reading an introduction to my system by clicking here. My goal is ultimately to analyze all non-financial industries and then to subsequently re-analyze them every quarter. My purpose in writing these articles is to show the power of Mr. Buffett's ratio in analyzing industries, stocks, ETF's, Mutual Funds and individual portfolios. If one can fill their portfolios with companies that score high using my system and avoid those which fail, one should be able to increase the probability of becoming a successful investor in my opinion.
So let us begin by giving everyone the owner earnings numbers for the Drug Industry: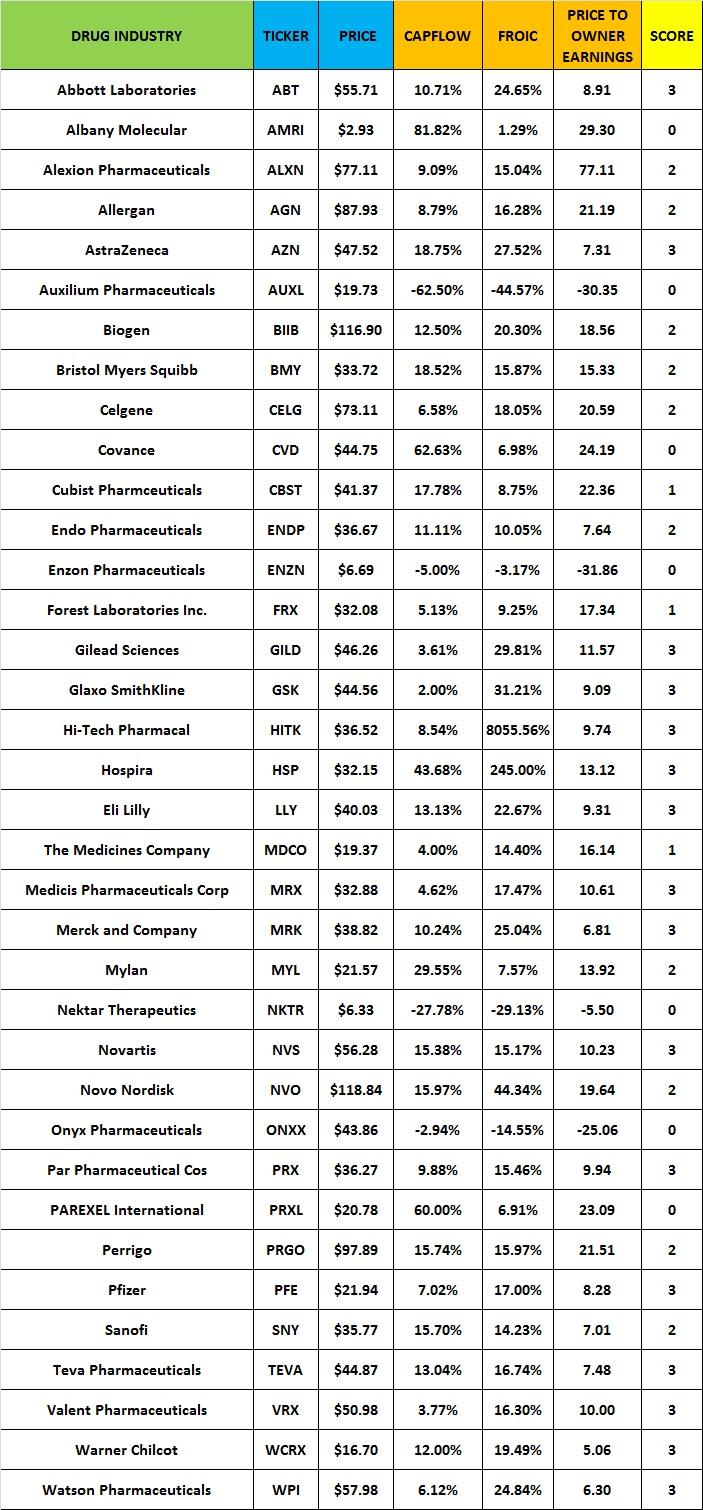 The first thing you should notice when you look at the table is that there are a tremendous amount of 3s showing up as final scores. In all 16 of the 36 (44%) companies listed are "3s". Those of you who have followed my work here on Seeking Alpha know that this is not the norm. There are many reasons for this, but the most important one is that the drug industry has a lot of headwinds going against it due to things like Obamacare and major drug patent expirations.
Because of these problems, investors a few years back fled Drug stocks and thus caused their stock prices to become depressed. But on Main Street these firms are still pumping out some serious owner earnings as witnessed by the strong FROIC numbers in the table above. Even with patent expirations factored in many of these firms are still coming out with some serious estimated FROIC numbers for 2012 and beyond.
For example, Pfizer is battling its patent expirations by setting up its own type of Pharmacy through its partner Diplomat Specialty Pharmacy where Pfizer will sell its drugs directly to the customer and have them shipped to their homes for free.
The expired drugs will be sold at comparable generic prices to health care plans that join Diplomat, while those who don't sign up will have to pay more. But unlike regular pharmacies, only Pfizer's drugs will be offered to those who sign up, thus eliminating the chance of losing existing customers to the generic competition. Pfizer stock currently pays a 4% dividend and despite the expirations the company on Main Street is still expected to have owner earnings of $3.25 in 2014-2016. That means that the stock is trading at 6.33 times its estimated 2014-2016 owner earnings per share and is also estimated to achieve a FROIC of 21.6% and easily cover its expected dividend of $1.12 for those years.
Last February I wrote an article called "Four Pharma Stocks with Appealing Value, Dividend Yield" which you can view by going here. In that article I discussed my SIA chart methodology (Statistical Indicator Analysis) which is another valuation tool that I use. Well one year later this is how you would have done using my charts on the four stocks I mentioned in the article.
If you had bought the stocks analyzed in that article at the time, you would have made an average return of +19.05%. That return does not include the 5% or so average dividend that you would have also received, in a market that basically was flat for the year. I know this is the case as I owned these stocks for my clients then and still do today. They allowed me to outperform my benchmark the NYSE, even though I was on average 50% cash throughout the entire year.
The only reason that I am discussing that performance is because over the last couple of years the many comments that I have read on Seeking Alpha about the drug industry were very negative. The message was basically that because of the coming patent expirations, that drug companies would crash and burn soon. As we know now, that was not the case, because even though a drug like Lipitor went off patent in November, the stock price of Pfizer has actually gone up 5.96% since then.
How Is This Possible?
Well the four companies in my past article have been around (in some form or another) since the 1920's and all have elite management teams at the helm. They have been preparing for these patent expirations for years and are ready. These companies survived the Great Depression, Wars and numerous serious recessions, so they know what they are doing. You don't get so many 3s on my system in one industry if that were not the case. As baby boomers enter retirement the volume of drug sales will increase tremendously and that is why drug companies make up a large part of my Clients' portfolios and will continue to be so in the future.
Disclaimer: Please note, investments involve risk and unless otherwise stated, are not guaranteed. Past performance cannot be used as an indicator to determine future results. Strategies mentioned may not be suitable for everyone. The information contained in this article represents the opinions of Peter "Mycroft" Psaras, and should not be construed as personalized investment advice. Before acting on any information mentioned, it is recommended to seek advice from a qualified tax or investment adviser to determine whether it is suitable for your specific situation.