Several iconic companies have been on the chopping block headed into bankruptcy this past year, and many more appear to be headed that way in 2012. Eastman Kodak (EK) for example has slumped below $1 on reports that it is seeking bankruptcy financing. Stories like this have led investors to speculate on which large company may be the next to fall. Much of that speculation has been on Sears Holdings (NASDAQ:SHLD) recently as the stock sinks to lows that it has not seen since the crash of 2008-2009. Although Sears will likely be spared from bankruptcy, it is still a stock well worth shorting.
Why Short Now?
Market watchers generally do not just select companies that they believe will go down out of a hat. The basis for this categorization is largely focused on looking at the health of a company and seeing if it is on a trajectory towards collapsing earnings and profit lose. Some have jumped on the behemoth $3.5 billion Sears for not adapting quickly enough to the changing world. Those who believe this are noting that Sears saw domestic same store sales drop 5.2% in the first quarter of 2011. Store sales dropped in K-Mart stores as well which are owned by Sears. These same store sales numbers are often used as a measure of the health of a retailer in general, and Sears has been showing signs of illness.
Declining Revenue
Falling revenue is never something that any company wants to have to go through. It may be acceptable for a very young and small company to go through a bad year once in a while, but the large companies need to continue to keep the revenue growing in order to provide shareholders with the level of growth that they have come to expect. Unfortunately for SHLD shareholders, analysts are projecting that revenue will fall in 2013 and perhaps longer.
Earnings Misses
Missing projected earnings is something that companies could have happen for a variety of reasons. Some companies experience an earnings miss whenever they have a one time charge for some reason. Perhaps the company paid to buyout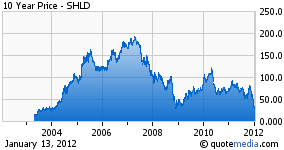 another company. In a situation like this, it is not surprising that there might be an earnings miss. What is troubling is when a company is missing earnings without an excuse so to speak. When the company misses earnings simply because it is not selling as much as it once did, that is a problem. Even worse than that is when a company misses earnings when it was already projected to lose money on the quarter anyway. That is exactly the case with Sears as it has missed on its last three negative quarters. Certainly this is a troubling sign.
Will Sears Fall?
The answer to this question seems rather clear at this point. Sears stock has fallen plenty in the last few years, but there is still more room to fall. Some say that a company of this size with this kind of history is unlikely to decline much more, but it has happened before. The possibility of restructuring and refinancing is certainly on the table, and the creditors for Sears would likely be willing to hear some kind of an offer considering the massive balance sheet of this company. However, the $4.5 billion worth of debt that SHLD currently holds is going to become crippling at some point if serious changes are not made. Changes in management is one idea, but more important than that are changes to the way that Sears does business. They have to slim down and cut prices in order to stay in competition in the retail sector at all.
As it is clear that Sears has not made any major changes to the way that it is operating at this point, it seems like a clear short. It is wise to hold that short until there are signs that Sears is changing the way that it does business.
Disclosure: I have no positions in any stocks mentioned, and no plans to initiate any positions within the next 72 hours.