SkyPeople Fruit Juice (NASDAQ:SPU) was established in 2001 in Central China's Shaanxi Province. The company is a highly integrated producer and distributor of fruit juices, fruit juice concentrates and other fruit and vegetable products.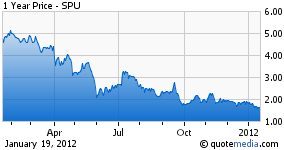 Industry Overview
The People's Republic of China (PRC) has the world's largest population, but the consumption of fruit beverages (pdf) is relatively low.
According to the report "China Fruit Juice Beverages Business and Market Analysis" published by the PRC Food and Agriculture Export Association, the annual per capita consumption of fruit beverages in the PRC in 2009 was approximately 1 kilogram, which only accounted for 13% of the average world per capita consumption and 4% of the average per capita consumption in the industrialized countries.
The Chinese fruit juice and fruit juice drink industry is developing rapidly and total production has more than doubled to 14.48 million tons in 2009, compared with 6.35 million tons in 2005. The growth rate of the revenue from fruit juice and fruit juice drinks has ranked first compared with other food related industries. It is believed that the increasing health consciousness of consumers and the quality of living powered by the PRC's economic growth will continue to fuel the demand for fruit juice products.
Seasonalities
The company can only produce fruit juice concentrates during the squeezing season from July or August through April of the following year, while the fruit beverages can be produced year round.
Financials
The company's revenue (pdf) has increased significantly from 2006 to 2010 with revenue of $17.4 million in 2006, $29.4 million in 2007, $41.7 million in 2008, $59.2 million in 2009 and $93.2 million in 2010, representing an average yearly growth rate of approximately 53%.
The company had cash and cash equivalents of $76.4 million as of September 30, 2011. The company's cash flow from operations was $28.8 million in first nine months of 2011.
Insider Transactions
There has been well over 100,000 shares purchased by the insiders during the last 12 months. The company's CEO Xue Yong Ke held 171,935 shares as of September 30, 2011.
Major Holders
Morgan Stanley is the company's largest share holder, owning over 5% of all shares outstanding. The second largest holder is Sansar Capital Management with 4,63% of shares outstanding.
Conclusion
I recommend buying this stock under its cash position of $2.98 per share. Seasonalities should help the company's fourth-quarter 2011 performance.
Disclosure: I am long SPU.