Johnson & Johnson (NYSE:JNJ) is a widely followed stock that has traded in a very narrow and defined range recently. Low volatility is bad for traders but good for long term conservative investors looking for stable dividend income. In the past month this hourly trading graph provided by Barchart shows just how narrow that range has been: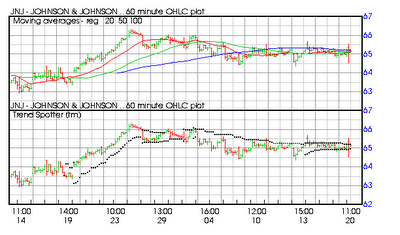 Johnson & Johnson engages in the research and development, manufacture, and sale of various products in the health care field worldwide. The company operates in three segments: Consumer, Pharmaceutical, and Medical Devices and Diagnostics. The Consumer segment provides products used in baby care, skin care, oral care, wound care, and women's health care fields, as well as nutritional, over-the-counter pharmaceutical products, and wellness and prevention platforms.

The Pharmaceutical segment offers products in various therapeutic areas, such as anti-infective, antipsychotic, contraceptive, dermatology, gastrointestinal, hematology, immunology, neurology, oncology, pain management, and virology.

The Medical Devices and Diagnostics segment primarily offers circulatory disease management products; orthopaedic joint reconstruction, spinal care, and sports medicine products; surgical care, aesthetics, and women's health products; blood glucose monitoring and insulin delivery products; professional diagnostic products; and disposable contact lenses. The company was founded in 1886 and is based in New Brunswick, New Jersey. (Yahoo Finance profile)
Factors to consider:
Barchart technical indicators:
20%

Barchart

short term technical sell signal
Trend Spotter buy signal
Below its 20 day moving average but above its 50 and 100 day moving averages
4 new highs but up only 1.02% in the last month
Relative Strength Index just 52.90%
Barchart computes a technical support level at 64.80
Recently traded at 65.16 with a 50 day moving average of 64.70
Fundamental factors:
14 Wall Street brokerage houses have assigned 26 analysts to follow the company's numbers
Analyst predict revenue will grow by 5.70% this year and another 4.50% next year
Earnings are estimated to grow 4.20% this year, an additional 5.20% next year and continue at an annual growth rate of 6.03% for at least 5 years out
These consensus numbers resulted in 7 strong buy, 8 buy, 11 hold and no under perform or sell recommendations to their clients
The estimates seems pretty good since this stock has a 100 price stability ranking and a 100 earnings predictability ranking
The stock trades at a 13.32 P/E ratio compared to a 14.70 P/E ratio for the market
The dividend rate is 3.49% and is less than 50% of the projected earnings. Market dividend rate is less at 2.20%
The A++ financial strength balance sheet means the company can fund any acquisitions or R&D it needs
International growth and favorable exchange rates have benefited the bottom line
Revenue growth will be seen in the pharmaceutical and medical device segments of their business model
General investor interest:
I use Motley Fool as a barometer of the individual investor and 13,963 readers have JNJ on their watch lists
Of those voting 97% think the stock will beat the market
The more savvy All Stars voted 98% for the same result
Fool notes that all 36 of the last reports about the company were all positive
Some of those posting positive comments: Jim Cramer, David Tepper, Chris Davis, Bob Olstein and Gary B Smith
Always compare a stock's price action for the last year against some other large stocks in their sector. Although Johnson & Johnson is up about 5%, Abbott Labs (NYSE:
ABT
) was up 18%, Covidien (COV) up only 1% and Novartis (NYSE:
NVS
) was down 2%: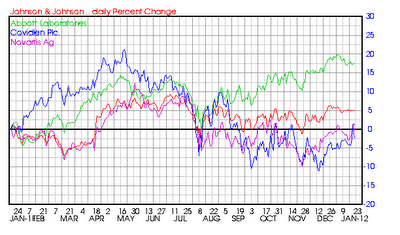 Summary: Johnson and Johnson has been in a very narrow trading range recently. This is not attractive to short term trader but gives comfort to long term conservative investors. The dividend rate is higher than the market and the P/E ratio lower making this a good entry point for the long term income investor. Watch the lower 14 day turtle channel to determine a good entry point if you'd like to accumulate additional shares: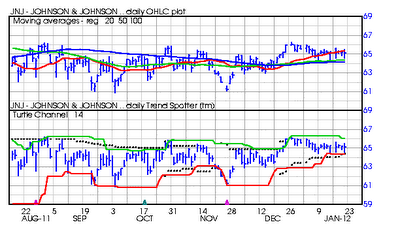 Disclosure: I have no positions in any stocks mentioned, and no plans to initiate any positions within the next 72 hours.