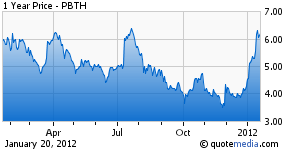 Prolor Biotech (NYSEMKT:PBTH) said on Wednesday that their CTP-modified version of human growth hormone (hGH-CTP) administered once every two weeks showed efficacy, tolerability and "the potential to replace 30 consecutive daily injections of currently marketed human growth hormone". Genentech's Nutropin, Pfizer's (NYSE:PFE) Genotropin, Eli Lilly's (NYSE:LLY) Humatrop, Novo Nordisk's (NYSE:NVO) Norditropin, Merck-Serono's (NYSE:MRK) Serostim, and Novartis' (NYSE:NVS) Omnitrope share what is estimated to be a $3 Billion hGH market -- albeit using a once-daily injection regimen that may soon become dated.
Prolor's technology is based on a short, naturally-occurring amino acid sequence "that can be readily attached to a wide array of existing therapeutic proteins, stabilizing the therapeutic protein in the bloodstream and extending its life span without additional toxicity or loss of desired biological activity". This amino acid sequence, or Carboxyl Terminal Peptide (CTP), slows the removal of therapeutic proteins from the body [as shown in Figure 1, below], prolonging their lives.
Figure 1.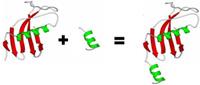 Interestingly, Merck owns the rights to the same CTP technology in four applications, including Follicle Stimulating Hormone (FSH), for which the pharmaceutical giant was granted marketing authorization in Europe in 2010. Merck will be filing an NDA for their CTP-modified FSH with the FDA this year, according to a disclosure in the company's annual report. Prolor owns the rights to all other applications.
The incidence of CTP in Merck's portfolio strikes up an interesting balance. Undoubtedly there exists bitter-sweet reminiscence for a technology that could replace or better Merck-Sorono's Serostim - among other short-lived therapeutic proteins - if not for PROLOR's IP. Extending the life span of therapeutic proteins is a pursuit that has firms like Amylin Pharmaceuticals (AMLN) developing a bio-better (once-weekly injection) version of Byetta, an agent used in treating type 2 diabetes. Other pharmaceutical companies, including Amgen (NASDAQ:AMGN) and Roche (OTCQX:RHHBY), have also followed suit.
PROLOR had cash and equivalents of $17.6M as of the last reported quarter, sufficient to execute on the company's plans for 2012. Some investors, here and here, have even speculated that PROLOR could attract a large pharmaceutical partner that would share the risk, and likely the cost, of developing one or more pipeline technologies. The pursuit of bio-better, longer-lived therapeutic proteins makes PROLOR's IP all the more valuable to the same large pharmaceutical companies that are facing shrinking research & development budgets, and are relying increasingly on the acquisition of emerging biotechnology to fill product pipelines. As their flagship drugs go off-patent over the next few years (see Best Selling Drugs Going Off Patent In 2012) PROLOR's proprietary formulations offer a compelling extension to invaluable intellectual properties as viable commercial product(s) .
PROLOR's Phase II study validated safety and tolerability of hGH-CTP in growth hormone deficient adults, and, as intended, identified the dosing range that will be targeted in the planned Phase III trial this year. The company has also stated that it will initiate a Phase II trial for growth hormone deficient children, in an effort to prove their hGH formulation efficacious in the pediatric strand, as well.
Results of the follow-on Phase II study showed that hGH-CTP may be able to achieve an even better administration regimen than a once-a-week injection, though, again, compared to once-daily procedure.
Culminating what may one day, not too long from now, seem like an insidious process, a once-weekly hGH injection could encourage more physicians to prescribe the treatment to growth hormone deficient patients, and more growth hormone deficient patients, who are avoiding the insidious process, to adopt such prescriptions. The very idea of a bio-better and more efficient hGH vaccine is something even a reformed Medicare system would eagerly adopt. According to a recent article from the Huffington Post:
Researchers estimate that 20 to 30 percent of the more than $500 billion that Medicare now spends annually is wasted on treatments and procedures of little or no benefit to patients.
By reducing a once-daily regimen down to once-a-week, PROLOR could, in part, have an answer for redundant spending - at least in hormone growth deficiency. Big Pharma: take note.