In November last year, Bank of America (NYSE:BAC) sold 10.4 billion shares of China Construction Bank Corporation (OTCPK:CICHY), which led to an after-tax gain of $1.8 billion. The company was trying hard to streamline the processes and strip the portfolio structure.
"Our decision to sell the bulk of our remaining shares in China Construction Bank is consistent with our stated objective of continuing to build a strong balance sheet," said Chief Financial Officer Bruce Thompson. "We expect this action, supplemented by the related realization of deferred tax assets, will generate approximately $2.9 billion in additional Tier 1 common capital and further strengthen our Tier 1 common capital ratio by approximately 24 basis points under Basel I."
We already got a hint that the Berkshire Hathaway (NYSE:BRK.A)(NYSE:BRK.B) was backing up Bank of America in the month of September. It invested $5 billion in the bank. But it should be noted that the conditions were drawn rather profitable for Mr. Buffett.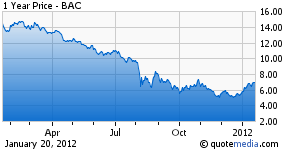 Whether it was to "buy" the sponsorship of the name "Warren Buffett" or not, the company seemed in trouble no doubt. And people were thinking twice whether to partake in the loss of revenue, as high as $9 billion in 2010. The company was already running in loss, when it came to EBIT or net income, and it was uncertain whether Bank of America would sustain the shock and still be the most important and largest bank in America.
By the end of 2010, the company's return on average equity (ROAE) was (-1.77) %, against 6.42% of Citigroup (NYSE:C) and 10.21% of JP Morgan & Chase (NYSE:JPM). Not very inspiring, eh? It was time to restructure the portfolio and strengthen the Tier I capital. For example, Citigroup reduced stake in HDFC Ltd. by 1.5% while selling 3.95% senior notes due 2016. But BofA seemed to have fallen behind in that race.
Time to turn a little positive on Bank of America
BofA has released the fourth quarter (2011) results on 19 January, 2012. And here are a few highlights from the press release:
Strong Capital Generation With Tier 1 Common Equity Ratio at 9.86 Percent
Global Excess Liquidity Sources Remain Strong at $378 Billion, up $42 Billion in 2011
Investment Bank Maintained No. 2 Global Ranking in Net Investment Banking Fees and Gained Market Share in 2011
Bank of America Merrill Lynch Named "Top Global Research Firm of 2011"
Total Average Commercial and Industrial Loan Balances Increased 13 Percent From the Fourth Quarter of 2010
Small Business Loan Originations and Commitments up Approximately 20 Percent in 2011, More Than 500 Small Business Bankers Hired in 2011
Global Wealth and Investment Management Adds Nearly 1,700 Financial Advisors in 2011
Extended Approximately $557 Billion in Credit and Raised $644 Billion in Capital for Clients During 2011
More Than 1 Million Mortgage Loan Modifications Completed Since 2008
Net income improved to $2 billion last quarter from a loss of $1.24 billion in same quarter of 2010.
Non-interest income, which was hit badly in 2010, improved to $14.2 billion last quarter against $10 billion same quarter last year.
And the company seems to be taking the right financial decisions now, which shows in the $2.9 billion profit in the sale of the shares of China Construction Bank.
It must be noted though that the quarter was full of one-time charges and gains from mortgage related affairs, showing the company is still tackling with the "real" problem it once got into.
"We enter 2012 stronger and more efficient," Chief Executive Brian Moynihan said in a statement.
Extremely low capital levels can dilute shareholder's equity, and this was the main concern for most investors last year. But the increase in the Tier I capital ratio, which is expected to reach 7.5% by the end of 2012, has had a calming effect on the minds of the confused investors.
Although the total loans shrunk by 1.5%, things seem to be improving at the corporate end. Perhaps the company is strict on rendering loans, while it is still tackling the old loans.
Conclusion
Although there has been a split in the decisions whether BofA makes the cut or not, with the struggling façade of the company, we might give BofA some time to resurrect from the ashes of Great Recession.
Not to mention the fact that the company's shares rose by 27% this year. Stay tuned! It's only in the recovery phase that you see huge profits, remember?
Disclosure: I have no positions in any stocks mentioned, and no plans to initiate any positions within the next 72 hours.