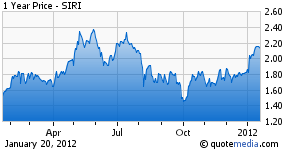 Recently I asked, what is it going to take for Sirius XM (NASDAQ:SIRI) to break down the resistance wall that now exists at the price of $2.18 or is the market now telling investors where it believes to be the fair market value for the stock? I posed these questions on Twitter for a couple of reasons. First, I wanted to get a gauge of what investors were thinking, but for me (and more importantly) I wanted to start accepting the possible reality that the answer could in fact be a part of the question - which is, perhaps Sirius has now reached its fair market value.
A couple of weeks ago, I discussed how investors should expect more when the stock eventually broke the $2.00 mark. After several days of back and forth between $2.01 and $2.06 the stock eventually surged upward, passing $2.10 and eventually hitting $2.19 on Jan 17 - which now brings us to the current source of investor frustration (the wall) which leads to the questions posed above. To fully understand what is going on as well as what it will take to propel the shares higher, we have to go back to when the stock first traded between $1.70 and $1.90.
When Sirius closed at $1.92 on August 17, it did not close anywhere near that level again until it closed at $2.04 in Jan 5 - almost five months. Also if you consider the fact that it did regain the $1.90 level on November 22 - that still took three months. So the point of all of this is, as fast as the stock has risen recently from December's close of $1.82 to Thursday's close of $2.16, which represents a 34% gain, it is possible that this may be as good as it is going to get during this quarter. As an investor, I hope that is not the case. But I can't help but to wonder that perhaps the 540K subscriber acquisition number for Q4 just might be already priced in. So after telling investors that we should expect more, I am also starting to appreciate that a 34% gain in only 12 days just might be good enough (for now).
Now I'm going to revisit another topic that I have raised recently that rubbed a lot of people the wrong way. In an article titled Sirius XM Continues To Be Its Own Worst Enemy, I asked can Mel Karmazin manage the stock price well enough this year to reward patient investors? Some readers took that the wrong way to the extent of suggesting that good companies to not care about stock prices - a notion with which I disagree with entirely. I don't think any one company is above reproach - particularly one where its stock has underperformed to the extent that Sirius has. But to be fair, when I first asked this question, the stock was trading at $1.80. But having lead this article with the questions above, is the current stock price now in line with the company's performance? This is the question investors need to answer for themselves.
But to the extent that Mel might be able to manage the stock price and considering what the market is now saying as it relates to this current trading range, this is something that we are going to find out when the company reports earnings in a few weeks. As great of a job as Mel Karmazin has done with the company over the past three years, during the conference call, I will be paying close attention to assess what will be my approach for the stock during the course of the next several quarters. If I felt inspired to hold throughout, I will do so. If not, I'm going to have some decisions to make as I have also encouraged readers to do.
To me, as a shareholder in both Apple (NASDAQ:AAPL) and Microsoft (NASDAQ:MSFT), I have come to realize that there is nothing more important to a company than a CEO who understands both the market today and where it will be tomorrow. It is clear that just as Bill Gates established an understanding of the PC long before anyone else, Steve Jobs realized the true potential of mobile computing and in the process challenged several other markets (those that existed and those that he created) to rise to the occasion. The common tie between both CEOs is that not only did they both understand what consumers are going to want in the future, they both knew it before the customers (themselves) realized there was a need. I think to some extent Mel Has these same qualities, but also I think he should consider listening to the Street a bit more - to the extent where he gives the analysts what they want from time to time. And really, this is what I mean from managing the stock.
I ask again, will he low ball guidance as has been the norm? Will it become aggressive in its marketing and try to capture a broader (or perhaps) younger audience? Will it hold off on releasing information and products that can potentially become catalysts for the stock? Will it opt to buy back shares instead of the more prudent use of cash and pay down debts? Having said all of that, I remain bullish on the stock long-term and feel that its prospects for this year are outstanding. But patience and perspective, as much as I have preached it, at some point runs thin.