As investors begin to return to the market to find income via dividend yield, many are turning to the telecommunications sector as a useful sector to find higher rates. Popular U.S.-based companies like mobile communications mogul Verizon Communications (NYSE:VZ) and AT&T (NYSE:T), the largest domestic telecom provider, have already become the stable backbones of many dividend portfolios. Yet income investors may find it beneficial to familiarize themselves with foreign telecom companies, some of which have consistently offered substantially higher rates, are often discounted over fears of the global economy, and can operate in regions with more growth potential. The following values are current as of January 19, 2012.
| Company | Market Cap. | Trailing Div% | Region |
| --- | --- | --- | --- |
| P.T. Telekomunikasi Indonesia (NYSE:TLK) | $15.03 B | 4.5% | Indonesia |
| City Telecom HK (CTEL) | $396 M | 7.5% | Hong Kong |
| France Telecom (FTE) | $39.71 B | 13.5% | France |
| Telefonica (NYSE:TEF) | $78.84 B | 12.2% | Spain |
| Tele Norte Leste Participacoes (NYSE:TNE) | $4.5 B | 5.4% | Brazil |
As a state-owned enterprise, P.T Telecomunikasi's largest shares holder is the Indonesian government. With a significant rate of subscriber growth that topped 14.6% by the end of 2010, the company stands as the largest telecommunication and network services provider in Indonesia. The company has significantly shown its ability to increase its dividends over the years as clearly seen in the following chart.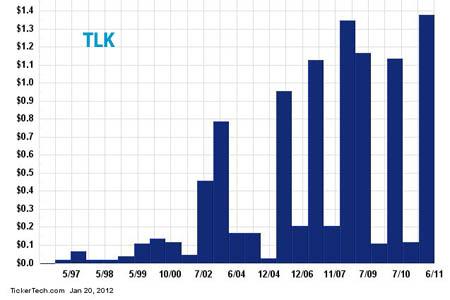 Citi Telecom has had dual listing on the Hong Kong Stock Exchange since 1997 and on the NASDAQ as an American Depository Receipt in 1999. As one of the fastest growing networks, CTEL offered a 45.6% quarterly earnings growth (annualized), a hefty 7.5% dividend with a somewhat meager payout ratio of 68%. It would be reasonable to expect continued dividend growth from this company over the coming years. The following is a dividend payout chart for the company.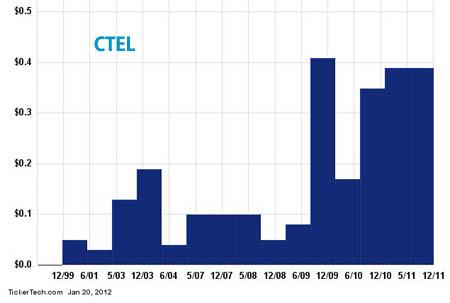 As industry giant in Europe, France Telecom predominantly operates in France, Spain, Poland, and the United Kingdom. As fears of a European debt crisis lingers, so have shares of France Telecom, which has been battered since May 2011. As an older telephone company in recovery mode as it stretches out to gain influence in markets outside of France, FTE manages to entice its investors with a large dividend. Though unlikely to maintain its trailing rate of 13.5%, a forward dividend rate of about 9% appears reasonable given the very feasible payout ratio of 61%. The following dividend payout chart shows a stable yield, but a lack of growth offered by the company.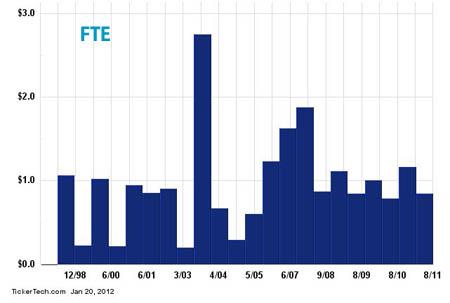 Telefonia's influence spreads beyond its regional headquarters of Spain. With extended realms of service stretching across the rest of Europe and into Latin America, the company stands as one of the largest foreign telecom providers. With ever increasing dividends in recent years, the company's payout ratio of 416% suggest that the company may have to reduce the dividend in coming years. Income investors may want to tread carefully with this behemoth with its towering debt load. The following dividend chart may therefore be misleading for the company.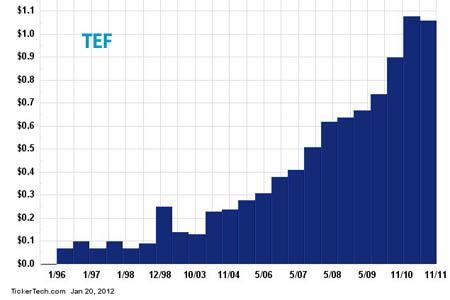 Located in developing Brazil, well-positioned provider Tele Norte Leste Participacoes offers mobile phone service, fixed-lines, and Internet services to a growing demographic of middle class citizens. With a payout rate of 72%, the current dividend appears readily sustainable. It's interesting to note that despite its meager market of $4.5 Billion and share price of $9.64, the company actually holds a book value of $16.48/share. Despite an operating cash flow of nearly $5 Billion, the company has traded in its current range for some time. The following is a dividend payout chart for the company. Though showing a hole in 2010, Google finance does indicate that the company distributed roughly a 10% dividend on April 19, 2010.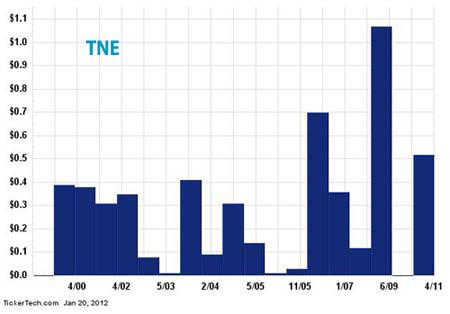 Disclosure: I have no positions in any stocks mentioned, and no plans to initiate any positions within the next 72 hours.