In this article, we will discuss the following stocks: Wells Fargo & Company (NYSE:WFC), JPMorgan Chase & Co. (NYSE:JPM), Citigroup, Inc. (NYSE:C), American International Group, Inc. (NYSE:AIG), MetLife, Inc. (NYSE:MET), Morgan Stanley (NYSE:MS) and The Bank of New York Mellon Corporation (NYSE:BK).
These stocks hit a low in November at the height of eurozone despair. Since that point, they have been on an absolute tear. The seven stocks are up an average of 23% since with Morgan Stanley leading the way with a 32% gain and Bank of New York Mellon bringing up the rear with 16%. This is a significant move I thought deserved some attention. A majority of the stocks discussed in this article were big losers in 2011. Nevertheless, a few are at the top of the leaderboard regarding 2012 performance.
Table Detailing Performance Since November Low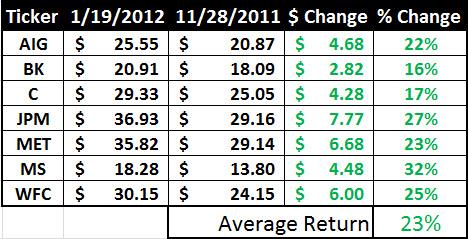 Chart of Performance since November Low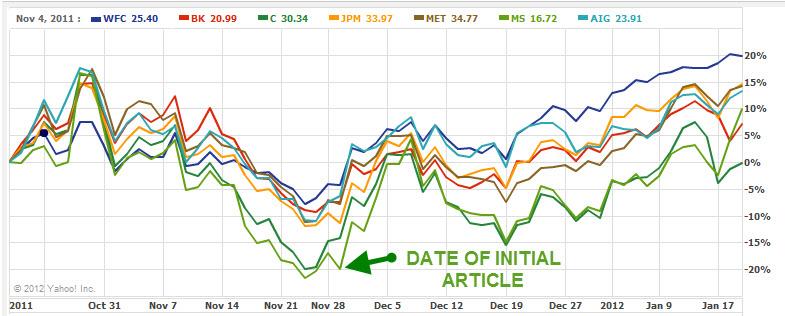 Click to enlarge
Chart provided by Yahoo Finance.
The following are several banking sector macro positives I perceive in the market providing impetus to this bull run.
Bespoke Investment Group sees banks as the surprise sector this year. Citing historical data comparing the performance of the 2000 tech sector to the current financial sector, Bespoke sees a correlation in the numbers and feels the banks could be poised for a significant run in 2012.
Banks are oversold and under-owned on top of strong fundamentals, which inevitably attracts value investors.
The eurozone seems to be taking the proper actions to calm its tumultuous financial markets. Recently bond yields of the eurozone fringe sovereigns that were rocketing higher have sunk vastly lower with the back-door liquidity injections engineered by the ECB via the LTRO.
U.S. banks are well ahead of their European peers in regard to capital requirements. Many have excess capital and excess reserves. The sector is flush with liquidity, capital and reserves.
U.S. banks have improving fundamentals and EPS growth projections. U.S. bank earnings are up 40% this year and EPS growth rates are expected to come in at 20% next year. U.S. banks are trading at low price-to-earnings multiples even with taking into account lower earnings expectations and are trading at approximately five multiples below normal.
The EU banks will inevitably have to retract certain credit lines to meet new requirements, creating an opening for U.S. banks to take market share.
The U.S. housing market, unemployment situation and economic indicators are all showing signs of life. All these signs of improvement bode well for the banks.
The winds of political change are blowing hard these days. If the Republicans take the 2012 presidential election, the banks will soar.
I believe the financial sector has continuing upside potential based on these geopolitical and macroeconomic catalysts. Once the issues of the eurozone, U.S. and the world fade from the forefront of investors' minds and a renewed focus on fundamentals and company specific catalysts emerges I expect these banks to resume their upward march.
We've had some more bad news as of late with the eurozone sovereign downgrades, which has led me to believe we may not have seen the end of volatility. We could see a pullback in these names spurred by investors locking in profits on this "to much to fast" scenario, which will present a major buying opportunity. I would wait for a 5% pullback so these white hot names can consolidate to start layering into position a quarter at a time and set a tight 5% trailing stop loss. Layering in significantly reduces risk and setting a tight trailing stop loss maximizes profits and minimizes losses.
Conclusion
I am bullish on the banks for the long term. They are trading significantly below intrinsic value coupled with strong fundamentals. Some are trading below liquidation value which presents an amazing buying opportunity. What's more, most of these stocks are trading well below consensus analysts' estimates, have recent upgrades, positive analyst comments and some pay dividends.
Nonetheless, this is only the first step in finding winners for your portfolio. Don't take my word for it, use this information as a starting point for your own due diligence and research methods before determining whether or not to buy or sell a security.
Disclosure: I have no positions in any stocks mentioned, and no plans to initiate any positions within the next 72 hours.