A total of 119 S&P 500 companies are set to report earnings next week. Below is a table of the stocks whose reports will be watched the most closely. For each stock, we not only highlight its report date and time, but also the percentage of the time it has beaten earnings estimates in the past as well as its average one-day change on its past report days.
On Monday, Texas Instruments (NYSE:TXN) will be the most closely watched stock when it reports after the close. Historically, TXN has done poorly in reaction to its earnings reports, averaging a one-day decline of 2.44%.
On Tuesday, Coach (NYSE:COH), DuPont (NYSE:DD), Harley-Davidson (NYSE:HOG), Johnson & Johnson (NYSE:JNJ), McDonald's (NYSE:MCD) and Verizon (NYSE:VZ) will all report before the open, while Apple (NASDAQ:AAPL) and Yahoo (NASDAQ:YHOO) will report after the close. Of these stocks, DuPont (DD) and Apple (AAPL) have the highest historical EPS beat rate at 94.1%, while Harley-Davidson (HOG) and Apple (AAPL) have historically reacted the most positively on the day of their reports.
On Wednesday, Boeing (NYSE:BA) and United Tech (NYSE:UTX) will report in the morning, and Netflix (NASDAQ:NFLX) will report after the close. Netflix has historically beaten earnings estimates 88% of the time, but it has averaged a decline of 0.65% on its report days.
Caterpillar (NYSE:CAT), 3M (NYSE:MMM), AT&T (NYSE:T) and Starbucks (NASDAQ:SBUX) are the companies to watch on Thursday, while DR Horton (NYSE:DHI), Ford (NYSE:F), Altria Group (NYSE:MO) and Procter & Gamble (NYSE:PG) close out the week with reports on Friday. Of these stocks, Starbucks and DR Horton have historically had the most positive reactions on their report days.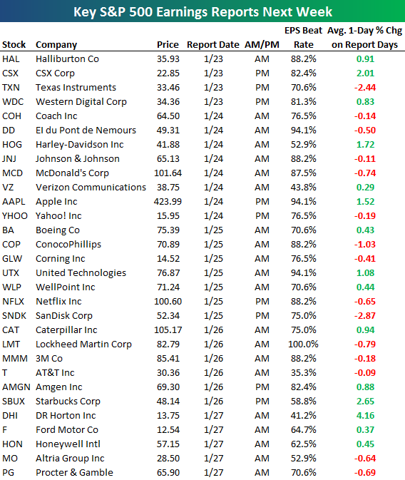 Click to enlarge