Verizon Communications Inc. (NYSE:VZ) is anticipated to report earnings before the opening bell on January 24, 2012.
Verizon Communications Inc. provides communication services. The company operates through two segments, domestic wireless and wireline. The company was founded in 1983 and is based in New York, New York. VZ trades an average of 13.1 million shares per day.
52 Week High: $40.48
52 Week Low: $32.28
Book Value: $13.79
Float Short: 1.59%
On average, 27 analysts are expecting a drop of $-0.02 in earnings per share compared to last quarter's results of $0.56. A beat of $0.54 per share, will top the estimated mean earnings. Analyst estimates range between $0.44 and $0.58 per share.
The current trailing twelve months P/E ratio is 17.9. The forward P/E ratio is 15.44. The chart looks strong with all the faster moving averages moving higher. The 200 day moving average has flattened out, but still well below the current trading price. AT&T (NYSE:T) recently announced a price increase for new smart phone data users after stopping its bid for T-Mobile. With Verizon on the upper end of the consumer pricing curve, I view AT&T's move as a net positive for Verizon. I am currently looking for a long entry into Sprint (NYSE:S) as I believe it is oversold relative to the value of the company, but that presents a much greater risk profile. Sprint is well below $5, a sign it may not have a bright future, but I believe Sprint will make it through to the other side.
With both Sprint and AT&T selling iPhones, it's hard to imagine the single most popular phone sold is much of a profit center. As I written about before, Sprint's large commitment likely spells a squeeze on both AT&T and Verizon. Read my Sprint articles here.
The company has falling revenue year-over-year of $106.57 billion for 2010 vs. $107.81 billion for 2009. The bottom line has falling earnings year-over-year of $2.55 billion for 2010 vs. $4.89 billion for 2009. The company's earnings before interest and taxes are falling with an EBIT year-over-year of $14.65 billion for 2010 vs. $15.98 billion for 2009. Lower revenue along with a drop in earnings is often one of the last signs to get out of the way of a falling stock price.
Here is a look at fiscal year revenue.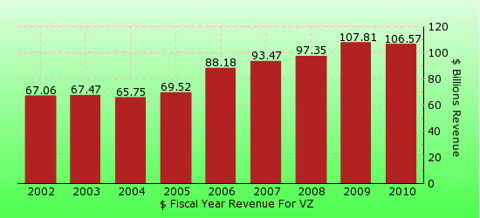 Gross reported revenue compared to the mean estimate (rounded).
| | | | | |
| --- | --- | --- | --- | --- |
| Fiscal Quarter Ending Month-Year | Revenue Estimates | Actual | $ Difference | Difference % |
| Sep-11 | $ 27.88 B | $ 27.91 B | $ 36.70 M | 0.13% |
| Jun-11 | $ 27.42 B | $ 27.54 B | $ 114.90 M | 0.42% |
| Mar-11 | $ 26.86 B | $ 26.99 B | $ 126.80 M | 0.47% |
| Dec-10 | $ 26.48 B | $ 26.39 B | $ -85.00 M | -0.32% |
| Sep-10 | $ 26.35 B | $ 26.48 B | $ 135.20 M | 0.51% |
M = millions, B = billions
Differences are rounded. (Some one-time items are often excluded in reported EPS.)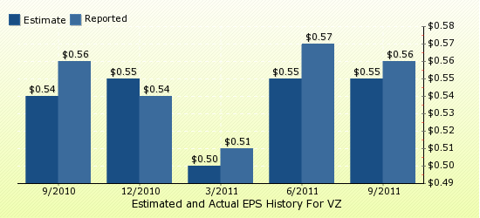 Reported earnings per share compared to the mean estimate. Differences are rounded.
The total short interest number of shares for VZ

The number of days to cover short interest based on average daily trading volume for VZ.

Please feel free to share your thoughts and comments.
I use a proprietary blend of technical analysis, financial crowd behavior and fundamentals in my short-term trades, and while not totally the same in longer swing trades to investments, the concepts used are similar. You may want to use this article as a starting point of your own research with your financial planner. I use Seeking Alpha, Edgar Online and Yahoo Finance for most of my data. I use the "confirmed" symbols from earnings.com that I believe to be of the most interest.
Disclosure: I have no positions in any stocks mentioned, but may initiate a long position in S over the next 72 hours.