As an avid sports fan gearing up for football this weekend, I couldn't help but think about how the biotech sector of recent correlates with the 2011-2012 NFL season.
At the start of the NFL season, few speculated that the Giants, Ravens and 49ers would each be vying for a spot in the big game going into late January. New England, the powerhouse of recent years, was a likely pick. Fans of Brady's team have seen a respectable, consistent return on their investment of support. Giants fans have come to expect much and have seen a rollercoaster of ups and downs this season. The Ravens have been solid and successful, an upper third team, though one still looking to break into the ranks of the perennial elite. Those long on the 49ers especially over the years have seen a drought of return on their investment of time and energy since the boom in the 1990s. This season sees the underdog team surprising many and bringing excitement to San Francisco.
Just as some new blood is bringing excitement to the NFL, biotechnology is catching the attention of investors. The sector has seen a touch of this Cinderella story magic as the New Year has progressed. For those who can stomach a little speculation, the sector may be looking more tempting in light of this strong start to 2012. The IBB ETF, which corresponds with the Nasdaq Biotechnology sector, is up over 19% year to date and the prospects are looking up. Large pharmaceuticals are in the hunt for smaller firms with solid pipelines to replenish lagging R&D divisions. Some smaller caps appear to have strong enough platforms and financials to withstand takeover and potentially land investors taking positions, whereas others currently make attractive targets. With earnings being released soon, many may be looking to get in ahead of good news and ride the recent trend upward. While some stocks are certainly a gamble, a few biotech stocks are a smarter move at this point than others.
In the spirit of the upcoming pigskin games this weekend, here are my three biotech stocks and their NFL team counterparts:
Halozyme (NASDAQ:HALO) - Jim Cramer named HALO a buy this week. HALO has a solid platform and partnerships and is still small enough for growth. The stock is up over 50% over 52 weeks and has had a strong 2012 thus far, up over 13%. HALO hit new highs this week and still has room to move to its target. Halozyme has the unique role in this sector of benefiting from the high profile league of diabetes and cancer while maintaining a safer assistance as opposed to swinging for the fences like big players in this field (such as the AstroZeneca/Bristol Myers Squibb diabetes drug dapagliflozin FDA set back). HALO may be the better of both worlds in this sector with prospect and protection in platform.
Click to enlarge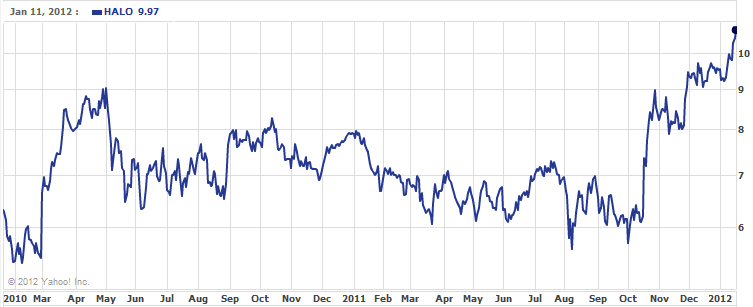 Halozyme is the San Francisco of the bunch. This stock, like the team, has had a big turn-around in just two years. It's now being recognized as legitimate by even the toughest of critics. Steady, confident and fundamental, like the 49ers, HALO gets the job done and may benefit those who have stuck around and supported it. Content to let others with flashier names get the headlines and quietly take care of business, Halozyme delivers like the 49ers have this year. It's the "little" guy that many are pulling for.
Jazz Pharmaceuticals (NASDAQ:JAZZ) - Despite recent buzz that JAZZ would be bought out by Pfizer (NYSE:PFE), it announced Wednesday that it closed its purchase of Azur Pharmaceuticals of Dublin, Ireland. With 10 revenue generating drugs on the market in the areas of women's health and central nervous system, the acquisition of Azur improves Jazz's already productive margins from its own psychiatric drugs. Shares rose 2.6% on the news of the acquisition, outperforming the Nasdaq increase for the day. For its size, Jazz has an attractive operating cash flow and quarterly revenue growth compared to what it intellectual property in its pipeline.
Click to enlarge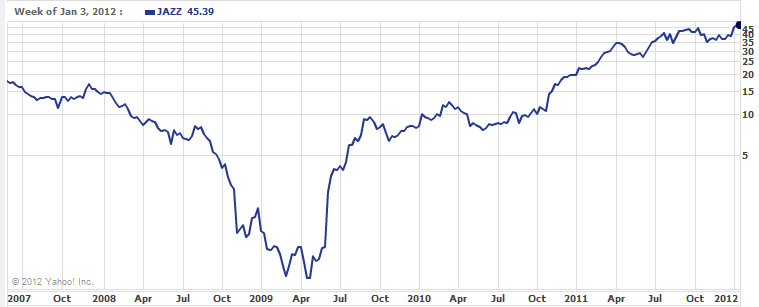 Jazz is the New York of the group. Like the Giants, Jazz is looking to become a bigger player in the field. With the attention comes the roller coaster and bigger expectations. It's come back from the brink and has the right ingredients to succeed. There will be a lot of "what ifs" if this stock doesn't perform despite its up and down past.
Celgene (NASDAQ:CELG) - This $32 billion company has gained recent attention for its stellar growth rate over the past few years. The company has a large pipeline at various stages of clinical trials in diverse areas of oncology, inflammation and hematology. CELG averages over $4 billion in sales annually to support its strong R&D pipeline. The company expects more growth into 2012 with revenue guidance of $5.4-$5.6 billion. The stock is up over 9% year to date.

Celgene plays in the market most like Baltimore. This stock looks to get back to its heights of a few years back, like the Ravens, and is on the verge of just that. Big, though not the biggest, yet expected to grow and be a perennial favorite, CELG has a solid defense in its marketed drugs, which deliver regularly. Its pipeline, like an offense, has great potential if it can win the confidence of the FDA in its multitude of options.
As always, there will be Monday morning quarterbacking with any sport (or stock for that matter). Here's to hoping for continued interest in the sector and its many players.
Disclosure: I have no positions in any stocks mentioned, and no plans to initiate any positions within the next 72 hours.