Yahoo Inc. (NASDAQ:YHOO) is due to report earnings after the closing bell on January 24, 2012. Below we can see the results of Yahoo over the last few earnings periods.
Yahoo Inc., together with its subsidiaries, operates as a digital media company that delivers personalized digital content and experiences through various devices worldwide. The company was founded in 1994 and is headquartered in Sunnyvale, California. YHOO trades an average of 19 million shares per day.
52 Week High: $18.84
52 Week Low: $11.09
Book Value: $10.05
Float Short: 3.28%
Analysts are expecting an improvement of $0.01 in earnings per share compared to last quarter's results of $0.23. A beat of $0.24 per share, will top the estimated per share earnings. Analyst estimates range between $0.17 and $0.27 per share.
The current trailing twelve months P/E ratio is 18.7. The forward P/E ratio is 18.17. I don't trade Yahoo one way or the other. The problem I have with Yahoo is I have done too much business with them and I have an emotional cloud that hangs over me. I have a poor impression of many of the things they do and how they do them. I do not know how they continue to allow Google to have a virtual monopoly on self-service, web-based as buying and ad selling. The shakeup with top management is a good start, but they have a long way to go to "get it right."
The only way I can explain why Yahoo is trading at a higher multiple than Apple (NASDAQ:AAPL) is because of the relative share prices to each other. I like both Apple and Google (NASDAQ:GOOG) better and believe Yahoo will continue to struggle until they make some majory changes in operations and customer relations.
For the same fiscal period year-over-year, revenue has declined to $6.32 billion for 2010 vs. $6.46 billion for 2009. The bottom line has rising earnings year-over-year of $1.23 billion for 2010 vs. $597.99 million for 2009.The company's earnings before interest and taxes are rising, with an EBIT year-over-year of $772.52 million for 2010 vs. $386.69 million for 2009.
Here is a look at the fiscal year revenue: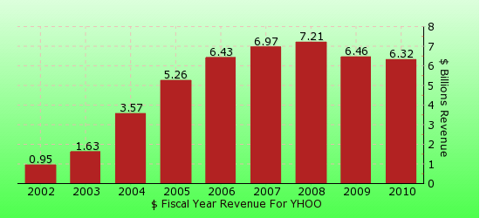 Gross reported revenue compared to the mean estimate (rounded):
| | | | | |
| --- | --- | --- | --- | --- |
| Fiscal Quarter Ending Month-Year | Revenue Estimates | Actual | $ Difference | Difference % |
| Sep-11 | $ 1.07 B | $ 1.07 B | $ 3.76 M | 0.35% |
| Jun-11 | $ 1.11 B | $ 1.08 B | $ -29.59 M | -2.68% |
| Mar-11 | $ 1.06 B | $ 1.06 B | $ 4.84 M | 0.46% |
| Dec-10 | $ 1.19 B | $ 1.21 B | $ 12.03 M | 1.01% |
| Sep-10 | $ 1.13 B | $ 1.12 B | $ -6.07 M | -0.54% |
M = millions, B = billions.
Differences are rounded.
Some onetime items are often excluded in reported EPS.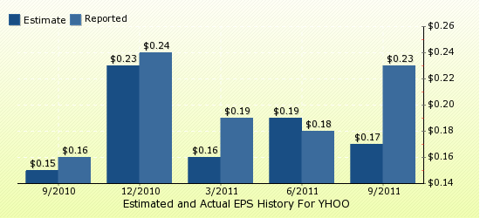 Reported earnings per share compared to the mean estimate. Differences are rounded.
The total short interest number of shares for YHOO:



The number of days to cover short interest based on average daily trading volume for YHOO:

I use a proprietary blend of technical analysis, financial crowd behavior, and fundamentals in my short-term trades, and while not totally the same in longer swing trades to investments, the concepts used are similar. You may want to use this article as a starting point of your own research with your financial planner. I use Seeking Alpha, Edgar Online, and Yahoo Finance for most of my data. I use the confirmed symbols from earnings.com that I believe to be of the most interest.
Disclosure: I have no positions in any stocks mentioned, but may initiate a long position in GOOG over the next 72 hours.