Building data centers is a very capital-intensive business, that also requires very good insight into future demand, as bringing a new facility on line may necessitate up to 18 months, with several additional months needed to fill it up in case of multi-tenant locations.
While the business model is now generally recognized as a potentially very margin-rich activity, supply and demand remains the single most important factor investors should be looking at, as it strongly impacts market pricing for data centers and profitability for the companies involved in the sector.
The year 2011 saw firm pricing across most markets, both for wholesalers – mostly REITs – and multi-tenant players. In spite of this, the year ended with a few concerns, among analysts and investors, related to potential gluts in some locations, as reported for example by The Wall Street Journal in June 2011:
One of the few bright spots in New Jersey's commercial real-estate market has been the boom in storage centers for the servers and other gear that make up the backbone of the technological revolution.

Only one problem: New Jersey developers have built too many of these so-called server farms too soon, according to analysts. That means that development is likely to cool while the glut of space is absorbed.
Investors who still remember the data center glut of the post-2000 bubble burst will certainly feel quite uncomfortable hearing that a repeat of that period may be round the corner.
A recent article on Investors.com summarizes these concerns:
Data center operators are expanding fast, betting that booming demand for space to house computer servers will persist — and that oversupply isn't on the horizon.

Still, in the data center field, memories of the dot-com bubble bursting in 2000 and 2001 linger. Then, data center use crashed.

In the current data center buildout, private equity investments in new capacity have made some investors nervous that supply once again might outstrip demand.

There currently is a glut of data center space in Silicon Valley, but the situation is easing, analysts say.
The reference to the Silicon Valley market is probably mostly due to a few new (mostly wholesale) builds that were recently mentioned as being priced very competitively, as discussed, for example, by Hossein Fateh, Dupont Fabros Technology's (NYSE:DFT) CEO, during the last conference call:
I certainly feel that some of the deals that were done are deals that we're not willing to do and the other public players are not willing to do. And we will simply wait until they're leased up, and it sounds like they are going to be and I'm also -- we're not willing to go to some of the extent, and I'm happy to talk to you offline, of where some of the concessions those guys are willing to give. And I'm certainly not sure about what their exit strategy is going to be because I'm not interested in buying those buildings.
Should investors take a different approach when looking at the sector, which is still growing at very interesting rates even in these tough economic times? A quick look at the most recent history could probably help put the problem into the right prospective.
Equinix (NASDAQ:EQIX) recently issued a research report, published by Data Center Dynamics, that resumes all investments made, for expansion purposes, by the main colocation players in the last few years :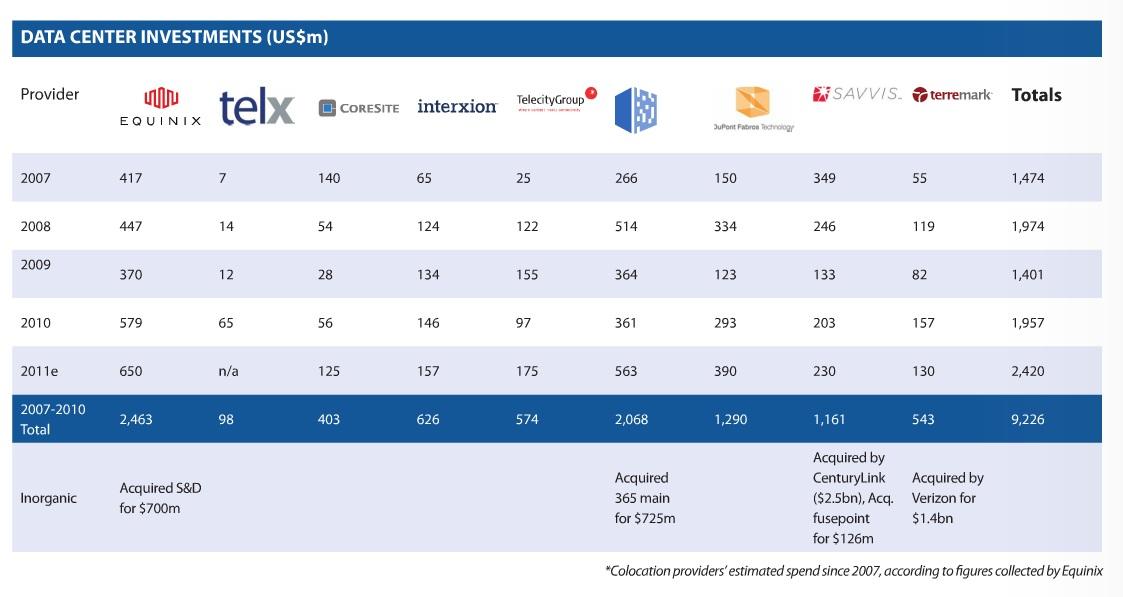 If we look at total numbers, 2011 appears as the year with the highest level of expansion CapEx invested, with 2009 almost running at half the rate.
If we put the same numbers on a simple graphic, we'll notice the following data: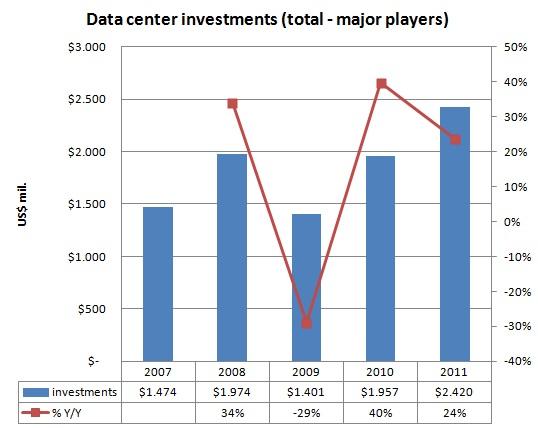 The year 2009 (post-Lehman) was by far the worst one for data center investments (-29% from the previous year), as the credit crunch made more challenging starting new constructions – however, history now says that the facilities brought online in the following two years found a lot of customers looking for additional data center space, as demand was still very strong and supply constrained.
The years 2008 and 2010 show very similar numbers, at about $2 billion, so that the strong increase (+40% Y/Y) in 2010 is really more about getting back to the previous level of investments than dramatically increasing supply in the market. The year 2011 saw a nice 24% increase in data center investments, a number which is not far from the revenue increases achieved by many of these players in the last few years.
Average occupancy is now close, for most players, to the 75% to 80% level, a very different situation from the post-2000 situation, when many newly built data centers hardly achieved double digits. As we've said many times, back in those years Rome was built in a day (with the assumption customers would come), while now data center operators experience high occupancy, and can work with their existing customers to respond to growing demand (as up to 80% of new orders come from the installed based for multi-tenant facilities). Very often, new expansions are also built in phases, providing additional flexibility in case demand slows down in the area.
Tier 1 Research has historically been the most reliable research firm in the sector. As Data Center Knowledge reported at the end of 2011, they believe oversupply fears may be unfounded:
Are we in the midst of another Tech Bubble? And is there too much data center supply?

Antonio Piraino said those are two of the most frequent questions he hears about the data center sector, both related to memories of the severe industry downturn of 2002-2003. Piraino, the Research Director for Tier 1 Research, had reassuring answers to both questions in his keynote presentation Monday at the Hosting & Cloud Transformation Summit (HTCS) event at the Bellagio.

"We keep being asked this question: are we in oversupply?," said Piraino. "The short answer is no. There has been a large amount of supply coming online, (but) we still see demand outstripping supply. We do not see oversupply in this market."
More recently, Nemertes Research also stepped in with a similar approach:
Nemertes Research predicts a shortage of colocation space in the U.S. beginning this year, growing to a $1.9 billion facilities gap by 2015.

How did we arrive at these conclusions? We looked at the data center market by independently assessing both supply (the current and predicted availability of commercial data center colocation facilities) and demand (the user need for such facilities). And we found that while supply is growing, demand is growing faster. This supply-demand imbalance creates what we're calling "the colo crunch."
While the recent global economic forecasts, especially in Europe, should make investors aware that several road bumps may be on the way for the world economy, we still believe the data center sector will keep growing at a very interesting rate in the close future. Most expansions planned by the major wholesale and network-neutral providers seem more like a forced decision to avoid reaching soon full occupancy than a risky bet on the sector's future growth.
With several secular trends, like growing internet usage and the move to cloud computing, contributing to increasing data center use, demand for colocation services should remain strong going forward. However, not all markets will be the same, and the best providers are looking to differentiate their offering building "must be-at" ecosystems. Location and access to a large number of networks and key customers under the same roof might become more and more important to evaluate the potential of new facilities/expansions.
The year 2011 ended quite positively for most investors in the sector. As new competitors enter the market, it might become more necessary than in the past to carefully pick the right players and entry points to try achieve, in 2012, the same returns this sector has granted in the last few years.
Disclosure: I am long EQIX.