One of the great virtues of successful investors is a pattern of waiting for opportunities to present themselves. One of the many ways that value can develop in the shares of a company is for fundamentals to remain intact while price declines. Such is the case for Hasbro (NASDAQ:HAS). The wait has rewarded investors with a valuation opportunity.
Hasbro sits high, but not at the top, on the list of companies that have rewarded investors with years of steadily increasing dividend payments. In 2001 Hasbro cut the dividend in half with no further increases until 2004. However, over the past ten years the dividend has increased at a 25% rate, despite the reduction in 2001. The earnings have only grown by a 16% rate during this ten year period so the dividend investor should expect a slowdown in annual dividend increases going forward.
My reason for recommending Hasbro, as mentioned in the opening paragraph, is the current valuation. The chart below is the 30 year history of the PE and yield. The current PE of 11.25 and the PE on next years earning estimate of 10.25 place the shares at historical levels of valuation rarely seen. The current level of 3.66% is the at the highest level of Hasbro's historical yield.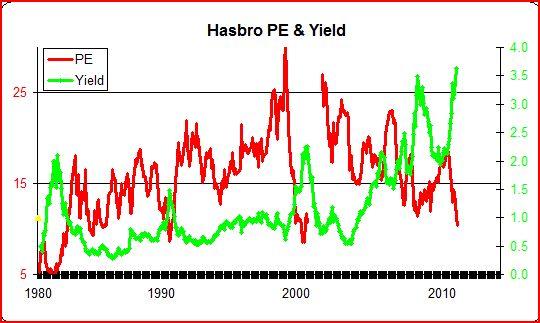 The shares have been weak of late due to the company's announcement that preliminary results are below expectations of street estimates. Estimates for 2012 are a consensus $3.24 a share which will be above the 2011 estimate of $2.84.
Technical Analysis: Shares topped in late 2010 at $50 a shares and have declined just a touch under $32. Currently there is a divergence between price and the relative strength index that often signals a turn in trend. In addition, an oversold reading in the weekly RSI index has signaled a bottom in prices in Hasbro over the two previous readings in the last five years.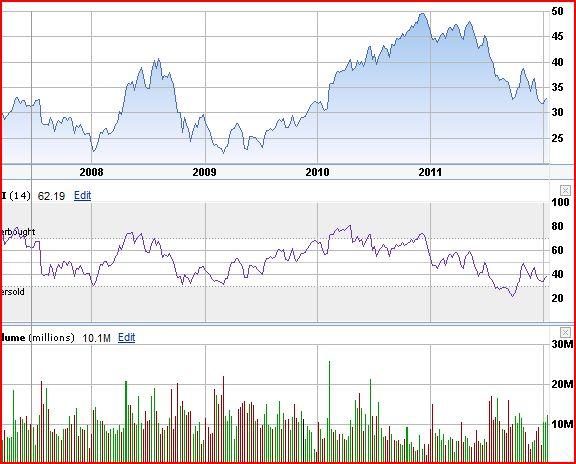 It has been my practice when writing an article for Seeking Alpha to also be a buyer of the shares. In the case of Hasbro I purchased shares several days ago at $32.51 and have plans to initiate additional purchases on a price dip at or just below $32.
Disclosure: I am long HAS.