Juniper Networks Inc. (NYSE:JNPR) is scheduled to announce its fourth quarter 2011 results on January 26, after the closing bell. We notice a downward trend in the analyst estimates at this point.
Third Quarter Recap
Juniper Networks' third quarter revenues rose 9.0% year over year to $1.11 billion. The company generated 77.9% of its consolidated quarterly revenue from product sales, while the remaining 22.1% came from service revenues. Both product and services revenues increased 7.6% and 15.4% year over year, respectively.
The Americas contributed 50.3% to revenues, while 28.1% came from the EMEA region, which comprises Europe, Middle East and Africa. The Asia-Pacific region accounted for the remaining 21.5% of revenues in the reported quarter.
On a GAAP basis, Juniper Networks' gross margin was 64.4% versus 66.9% in the year-ago quarter. Excluding amortization of intangibles, non-GAAP gross margin in the quarter was 64.9% versus 67.0% in the year-ago quarter.
Total cash, cash equivalents and investments in the third quarter of 2011 were $4,130.3 million compared with $4,220.5 million in the second quarter of 2011. Juniper generated net cash from operations of $185.2 million, compared with net cash provided from operations of $318.3 million in the second quarter of 2011. Days sales outstanding in ("DSOs") were 36 days in the third quarter of 2011 compared with 39 days in the prior quarter and 42 days in the year-ago quarter.
Agreement of Analysts
Out of the 14 analysts providing estimates for the fourth quarter, 10 analysts revised their estimates downward in the last thirty days while none revised their estimates upward during the same period. For fiscal 2011 and 2012, 10 and 11 analysts revised their estimates downward, respectively, over the last 30 days, while none moved in the opposite direction over the same period.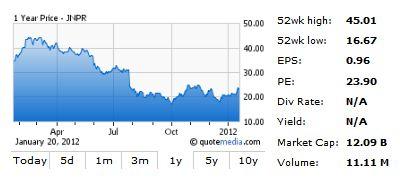 Some analysts foresee incremental market share loss in some Tier-1 LTE and carrier Ethernet edge rollouts during calendar year 2012 as Cisco's ASR 9k garners better acceptance among carriers for its "port extender" facility. However, the analysts expect this market share loss to be offset considerably by Juniper's MPLS Super Core switch, which is expected to run on a pilot basis at a few large telcos during the second half of CY12.
Analysts are apprehensive about Juniper's prospects in enterprise networking due to the lack of convenient solutions bundles (for example, pricing the QFabric for 100s of ports versus for 1000s of ports); minimal production IT experience with Juniper's fabric and sparse enterprise IT feature support (versus Cisco's Nexus/TRILL). These are believed to be limiting QFabric's appeal and limiting mainstream datacenter switch upgrade opportunities [a +$9B TAM in CY12; Infonetics data].
Moreover, the company has recently lowered its guidance. For the upcoming quarter, Juniper expects revenues of $1.1 billion to $1.2 billion, down from the previous expectations of $1.16 billion to $1.22 billion. Non-GAAP operating margin is expected to be below the previous guidance of 21%-23%. The margin decline is the result of lower non-GAAP gross margins arising from lower revenue. Non-GAAP earnings are expected in the 26-28 cents a share range, down from the previously expected range of 32-36 cents.
Magnitude of Estimate Revisions
Over the last 90 days, the Zacks Consensus Estimate for the fourth quarter as well as for fiscal 2011 has moved down by 5 cents, whereas for the fiscal year 2012, the estimate has moved down by 12 cents.
Our Recommendation
Continuous R&D investment, which is weighing on the company's operating margin, European exposure and federal budget cuts could rationalize Juniper's stable fundamentals. Moreover, Enterprise Networking may also act as a dampener. However, stiff competition from industry stalwarts, such as Cisco Systems Inc. and Hewlett-Packard Company are also headwinds for the stock.
Juniper has a Zacks #4 Rank, implying a short-term Sell rating.
CISCO SYSTEMS (NASDAQ:CSCO): Free Stock Analysis Report
HEWLETT PACKARD (NYSE:HPQ): Free Stock Analysis Report