Sugar was considered a value in the 6 to 8 cent range during most of the 1980s and 1990s. However, times are changing. The low 20-cent area now looks like the new value zone for sugar.
The sugar market spent most of last year trending lower, although it was a volatile trend. The drop in the market was attributed to sugar finally rebuilding its stockpiles. The world was consuming more sugar than it was using throughout the last few years. A year of large crops around the world this season put an end to the streak.
Brazil and India are the major sugar producers in the world. Brazil is the main focus this year. They are expected to produce a very large crop this year, which happens to be the main reason why sugar prices have fallen so much. This is where Lee Corso would say "not so fast!" La Nina is affecting the weather in Brazil and dry soil could decrease yields this season.
Production of sugar in Brazil might not be as large as expected just a couple months ago. Brazil also uses a large amount of their sugar crops to produce ethanol. With the price of crude oil holding steady around $100 a barrel, it looks like Brazil will increase their ethanol production this year. Brazil cannot meet the growing demand for ethanol in their country and they actually import corn-based ethanol from the U.S. Therefore, more sugar will likely be used for ethanol production in Brazil in the foreseeable future.
On a side note, the U.S. exports corn-based ethanol to Brazil and imports sugar-based ethanol from Brazil. Sounds crazy right? The "logic" is that sugar ethanol produces less carbon emissions and California eats that up. Meanwhile, our Midwestern corn ethanol is transported to Houston, put on a tanker ship and sent to Brazil. Studies show that the overall emissions from transporting the ethanol far exceed the benefits of using the ethanol. Not to mention the emissions used to produce the ethanol. And we have to mention that the price of corn and sugar are much higher causing grocery prices to soar, because so much corn and sugar are being used to produce ethanol. And finally… we can't forget about all the subsidies that were paid to produce corn and ethanol.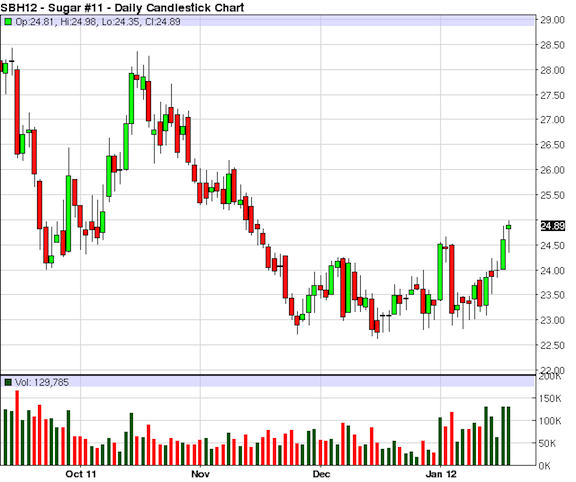 The technical picture looks very good for sugar at this point. The market has been basing for a number of weeks after a prolonged downswing. Open interest has been increasing, which is a positive sign for a rally. The last week of trading looks very positive for sugar and I would expect a sustained rally this year.
I would be looking to buy on pullbacks. You can trade sugar futures contracts or the commodity ETFs: SGAR and CANE. One of the few pure plays in stocks is Cosan Ltd. (NYSE:CZZ)
Disclosure: I have no positions in any stocks mentioned, and no plans to initiate any positions within the next 72 hours.