Indian markets closed Friday in India on a three week advance to start the year. At current rates Indian markets would experience their best January since 2001. Here's a three month performance graph of the S&P CNX Nifty Index, up over 9% to start the year.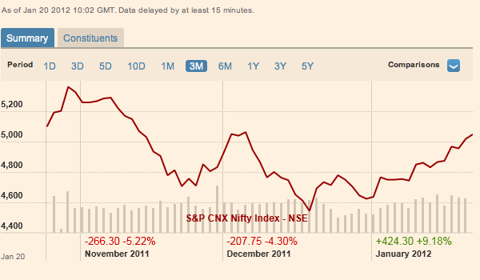 Indian markets have rebounded for a strong start to 2012.
Indian stocks have benefited from a variety of factors in January. First a dive in valuations in December took Indian markets to new 52 week lows on concerns including the value of the rupee, internal inflation and EU turmoil. Since then India has established an agreement with Japan to help stabilize the rupee, inflation has eased leading to talk of interest rate cuts in India, and the EU crisis has become less urgent. In addition, to begin January the Indian government announced a less restrictive policy towards qualified foreign investors which significantly opened the ability of investors worldwide to access the India capital markets beginning January 15th. This new policy and the assets that are likely to follow have contributed to the market advance as well.
India ETF products are also off to a sizzling start in 2012. Going into the Friday trading day in the U.S., non leveraged India ETF products have gained between 9% and 27%. Small cap India ETFs continue to lead the way in performance with SCIF in first place followed by SCIN. This is significant because in previous rallies large caps have generally benefited first followed by small caps. This reversal may indicate the rally is more significant than simply a bounce off December's 52 week lows. The two largest India ETFs, which have material large cap exposure, are EPI and PIN. They have risen 17% and 14% respectively. Here is the performance chart of all India ETF and ETN products through the close of U.S. markets on Thursday January 20th courtesy of IndiaETFs.com.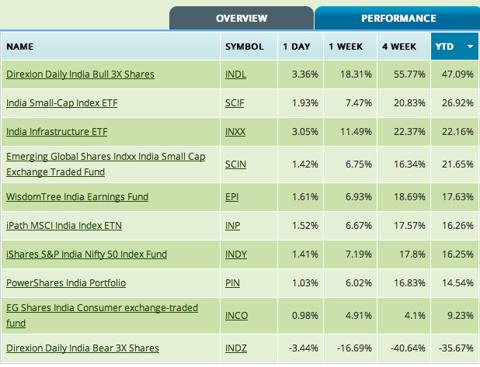 Small cap India ETF products continue to be the leaders in 2012.
Going forward, key internal factors to monitor within Indian are inflation, interest rates and economic growth. Should these continue to be positive in nature, the internal reasons for a continued bull run should remain. The chief external risk to the current rally is a EU debt crisis flare up which would lead to significant dollar strength. This would put pressure on the rupee's valuation and likely slow Indian economic growth expectations. At the same time this dynamic would push global investors towards a "risk off " mentality, a negative for more volatile emerging markets like India.


Disclosure: I have no positions in any stocks mentioned, and no plans to initiate any positions within the next 72 hours.