How We Got Here In 8 Steps
Prelude
Step 1
After joining the EU and adopting the Euro (there are EU members that did not adopt the EUR), the GIIPS issued too much debt in good times when their borrowing costs were low. Their bond yields were low because as part of the economically sound EU, their bonds were now considered virtually risk-free, because markets assumed that the EU leadership, like the US Federal government, would never allow a member state to default. Supporting the risk-free view were rules forbidding nations from taking on excessive debt (ignored even by Germany). The result was bloated public sectors and/or housing bubbles.
Stage 1: Fatal Debt Inflammation Infects The Periphery
The most common theme among the countless 2012 global macroeconomic forecasts is that the EU sovereign debt and banking crisis is the likely determinant of how 2012 goes. So it's critical for any investor to really grasp the current situation in order to make the right moves this coming year.
As it applies to the ongoing rally in risk assets, we define "Moral Hazard" as a situation where the assumed insulation from risk causes parties to behave irresponsibly. Last week's rally was driven by an assumption that one or more taxpayer funded bodies will prevent a wave of sovereign and bank insolvencies, and keep risk assets steady or moving higher.
This may be true in the near future, but the chances of this bet succeeding diminish with time. Investors seem to need a reminder that the Great Recession is likely to lead to the Great Reset, a wave of sovereign, banking, and other private sector insolvencies and debt forgiveness that is likely to make risk assets a bad bet.
There have been many good articles written in the past weeks about the full details of the crisis, like those from John Mauldin's free newsletters (sign up at www.johnmauldin.com).There have been some good summaries. Even these aren't easy to remember. Something more concise is needed.
Towards that end, here's a summary of the EU crisis, its development and the current moral hazard driven rally.
Maybe it will help you too. Clearly a lot of investors need it.
Step 2
After the Dubai's sovereign wealth fund bond repayment "delay" (aka: default) in late 2009, confidence in similar sovereign debt fell. Markets began focusing on other potential sovereign default risks, particularly Greece. Neither Greece nor the EU leadership did anything to reassure markets about default risk, and that failure to act further erodes confidence in Greek and other GIIPS creditworthiness. Greece and other GIIPS bond yields spiked to compensate for the added perceived risk. Issuing new bonds, needed to repay maturing debt, soon became too expensive. Greece needed an aid package from the EU. The deal was:
Greece gets more loans, at below market rates, so that it avoids default for the near term
In return, it makes spending cuts needed to meet specific debt/GDP targets, which in theory put Greece on the road to recovery.
Step 3
Within the following year, Portugal and Ireland need and get similar deals. These too came after months of official denials that bailout were needed, further eroding market confidence in the EU's ability to manage and the crisis and raising borrowing costs for these nations, as well as too-big-to-rescue Spain.
The aid plans only addressed short term ability to pay back near term maturing debts. Nothing was done to resolve the underlying problem – that these economies couldn't grow fast enough to repay their growing debt burden even during the good times. The supposed cure made the disease worse. Imposed spending cuts (along with the global recession) slowed growth further, raising their debt/GDP, as well as raising doubts about creditworthiness of both the GIIPS and the EU banking system that help most of the GIIPS bonds.
Stage 2: Infection Spreads To The Core
Step 4
The crisis spreads with the second Greek bailout in July 2011, because the new aid plan requires PSI (private sector involvement), aka theoretically "voluntary" haircuts (except when making charitable donations, no one voluntarily takes losses on bonds), aka partial default. Partial (or selective) default is a misnomer, just like partial virginity or pregnancy. It's default.
The reasons behind PSI were superficially reasonable.
Greece can never repay current debt burden even at reduced rates given its slow growth and slower rate reforms needed to improve the economy and tax collection.
A Greek default must be avoided, at least until a way is found to prevent that default from causing a wave of other sovereign defaults (no one will lend to other GIIPS at affordable rates due to guilt by association with Greece) and insolvencies in the EU banking system that holds these bonds.
There will be taxpayer/voter backlash in funding nations like Germany and Holland if the total burden of bailout is dumped on them just so rich bankers don't take losses.
The fatal flaw in the plan was that it undermined the fundamental market assumption that the EU ultimately guaranteed GIIPS bonds and protected bondholders from losses.
Step 5
Suddenly all GIIPS bonds look much riskier – especially those of Spain and now, Italy too. Until August 2011, its bond yields had been mostly unaffected by EU crisis. Because their economies and corresponding debt loads are so large only the most optimistic assumption of the firmest EU/IMF commitment to support these slow growth behemoths had kept their bond yields from soaring to the 6%+ levels that would bankrupt them. That assumption was now gone, so in August their bond yields rapidly approached terminal altitudes, presenting a now existential threat to the EU and Euro.
Step 6
Simultaneously, the credit ratings and shares of EU banks (the ones holding most of these previously assumed risk free bonds just a few years back) dive. They hold most of these suddenly risky bonds and are now themselves risky bets.
EU banks only keep about 3% cash on hand (leveraged 30:1) the rest of depositor funds are invested in assorted loans, much of these being these bad bonds), so any loss on these bonds of over 3%, never mind the 21% envisioned back in July (since revised to 50% or more), renders these banks insolvent.
Thus crisis spreads not only to Italy and Spain but to virtually all EU banks, because no one will provide short term lending needed for their daily operations out of fear that these banks will soon be insolvent. That sudden liquidity cutoff is what killed Lehman brothers and got the current Great Recession moving into high gear in the autumn of 2008.
Step 7
Because many of these banks are located in core EU nations, and these banks are essential for their host economies to function, it's expected that their host governments will have no choice but to incur huge costs to bail them out. Suddenly markets are less confident about the creditworthiness of core nations like France, Belgium, and Austria. Now yields start rising on their bonds too.
Assorted Fed and ECB measures along with EU summits in October and December have produced nothing beyond short term liquidity injections to keep technically insolvent EU banks alive.
Current Status: Past Bailouts Encourage Bets That More Are Coming
Step 8
Risk asset markets as represented by the below S&P 500 chart below have broken out of their 11 week trading range (area A), moved above their descending trend line from April, and rallied for the past 2 weeks, mostly on the assumption that more temporary band aids are coming:
Greece will get its next tranche of cash, simply because of the risks of the same threatened catastrophe (a wave of sovereign and bank insolvencies, market and economic crash, etc) that has gotten them the cash over the past years). [???wording] Maybe, though eventually Germans will flee EZ if the currency is being debased. It's unclear if the EZ would survive a German exit from the EZ (though they'd try to stay in the EU). Germany is already exploring this option.
The Fed and ECB will step in with stimulus and other short term fixes to continue deferring the ultimate pain and losses of a debt restructure and/or hyperinflation day of reckoning at least long enough for a tradable rally. Both policies face opposition, from Germans in the EU, from Republicans in the US, but in the past both parties have retreated at the last minute, seeking to avoid blame for the ensuing debacle. Note that it's still illegal for the ECB to monetize debt.
Meanwhile with Greek haircuts priced in, Portugal is the next target as is bond prices fall and yields move up.
S&P 500 WEEKLY CHART 01 jan 20 1509
This is strictly a rally for those comfortable with short term trades. In the end the there's no positive outcome:
The debtor nations don't earn enough to repay their debts, and austerity programs just accelerate the collapse of revenues and growth, especially as most of the EU tries to do this at the same time. Defaults and risk asset price collapse are unavoidable. Nations will have to leave the Euro-zone and default, causing a market crash. Many argue the EU could print their way out of this scenario, however…
The EU's economic mainstay, Germany, will not accept the only current solution to that problem, money printing and debasement of the EUR. If Germany and other hard money funding nations leave, then the EZ and EUR ultimately suffer a similar fate.
Here's the situation summed up in one image.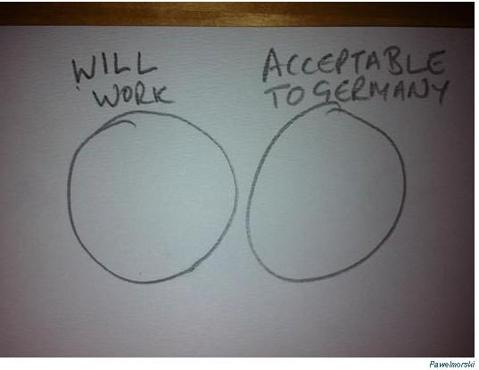 Current EU status: 01 jan 21 2138
The current market rally assumes that Germany and the EU will again back down; give Greece and anyone else at risk of default the cash they need. In other words, the taxpayers will subsidize my investment. Maybe this thinking will work a little longer. Unfortunately, we're unlikely to know when it won't until it's too late.
Ramifications: So What Does The Longer Term Investor Do?
Unfortunately we're left with two divergent approaches.
1. If you believe the current extend and pretend via taking on yet more debt to fund assorted rescues will continue, then assume we get more of the past 3 years:
Currency hedges like gold rise on just fear of potential inflation even if none is present, as we saw over the past 3 years
Stocks and most other risk assets remain in long term downtrends as fears about risks from the unresolved EU crisis maintain the overall long term downtrend since late 2007, punctuated by tradable shorter term rallies.
EUR, USD and any other currency risking debasement from stimulus remain at risk of losing ground to currencies from more hawkish nations. Long term investors need to allocate portions of their portfolios to assets that give them exposure to currencies from nations with healthy balance sheets like the CAD, NOK, SEK, etc.
2. If/when you believe this game is finishing, the alternatives aren't as clear:
Risk asset prices will be falling, safe haven currencies in demand both to cover falling incomes and to scoop up bargain priced assets
Therefore currency hedges like gold would suffer as long as deflation fears override anxiety about currency debasement risk from continued stimulus programs.
In theory, hard assets linked to the healthier economies, like real estate, should be at least preserve wealth, if not also generate some income in a currency that retains purchasing power, though investing in these can be complicated and time consuming.
If you want to know more about how to protect yourself against risk of crashing markets and currencies, stay tuned for details about my coming book, THE SENSIBLE GUIDE TO FOREX, SAFER, SMARTER WAYS to SURVIVE and PROSPER from the Start. It's the first book to show how traders and investors with limited time and risk tolerance can tap forex markets to hedge currency risk and improve returns.
Disclosure/disclaimer: No positions. The above is for informational purposes only. All trade decisions are solely the responsibility of the reader.