What investors really get paid for is holding 'dogs'. Small stocks tend to have higher average returns than big stocks, and value stocks tend to have higher average returns than growth stocks. - Kenneth R. French--Dartmouth Economist NBER
Like an old familiar song, it seems that as soon as a company which is making money announces some bad news and disappointing "guidance", the stock price craters. Like "blood-to-hungry sharks", this brings the company to the attention of larger "fish" who may gobble it up for its cash and holdings. This is exactly what has happened to Kinross Gold (NYSE:KGC). The company had disappointing news released on Monday and Tuesday, January 16 and 17th that caused its shares to plunge to a new 52-week low of $9.96. This was a 24% drop from its January 12th high of $13.11.
The Canadian gold producer said Tuesday that it expects production to be flat to slightly higher this year, while production costs will rise between 12% and 19% due to higher labor and mine expenses. Kinross also said it expects to record an accounting charge, mostly related to a decline in the value of one of its mines.
Kinross said it anticipates production in 2011 to be around 2.6 million ounces of gold equivalent. The company's average production cost is forecast at about $600 per ounce, which is within its expected range. The company will release full results on February 15.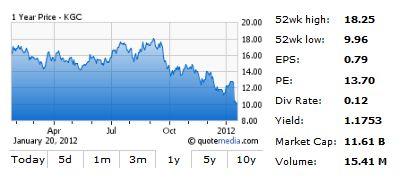 For this year, Kinross expects to produce between 2.6 million and 2.8 million gold equivalent ounces from its current operations. Production costs are forecast between $670 and $715 per ounce. That's due to higher costs for labor and lower-grade metals at certain mines, the company said.
Kinross said it expects to take an accounting charge, mostly relating to the brand value or "goodwill" of its Tasiast mine in connection with a 2010 acquisition. As of September 30, the book value of Tasiast was $7.1 billion, of which $4.6 billion was goodwill. Goodwill refers to the perceived value of some intangible assets like a great director or customer relations or a valuable brand name.
Now according to a Bloomberg story, by paying too much for acquisitions in Western Africa, "KGC has now turned itself into the cheapest gold-mining target in the world". KGC closed Friday, January 20th at $10.21, up 1.09% on double its average daily volume. "This is a company whose management team has made some aggressive, disappointing decisions," said Keith Wirtz, who oversees $14.6 billion as chief investment officer at Fifth Third Asset Management in Cincinnati, said in a telephone interview with Bloomberg. "Every dollar lower pushes the stock higher up the list of potential takeovers. That will attract the sharks in the water."
Barrick Gold (NYSE:ABX) is rumored to be one potential suitor with enough "buying power", as is Freeport McMoRan Copper & Gold (NYSE:FCX).
This reminds me of the situation that hit silver and gold miner Hecla Mining Co. (NYSE:HL) when one of its major mine shafts was closed down by safety regulators. After the bad news, the stock dropped more than 20%. Hecla has little debt, over $413 million and levered free cash flow of more than $268 million. Its latest quarterly earnings growth (year-over-year) was an astounding 183%. All these key financial statistics are very attractive to potential acquirers, to say the least. Established in 1891, Hecla Mining Company has distinguished itself as the largest and one of the lowest cash cost silver producers in the U.S. The company has two operating mines and exploration properties in four world-class silver mining districts in the U.S. and Mexico.
Getting back to Kinross, Newmont Mining (NYSE:NEM) may be an interested buyer of some of Kinross' projects to boost production and because it already operates in western Africa, according to mining analysts like George Topping,a Toronto-based analyst at Stifel. Newmont said in November that it suspended development of its $4.8 billion Minas Conga project in Peru after weeks of clashes between police and demonstrators who oppose the mine. The company's global gold output may stagnate until 2017, according to Veritas Investment Research Corp. "Newmont has no growth, whereas Kinross has plenty of growth projects," Topping said in a telephone interview.
A larger but still "digestible" size gold-miner that fits the "takeover bill" is Agnico-Eagle Mines (NYSE:AEM). Their six operating mines, four in Canada, one in Finland and one in Mexico are a treasure trove, yet its one year chart is a shocker.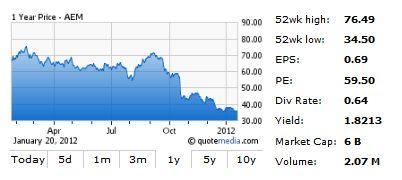 An expensive acquisition and some disappointing guidance may be part of the reasons Agnico-Eagle is trading just above its 52-week low. It will release its 4th quarter earnings results and forward guidance on February15, 2012. Companies like Kinross Gold, Hecla, and Agnico-Eagle might be joined by the next disappointing company announcements, which may help explain the recent price weakness of such companies as Silver Standard Resources (NASDAQ:SSRI) and IAMGOLD (NYSE:IAG).
The cue for speculative investors is to buy shares of these kind of companies after any bad news or rumors and see if the valuation of the stock after the plunge puts it on the "target list" of cash-rich, resource-starved "predators" who also like to buy at steep discounts.