As many successful bio-traders know, there is a lot of money making potential as a result of volatility surrounding the FDA's decisions as to whether to approve or deny/delay approval for new drug candidates and medical devices. It is not uncommon for common for traders and investors, alike, to gravitate towards or away from stocks leading up to and, more often, after FDA panel recommendations and decisions.
Below are six biotech spec-plays with pending FDA decisions in or around the first half of this year.
1. Vertex Pharmaceuticals (NASDAQ:VRTX)
The FDA is scheduled to issue its decision on Vertex's product candidate, Kalydeco, on 04/19/2012. Kalydeco is a medicine that targets the defective protein that causes cystic fibrosis for people six years of age or older. The market for Kalydeco is relatively small, but Vertex already has an approved HCV treatment on the market and is expected by some analysts to finally become a profitable enterprise some time this year. Recently, Vertex and Alios BioPharma, Inc. announced the initiation of two clinical studies, one for ALS-2200 and one for ALS-2158. It was also announced about a month ago that the FDA has accepted the NDA for Kalydecotm and granted its request for six-month priority review.
VRTX currently trades at $36.31 with the average analyst 52-week price target being $46.
click to enlarge images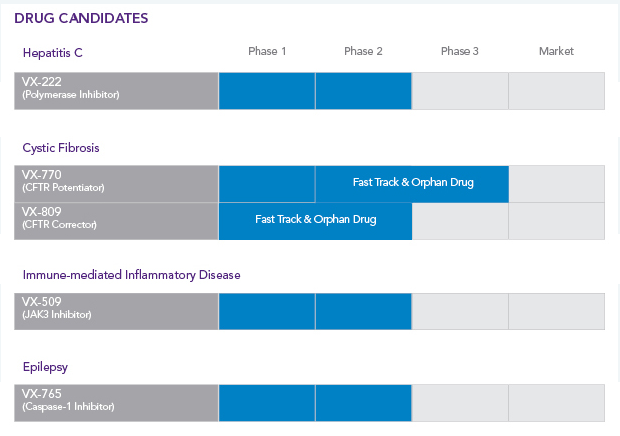 2. Chelsea Therapeutics (NASDAQ:CHTP)
Chelsea Therapeutics is set for an FDA decision date for its product candidate, Northera, for 03/28/2012. Northera is an orally active synthetic precursor of norepinephrine, for the treatment of neurogenic orthostatic hypotension. Currently approved and marketed in Japan by Dainippon Sumitomo, Northera has accumulated over 15 years of proven safety and efficacy, generating annual revenue of approximately $50 million in Japan. Earlier this month it announced that it has completed its previously announced underwritten public offering of 4,989,275 shares of common stock, including 650,775 shares issued pursuant to the underwriters exercise in full of their over allotment option, at a public offering price of $4.75 per share.
CHTP currently trades at $4.94 with the average analyst-52 week price target being $10.5.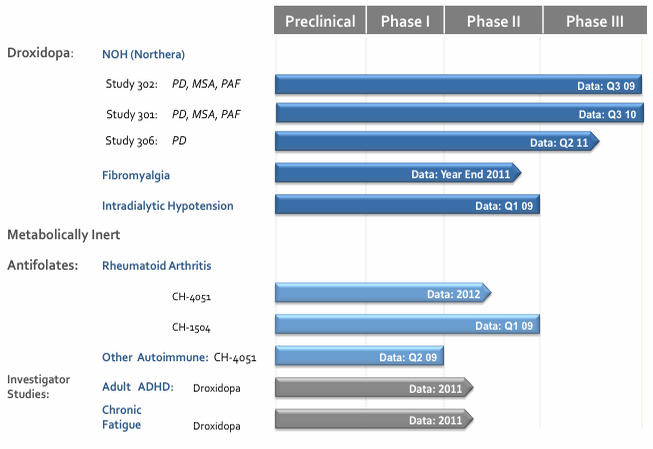 3. Onyx Pharmaceuticals (NASDAQ:ONXX)
Early last month, Onyx announced that the FDA had granted standard review designation to the NDA for carfilzomib for the potential treatment of patients with relapsed and refractory multiple myeloma. The PDUFA date for completion of review by the FDA of the NDA is 07/27/12. The letter from the FDA advised Onyx that recent Oncology Drug Advisory Committee recommendations specified a preference for phase 3 trials for an accelerated approval pathway. Carfilzomib is a selective next-generation proteasome inhibitor with a mechanism of action aimed at increasing therapeutic efficacy and limiting the side effects associated with currently available therapies. It also just announced results from the Bayer HealthCare phase 3 trial of Bayer's investigational compound, regorafenib. The study met its primary endpoint, showing statistically significant improvement in overall survival by 29%.
ONXX currently trades at $41.71 with the average analyst-52 week price target being $44.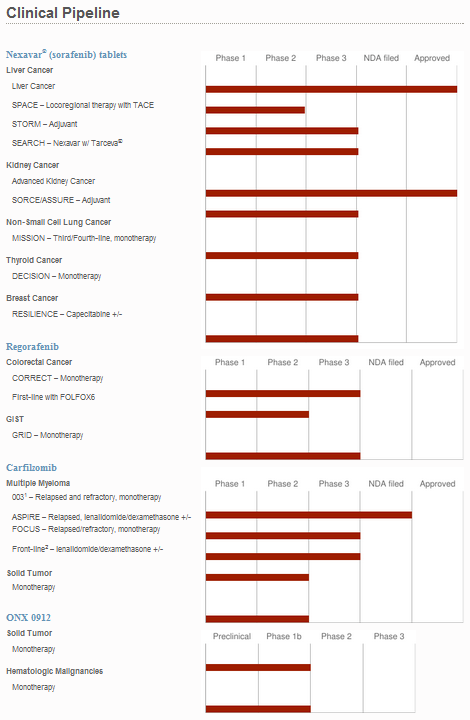 4. Amarin Pharmaceuticals (NASDAQ:AMRN)
Amarin's product candidate, AMR101, is scheduled for an FDA ruling on 07/26/2012. AMR101 is prescription grade, ultra-pure (>96%) ethyl ester of eicosapentaenoic acid (ethyl-EPA; an omega-3 fatty acid). AMR101 is being positioned as a best-in-class prescription medicine for treating patients with high or very high triglycerides. It recently announced that its wholly owned subsidiary, Corsicanto Limited, priced its previously announced offering of $150 million in aggregate principal amount of exchangeable senior notes due 2032.
AMRN currently trades at $8.26 with the average analyst-52 week price target being $25.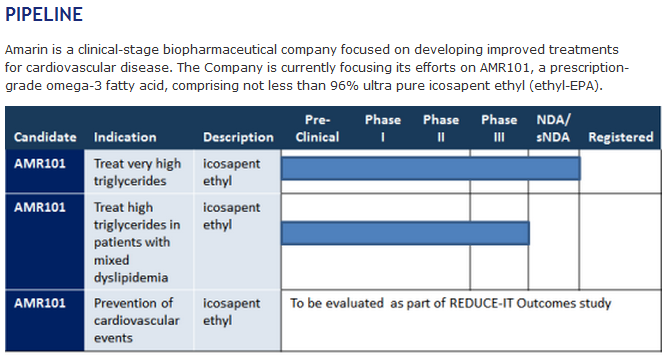 5. Ariad Pharmaceuticals (NASDAQ:ARIA)
Ariad's product candidate, Ridaforolimus, is scheduled for an FDA ruling on 06/05/2012. The company is partnered with Merck (NYSE:MRK) on Ridaforolimus, which is a novel small-molecule inhibitor of the protein mTOR that acts as a central regulator of protein synthesis, cell proliferation, cell cycle progression and cell survival in cancer cells. A month ago, the company announced the completion of a 24.73M share offerring, including 3,225,000 shares worth of underwriter over-allotment options being exercised, handing the company net proceeds of about $243M.
ARIA currently trades at $14.25 with the average analyst-52-week price target being $16.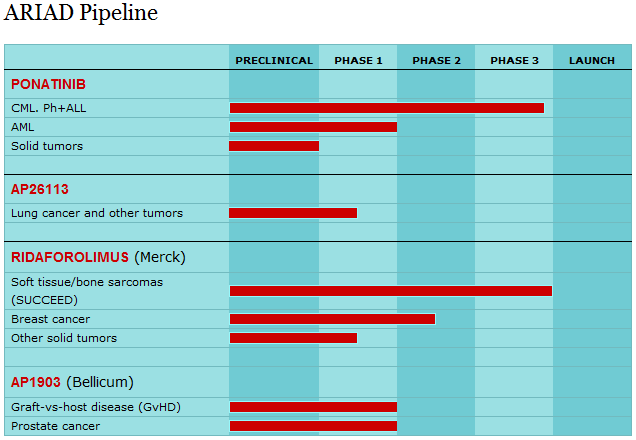 6. Cell Therapeutics (CTIC)
Cell Therapeutics is up for its second go-around with the FDA for its product candidate, Pixantrone, early to mid-second CY Q2. Pixantrone dimaleate, for injection, is an antitumor aza-anthracenedione with a molecular structure similar to other topoisomerase II inhibitors, such as anthracyclines like doxorubicin. It is under development for the treatment of non-Hodgkin's lymphoma. CTIC possibly has the worst prospects and perhaps the worst corporate history of all the tickers on this list.
CTIC currently trades at $1.31 with the average analyst-52-week price target being $2.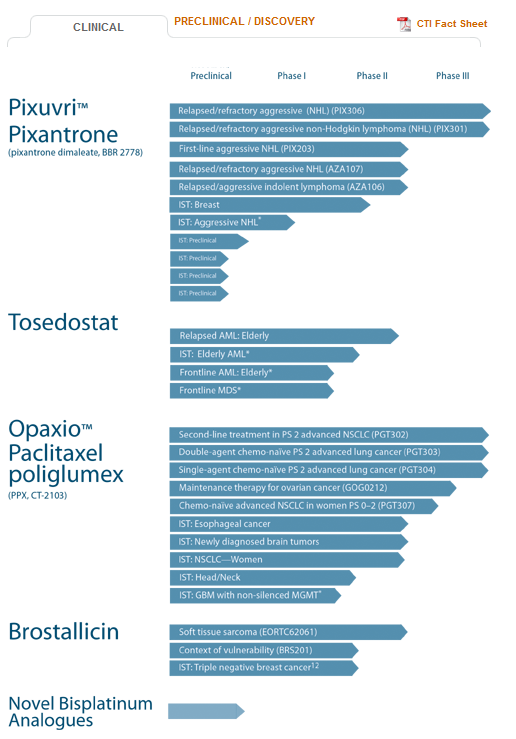 Always exercise extreme caution when trading around biotech catalysts/binary events.