Via an extremely strong Japanese yen, the world is offering Japan a steep discount on its assets. On January 19, 2011, Japanese Finance Minister, Yukio Edano, seemed to indicate that Japan may finally be ready to take full advantage of its highly treasured currency by increasing overseas investments and, most importantly, buying up commodities. From Minister Urges Japan to Use Strong Yen:
We should use the strong yen assertively to invest and buy things, to be as proactive as possible…Japan is short on resources, so we need to use this opportunity to firmly secure rights to energy and commodities.
To this end, the Finance Ministry plans to boost funding for government-supported investment groups and expand the kinds of assets they can buy. For example, the Japan Oil, Gas and Metals National Corporation (Jogmec)
...will have Y92.7 billon ($1.2 billon) next year to invest in resource exploration and extraction projects, almost all of them overseas, compared with Y12.1 billon last year.
Edano made it clear that he wants private industry to get more aggressive as well:
"It's not something just for the bureaucracy: it's something I encourage the private sector to push ahead with vigorously … We have to go on the offensive."
In 2011, Japanese companies did double their investments in overseas assets from the previous year, but they came $5B short of their record $74.2B set in 2008. Here are some examples of recent commodity-related deals:
"Mitsubishi, [Japan's largest trading house], took a 5% stake in Royal Dutch Shell's $17 billon natural gas project in Iraq. Mitsubishi and Mitsui, its main rival, are also on opposite sides of a $6 billon battle for control of one of Chile's most prized copper mines, which is owned by London-listed Anglo American."
It is not clear whether this investment strategy will replace the Ministry's efforts, along with the Bank of Japan, to intervene in currency markets to weaken the yen. However, a buying spree seems like a much more productive use of a strong currency. Japan's aging population is shrinking fast relative to the world's emerging populations, making it ever more imperative the country finds ways to remain viable in its competition for global resources. A strong currency in a world featuring competitive devaluations gives the Japanese an important advantage in securing assets of real value. Besides, Japan has little to nothing to show for itself after three interventions since late 2010. The currency recently printed all-time highs against the U.S. dollar and multi-year highs against the euro and British pound.
Click to enlarge: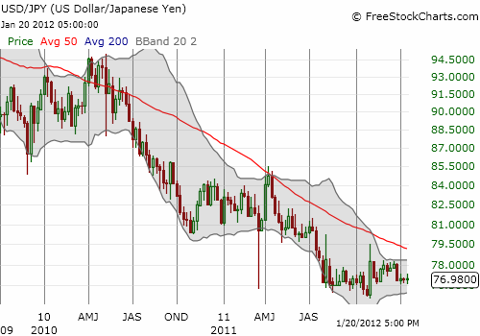 Click to enlarge
Source: Freestockcharts.com
So far, the bottom has held in USD/JPY after the last intervention over two months ago. In anticipation of more interventions, I have maintained a bearish bias against the yen, now mostly in USD/JPY - also see Rydex CurrencyShares Japanese Yen (NYSEARCA:FXY). Currency traders seem to be slowly swinging toward this bias as well. According to Reuters in "Dollar's detractors may be missing its comeback," some significant changes are underway in the positioning of traders:
A key factor that points to more dollar strength can be found in the options market, where bets on the dollar's path against the yen is closer to favouring the dollar more than at any time in at least nine years.

…

Dollar/yen three-month risk reversals traded close to neutral after nine years of being biased to dollar puts, or the right to sell dollars, and yen calls, the right to buy yen. The dollar/yen three-month risk reversal was last at -0.325 on trading platform GFI after moving steadily down from a trough of -2.63 in July last year.. It has been biased in favour of the yen since at least the third quarter of 2003, using DailyFX data.
In other words, an important turning point in a lasting trend is potentially developing. As Japan uses its currency in more productive ways, market forces, rather than direct government intervention, should finally produce the weakening that Japan's exporters crave. The change will not be sudden, more likely very gradual as old habits die hard. This may also be the time to start nibbling away at beaten up Japanese stocks like Toyota Motors (NYSE:TM): (Click to enlarge)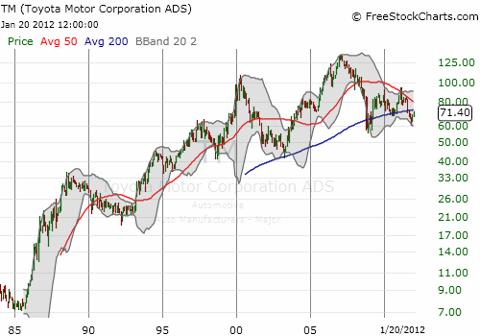 Click to enlarge
Source: Freestockcharts.com
Recent woes have stalled Toyota's multi-decade bullish run. This could be the time to bet on an eventual resumption of Toyota's run.

Be careful out there!
Disclosure: I have no positions in any stocks mentioned, but may initiate a long position in TM over the next 72 hours.
Additional disclosure: I am also net short the Japanese yen